Brown's future with Phillies uncertain after trying season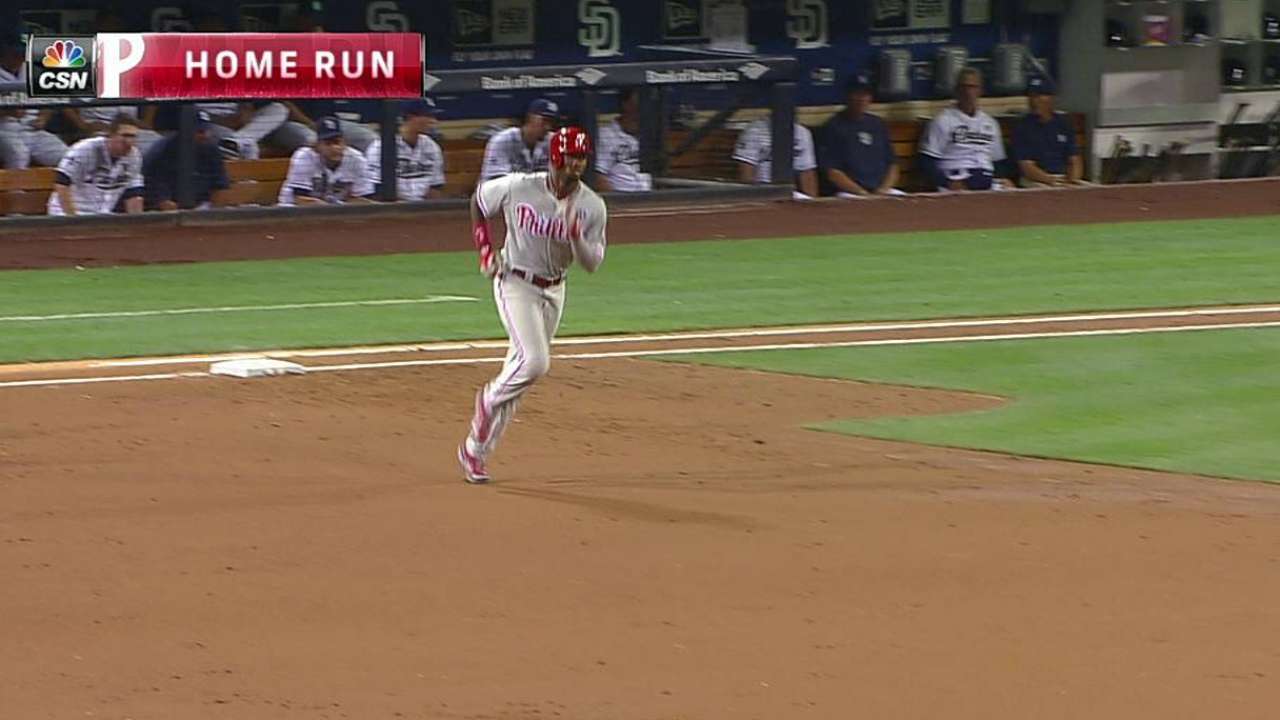 PHILADELPHIA -- Domonic Brown entered this year confident and ready to build upon his 2013 breakout season.
But he left Citizens Bank Park late last month with only questions about his future in Philadelphia.
Brown made the National League All-Star team in '13, but hit just .235 with 22 doubles, one triple, 10 home runs, 63 RBIs and a .634 OPS in 144 games this season. His OPS ranked 139th out of 147 qualified hitters in baseball. His .640 OPS as an outfielder ranked 60th out of 64 outfielders, and his .641 OPS as a left fielder is the lowest of any left fielder since Chuck Knoblauch's .582 OPS for Kansas City in '02.
"I had a terrible first half, man," Brown said on the final day of the season. "I think I finished pretty strong. I had a great second half, or a pretty good second half. I'm just trying to build off of that, take it into the offseason and carry on into Spring Training."
Brown's assessment that he had a great or pretty good second half does not line up with the numbers. He hit .250 with 10 doubles, four home runs, 17 RBIs and a .686 OPS after the All-Star break. (He had a slightly improved .263 batting average and .715 OPS from Aug. 10 through the end of the season.) That .686 OPS still would have been the lowest among qualified left fielders.
Brown's playing time dipped in the second half as Phillies manager Ryne Sandberg played Grady Sizemore and Darin Ruf more frequently. Sandberg was not playing those two for the heck of it. He played them because the front office is trying to decide which way they want to go in left field.
Do they stick with Brown? Or do they try some combination of Sizemore (.701 OPS) and Ruf (.712 OPS)? Or do they look outside the organization for help?
"If I'm not here, I'll definitely have a job somewhere else," Brown said. "I don't really think that's a problem. I love you guys. I love Philly. But that's part of baseball."
Brown believes he tried to do too much in the first half, perhaps trying to live up to expectations and concerns following a disappointing second half last year, when he posted a .685 OPS from July 20 through the end of the season.
"The first half I was definitely trying to create a lot," Brown said. "We were struggling pretty bad there. I definitely was trying to do way too much."
He also alluded to the fact he missed former assistant hitting coach Wally Joyner, who left the organization last offseason to become Detroit's hitting coach. Players often cited Joyner's work last season.
Phillies hitting coach Steve Henderson and assistant hitting coach John Mizerock have been invited back next year.
"I mean, it was a little different, not having Wally for sure," Brown said. "I mean, I had him the whole year. We bonded and clicked from the very first time that we saw each other, so we definitely stayed in contact, but it was definitely a little different."
Perhaps a change of scenery could benefit Brown. There always has been a lot of pressure on Brown, who Baseball America considered the fourth-best prospect in baseball in '11.
"I don't like to say that," Brown said. "I really don't like to say that kind of stuff. I just want to be here, you know? This is home for me. But at the same time it's business and I understand that. Wherever I'm at I'm going to be happy. And as long as I'm playing baseball, I'm good."
Todd Zolecki is a reporter for MLB.com. This story was not subject to the approval of Major League Baseball or its clubs.