Reliever Hollands exits with sore left elbow
Rookie left-hander says arm feels really tight, will visit a doctor in Philly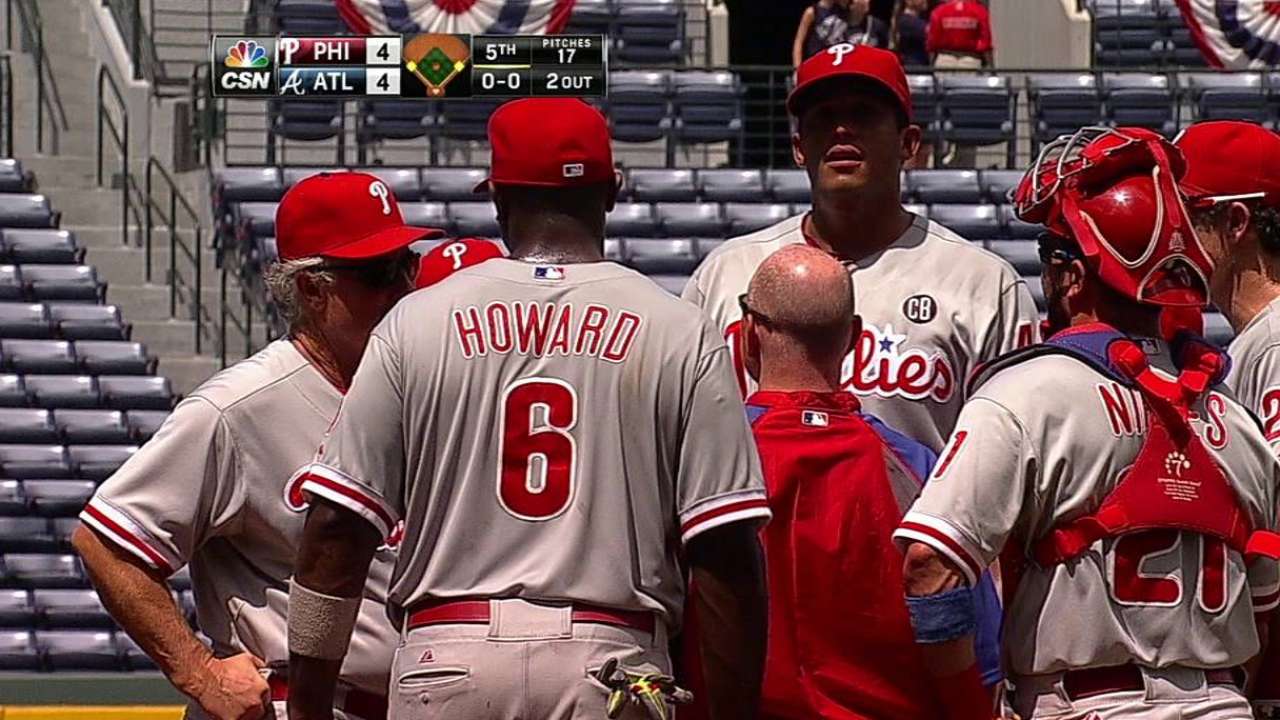 ATLANTA -- Phillies left-hander Mario Hollands left Wednesday's 7-4 loss to the Braves in the fifth inning with a sore left elbow.
He will see a doctor Thursday in Philadelphia.
"Luckily I didn't feel a pop," he said. "It's more like really tight."
Hollands started the fifth in relief of right-hander David Buchanan. He allowed a leadoff double to Freddie Freeman before retiring the next two batters. After he then walked Chris Johnson, Phillies manager Ryne Sandberg, pitching coach Bob McClure and head athletic trainer Scott Sheridan jogged to the mound to talk to him.
"It was the first pitch to Johnson on that walk," Hollands said. "Something just didn't feel right. I thought it might just be that one pitch, but the next three felt the same. I was going to call the trainers over if they hadn't come out after that walk.
"Thankfully it's not as close to the elbow," he added, pointing to an area several inches from the elbow.
Hollands made the team out of Spring Training as a rookie and is 2-2 with a 4.40 ERA in 50 appearances. It has been a long year for him as he also pitched in winter ball.
"I thought I was feeling good for being such a long season," he said. "It's more of a surprise because I thought the ball was coming out pretty good today. And I never really had any arm problems. Ever. So it's more of a shock. It's kind of a first time thing for me."
Todd Zolecki is a reporter for MLB.com. This story was not subject to the approval of Major League Baseball or its clubs.