Phillies seek to integrate prospect Franco into lineup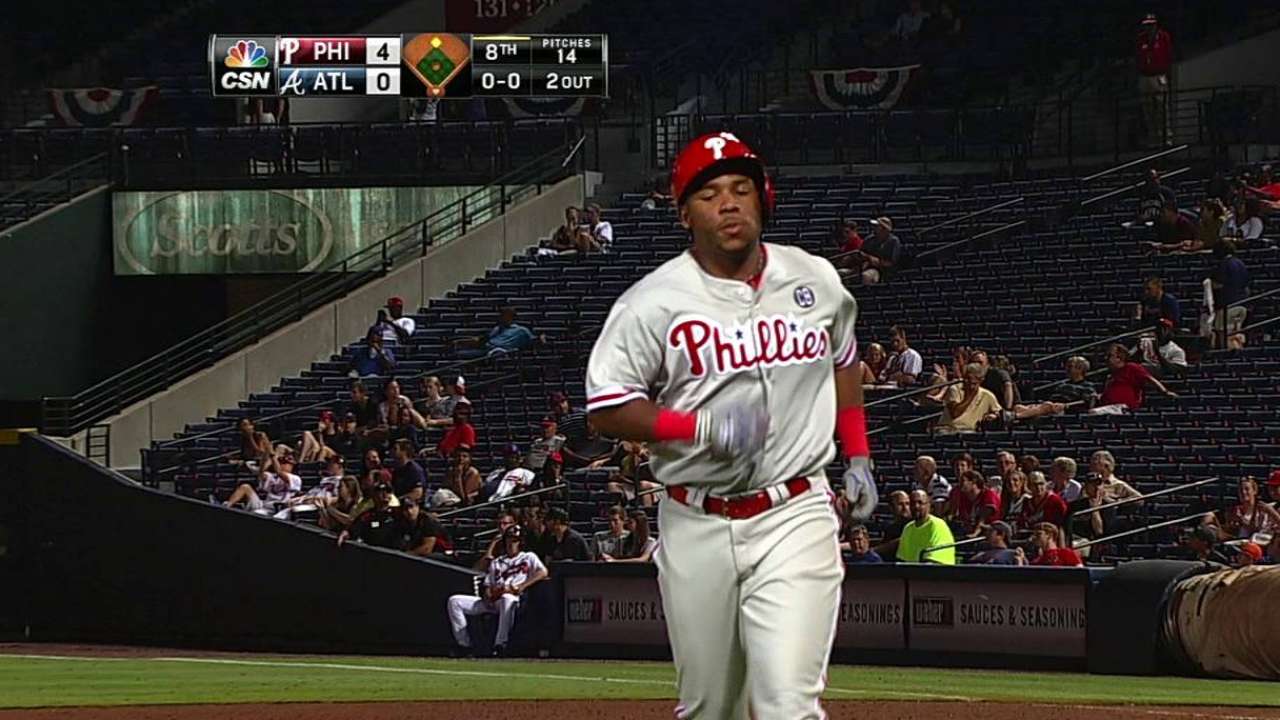 ATLANTA -- The Phillies hope Maikel Franco is that young, impactful hitter they have been seeking for some time. He will get his opportunity to play this month.
Franco, 22, is one of seven players who joined the Phillies on Tuesday with rosters expanding. He found himself in the starting lineup in Tuesday night's 4-0 win over the Braves, playing third base and hitting seventh. Franco went 0-for-3 with a sacrifice fly in the eighth inning, giving him his first career RBI.
Phillies manager Ryne Sandberg said 50-60 at-bats this month for Franco is a good goal.
"I think that would make it worthwhile for him to be here," Sandberg said.
Franco is the organization's No. 3 prospect, according to MLB.com, and he is somebody fans have been eager to see for some time. Franco struggled early this season, but he entered Monday hitting .324 with 16 doubles, three triples, 11 home runs, 47 RBIs and a .922 OPS in 54 games since the end of June.
"In a lot of ways, he kind of forced our hand," Phillies general manager Ruben Amaro Jr. said. "He showed us that he improved enough to get an opportunity to come up here and play some. Pretty simple. He played very, very good baseball for the entire second half. When we see young players come along, all we really want to see is improvement. And he was clearly doing that.
"He has a lot of things to learn. He's going to struggle. By no means is he a finished product. We still have a lot of young players on the field who are playing. Cody Asche's still not a finished product. He's going to continue to get better. Ben Revere has improved in some areas. Kenny Giles continues to improve every time he comes out. [Jake] Diekman. The young players, the more they get opportunities, the more they can improve."
Amaro agreed it would be wise to play Franco more than just once or twice a week, although he said that decision is up to Sandberg.
"I think that would be a detriment," Amaro said. "I think it would be much better for him to play more than that. We talked about it. I think he would benefit from playing. We don't want him to come here and necessarily sit."
Franco is expected to find most of his playing time at third base, although he also could see time at first.
"He can play both," Amaro said. "But Ryan Howard is our first baseman. He's been playing well and producing. There's no reason to think otherwise. But this is also an opportunity for Franco, [Cesar] Hernandez, maybe some other guys to get to play."
Todd Zolecki is a reporter for MLB.com. This story was not subject to the approval of Major League Baseball or its clubs.