Phils' callups could include Franco, Gonzalez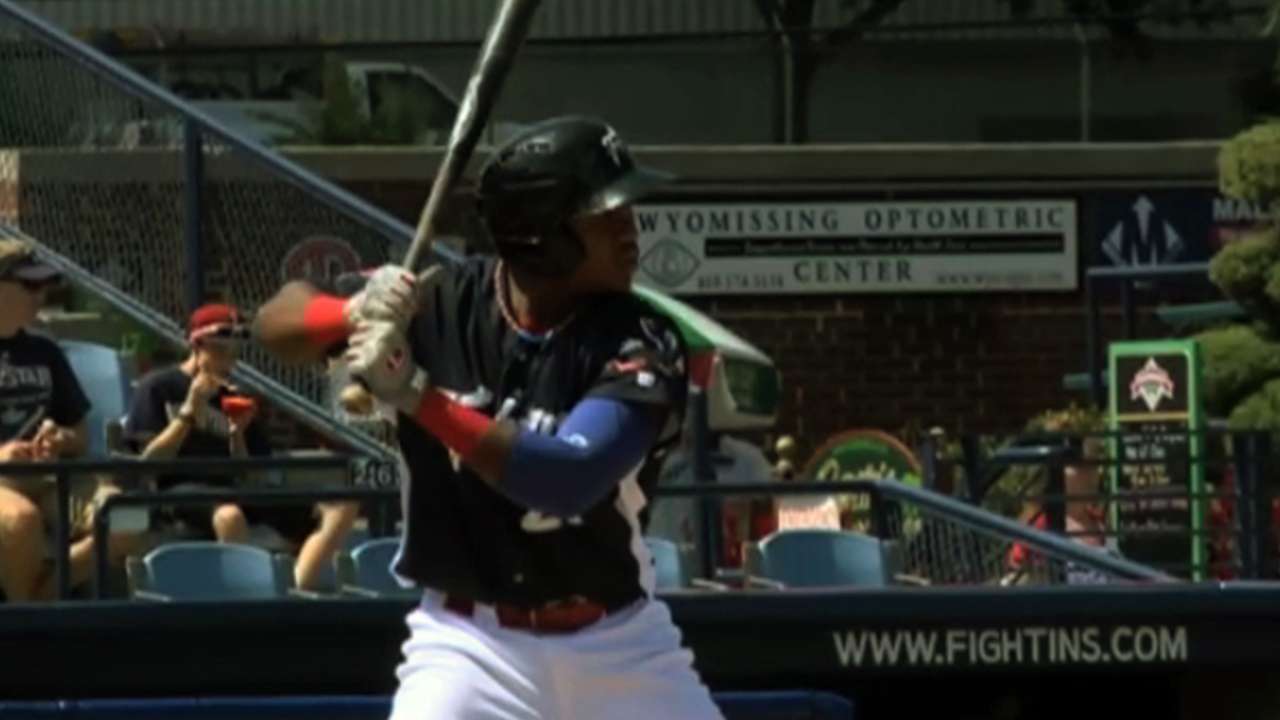 NEW YORK -- The Phillies likely won't be welcoming or parting with any Major League players before Sunday's waiver deadline. But on Monday, when the roster can expand up to 40 players, some young new faces will give the Phillies a partial glimpse into the future.
Presumably, one of those faces will be Triple-A infielder Maikel Franco, the club's No. 3 prospect and most promising hitter on the farm. Franco, 22, has posted 16 home runs and 78 RBIs for Lehigh Valley this season, and he can play either first base or third base, potentially spelling Ryan Howard or Cody Asche.
Franco was a June callup to Double-A Reading in 2013, when he flourished for the latter half of the year, posting a slash line of .339/.363/.563 and finishing the year with 36 doubles, 31 home runs and 103 RBIs.
The Phillies should be excited considering he has figured things out this season at Triple-A and will be riding some momentum if he's called up. After a slow start -- hitting .184 in Spring Training and sputtering in April -- he's hit .332 with 11 home runs and 47 RBIs in 52 games since July 2.
One of the more intriguing callups will likely be Cuban pitcher Miguel Alfredo Gonzalez, who signed for $12 million last summer.
Gonzalez was originally projected to be a back-of-the-rotation starter, but the Phillies have since turned him into a reliever, and the righty has been very strong at Triple-A, posting a 1.62 ERA in 12 appearances, allowing three earned runs in 16 2/3 innings.
It's a strong sign considering Gonzalez -- who was injured earlier in the season -- started with a bloated 4.70 ERA with Class A Advanced Clearwater but has dropped it with each successful promotion.
The IronPigs finish their season Monday in Scranton, so if Franco and/or Gonzalez play in the finale, they could join the team Tuesday in Atlanta.
Jake Kring-Schreifels is an associate reporter for MLB.com. This story was not subject to the approval of Major League Baseball or its clubs.