Nola a bright spot in tough year for pitching prospects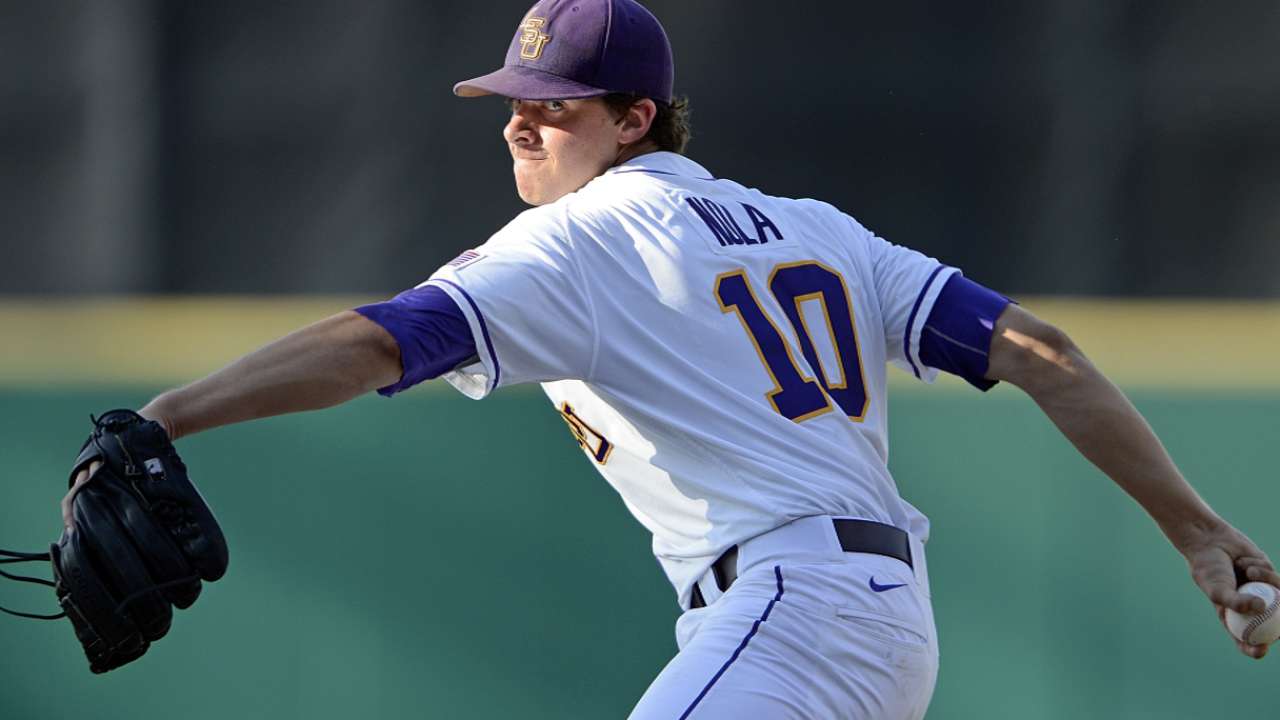 PHILADELPHIA -- Phillies director of player development Joe Jordan didn't mince words when he talked about the state of the team's Minor League pitching prospects Tuesday, saying with a shrug: "It's been a tough year for our starters." But he did note some bright spots, particularly right-hander Aaron Nola, the Phillies' first-round pick in the 2014 First-Year Player Draft.
Nola, the Phillies' No. 2 prospect, is 1-0 with a 3.32 ERA for Double-A Reading.
"Nola is scheduled for one more start Friday in Trenton," Jordan said. "He's done very well. We set a target of 170 innings, and it was just the best-case scenario. We've kept him on a six-day rotation. This past time was the first time he's gone on five; we'll have him do that one more time just to expose him to that routine. The way he works, his delivery, the way he executes pitches -- it's different from other guys."
This winter the Phillies are set to shut him down to get him ready for Spring Training.
"He will not pitch competitively," Jordan said. "There are some things we want to cover, like improving his time to home plate and things like that that we want to address. But he's been as advertised. He's very polished, and he knows what he needs to do. He's got things to improve upon, but he's done very well.
"We haven't talked about [an invite to Major League camp], although I'm sure there will be some interest in that."
Maikel Franco, on the other hand, is headed for winter ball. Jordan said that a September callup would be a good experience for Franco, but also noted that the team has other considerations -- not the least of which are two players entrenched at the positions Franco plays.
Franco, the Phils' No. 3 prospect, entered July hitting just .209 with five home runs, but the third baseman has batted .330 at Triple-A Lehigh Valley since.
"His struggles had nothing to do with ability. He got exposed as far as his willingness to swing at bad pitches," Jordan said. "The biggest adjustment he's made in the last six or eight weeks is that he's made them throw the ball over the plate. He's waiting for a good pitch to hit instead of just hacking. He's almost 22 years old; he's not ready to be good every day. But he's getting there."
Other highlights from the Phillies' Minor League system:
At Reading, Kelly Dugan, the team's No. 17 prospect, fouled a ball off his left foot and suffered a small fracture. Dugan is hitting .296.
"He probably won't be playing anymore this year," Jordan said. "It sounds like it's a minor thing. Hopefully, some time off will take care of it, because we do want him to play this winter, and he needs that."
Larry Green, the team's first-round pick in 2011, is hitting .177 at Lakewood.
"It's been a bad year," Jordan said. "We're disappointed he hasn't been able to turn it around. Nothing much to say, it's just really disappointing. He looks great physically. He's just not making enough contact."
Miguel Alfredo Gonzalez, signed by the Phillies as a free agent last year, is progressing at Triple-A Lehigh Valley.
"I saw him last night and he was a Major League pitcher last night," Jordan said. "That was exciting. He went right through them. I've seen it every step of the way, and last night was the best I've seen him.
"Right now, it's about getting him in a role where he can have success. I'll tell you one thing this guy can do: He'll get to the best hitter in their lineup, and he'll find another gear. It's impressive."
Jordan mildly disagreed that No. 4 prospect Jesse Biddle took a step back with his 3-10 record and 5.03 ERA at Reading. But the 2010 first-round pick has had a number of injuries (most recently a quadriceps injury in his left leg) and hasn't progressed the way the team hoped. His arm is healthy, Jordan said.
"It's definitely been a downer," Jordan said. "Last year, for me, was not a negative year. He had only one stat in 2013 that I felt was a negative and that was walks. He did a lot of good things in his overall season in 2013."
Biddle will pitch in the instructional league, Jordan said.
Kevin Roberts is a contributor to MLB.com. This story was not subject to the approval of Major League Baseball or its clubs.