Even hobbled, Revere contending for batting title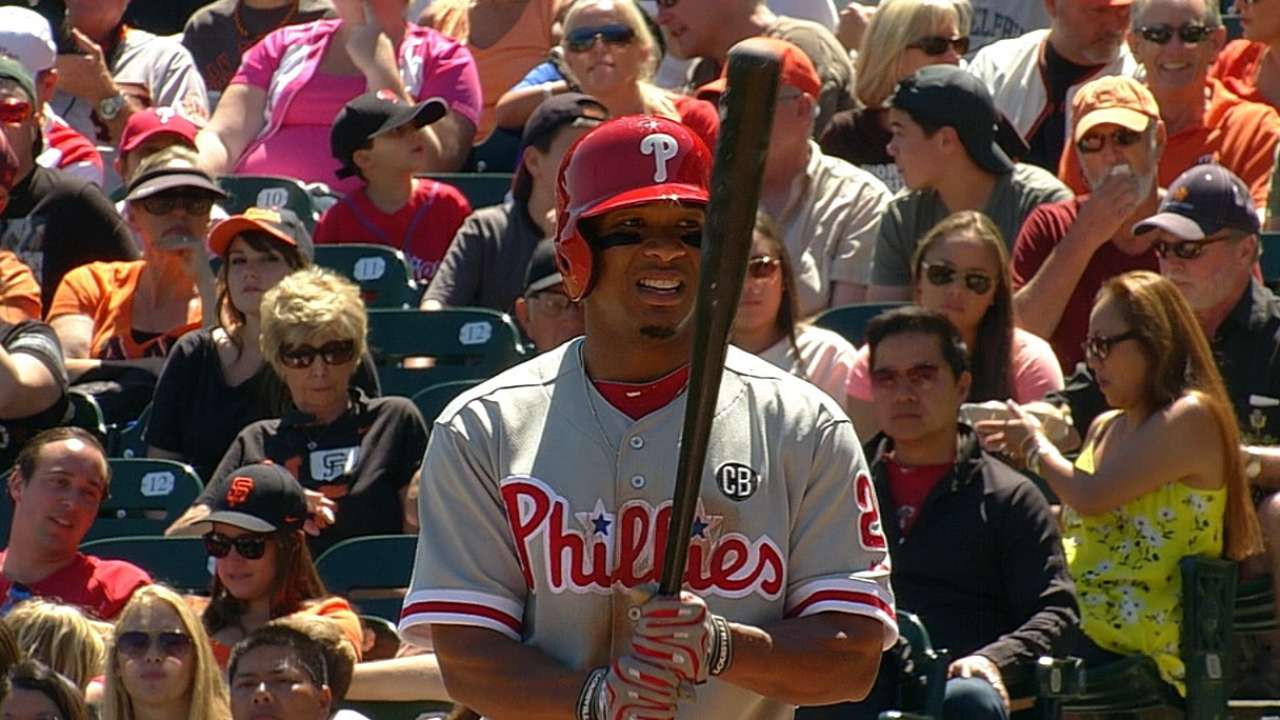 SAN FRANCISCO -- Based on the grimaces on his face, Phillies center fielder Ben Revere is playing with plenty of pain these days.
His surgically repaired right ankle is causing him fits.
"I've been this far," Revere said following Sunday's 5-2 loss to the Giants at AT&T Park. "We've got 40 games or something like that, so I can manage that."
But can he manage a run at the National League batting title? Revere went 3-for-5 Sunday to raise his batting average to .314, which is second in the league to Colorado first baseman Justin Morneau's .323 average. Revere was hitting .270 with a .617 OPS (on-base plus slugging percentage) in 68 games through June 25, but has hit .376 with an .820 OPS in 45 games since. Revere has just one career home run, but his .371 slugging percentage is only two points lower than Ryan Howard's .373 and 36 points higher than Domonic Brown's .335.
Revere has the best batting average in baseball since June 25, eight points higher than Washington's Denard Span.
"A couple guys have said some stuff about that," Revere said about a batting title. "If I can, that would be a blessing. I'll be aiming down, but my focus is just go out there, take one game at a time and win a ballgame."
Revere would be the first Phillies player to win a batting title since Richie Ashburn in 1958.
"I'm trying to and everything," he said about feeling locked in at the plate. "I'm just doing the best I can to help this team win. That's all I'm focused on. It's been pretty fun, just seeing the ball and hitting the ball good. I'm focused on trying to get on base for the guys behind me."
Todd Zolecki is a reporter for MLB.com. This story was not subject to the approval of Major League Baseball or its clubs.