Howard keeps up hot hitting vs. SF's Hudson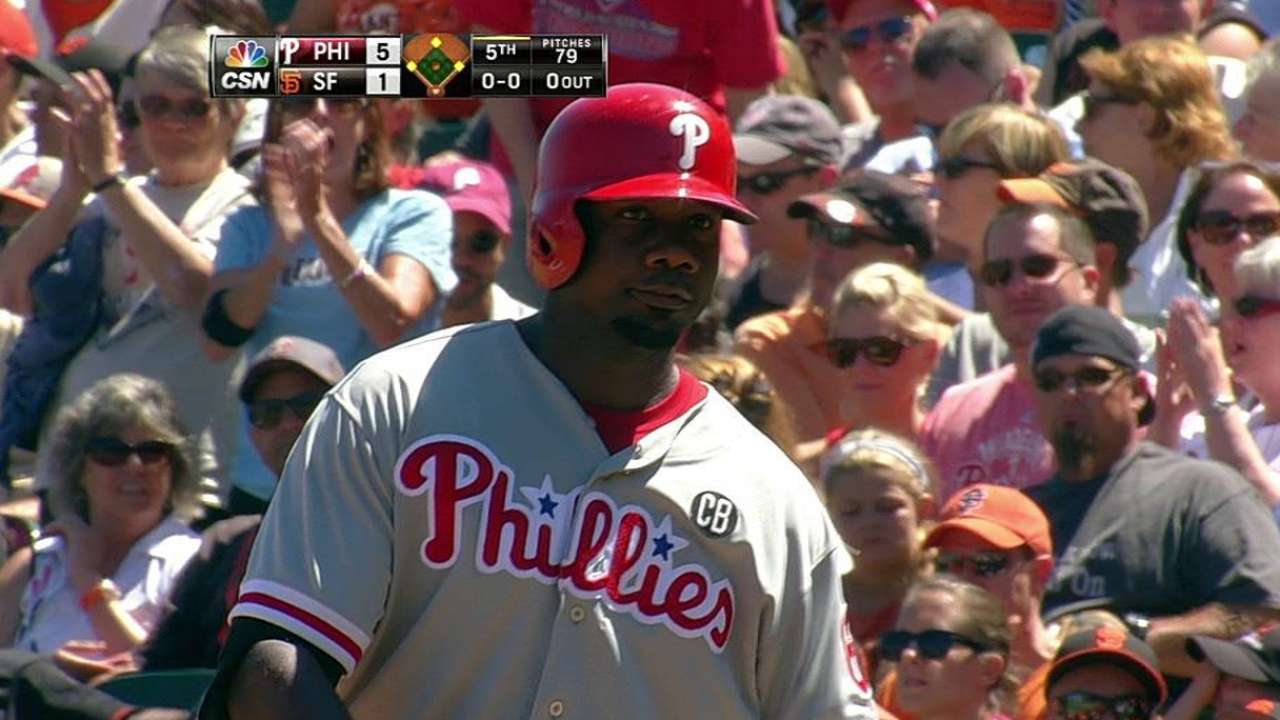 SAN FRANCISCO -- One sure bet in baseball Saturday had Phillies first baseman Ryan Howard in the lineup against Giants right-hander Tim Hudson.
Howard hits Hudson.
Always has.
Howard had two hits and three RBIs in three plate appearances against Hudson in Saturday's 6-5 loss at AT&T Park. Entering the game, he had hit .328 (22-for-67) with three doubles, seven home runs, 17 RBIs, 12 walks, 11 strikeouts, a .425 on-base percentage and a .687 slugging percentage in his career against Hudson, whom he has faced more than any other pitcher.
But what also made Howard's spot in the lineup secure is he did not play the last time the Phillies faced Hudson on July 24 in Philadelphia. That happened in the middle of Howard's short-lived, three-game benching when Phillies manager Ryne Sandberg said he wanted to see others play more at first base.
"In all likelihood, at least after today, it will be a scenario of ... I'd be considering a platoon system at first base," Sandberg said July 24.
But after Phillies general manager Ruben Amaro Jr. said the following day that he expected Howard to be the team's Opening Day first baseman in 2015, Sandberg scrapped the plan to give others a look, and Howard has played nearly every day since.
Amaro and Sandberg have both said the manager was not ordered to play Howard regularly.
"That was a decision Ryno made, and I'm on board," Amaro said this week. "Ryan Howard has to be a productive Ryan Howard to move forward. ... The offense is not all on his shoulders, but he's a very important part of our offense. He's one of the most productive players in the league. He can be more productive. I think he knows that. Our job is to try to get more productive players around him, and for him to continue to improve. He's still working on doing some things, which will make him a more consistent hitter. And he's got a month and a half to continue to work on those things to get to a level where we want him to be."
Howard is third in the National League with 77 RBIs, despite ranking 129th out of 151 qualifying players in baseball with a .668 OPS. He had hit .181 (13-for-72) with two doubles, three home runs, 14 RBIs and a .598 OPS in 19 games since the July 23-25 benching, which includes a pair of walkoff hits at Citizens Bank Park.
Todd Zolecki is a reporter for MLB.com. This story was not subject to the approval of Major League Baseball or its clubs.