Ruf's playing time continues to be sporadic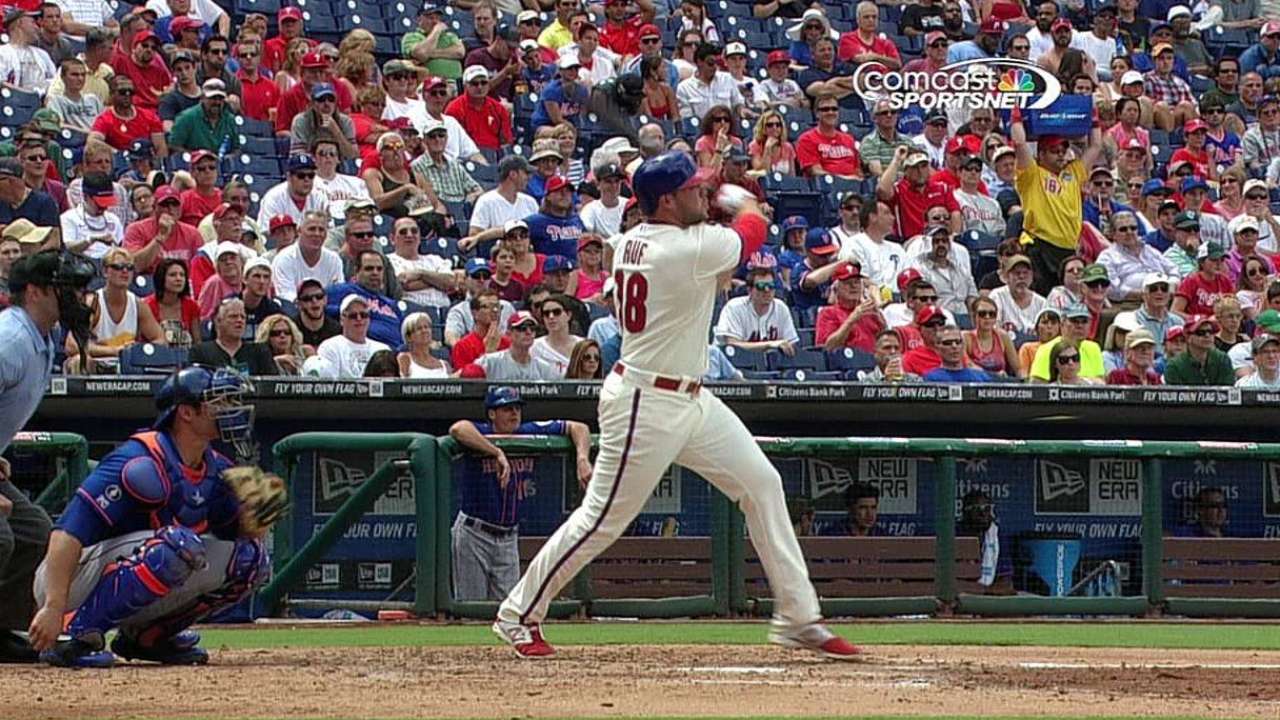 ANAHEIM -- It sounded a few weeks ago like the Phillies' Darin Ruf would receive fairly consistent playing time the rest of the season, but it hasn't happened that way.
Since he started three consecutive games at first base from July 23-25, Ruf has started just four of the Phillies' last 18 games: twice at first base and twice in left field. The right-handed-hitting Ruf did not start on Wednesday night against Angels right-hander Jered Weaver at Angel Stadium, despite going 3-for-5 with one home run, two RBIs, one walk and one hit by pitch in the past two games.
"Weaver is extremely tough on right-handed bats," Phillies manager Ryne Sandberg said.
Ruf and Domonic Brown seem to have fallen into a gray area. They are 28 and 26, respectively, so they are not young prospects anymore. But the Phillies also want to know what they have going forward, which would seem to mean more playing time for them.
Or maybe the organization already knows enough about them and playing time is no longer an issue?
"I would say in some regards [we] still need to see them," Sandberg said. "It's more for what type of role are we talking about? If it's a pinch-hit type of a situation, having some experience doing that. If it's an everyday guy, putting together a full year and being able to do that. There is some uncertainty still going forward with what both of those guys can do.
"I can see what [Ruf] can do on the defensive side of things. I think he's fine in left field. I think he's very good at first base, but with the situations he's been in the past couple years here and not being able to have a string of at-bats against all the pitchers, it's hard to really get a gauge still."
So then what would have been lost by playing Ruf against a tough right-hander like Weaver?
"That's the tricky part of making up the lineups and also trying to win a game," Sandberg said.
Todd Zolecki is a reporter for MLB.com. This story was not subject to the approval of Major League Baseball or its clubs.