Byrd not surprised he wasn't moved at Deadline
Phils outfielder says 'it's been quiet the whole time' regarding trade talks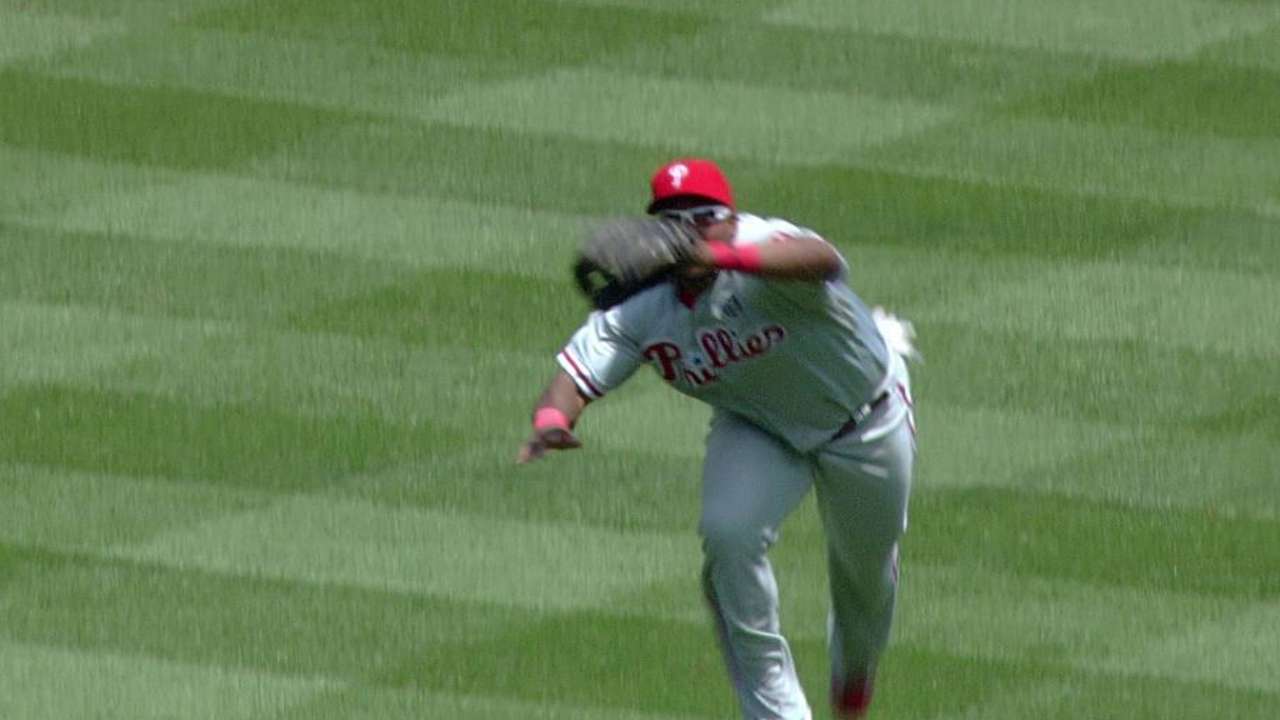 WASHINGTON -- Almost everybody in baseball seemed surprised the Phillies could not trade Marlon Byrd before Thursday's non-waiver Trade Deadline.
Not Byrd.
"It's been quiet the whole time," he said Thursday afternoon at Nationals Park. "I haven't heard from [general manager] Ruben [Amaro Jr.] or my agents as far as front-running teams that have been close. I wasn't surprised."
Byrd entered Thursday hitting .270 with 20 home runs, 60 RBIs and a .795 OPS. Teams could use a right-handed bat like his. But perhaps some teams backed away from Byrd, 36, because he is owed $8 million next season, plus a potential $8 million more in 2016 if a club option vests based on plate appearances. Byrd also has a limited no-trade clause to four teams, including the Mariners and Royals. He said he would have waived the clause had he been asked.
But now what?
"It goes back to change and figuring out a way to make those wins happen," Byrd said. "Until then, it's going to be a long road. We have the guys who want to win because they know how to win. They've done it before. We still have that core here. We still have a great pitching staff. We still have Chooch [Carlos Ruiz] behind the plate. So anything can happen next year. We'll see what happens with offseason trades and stuff like that."
Byrd still could be traded before the Aug. 31 waiver Trade Deadline or in the offseason. So could other veterans like Jonathan Papelbon and A.J. Burnett . (Cliff Lee had been a possibility, but he left Thursday's game in the third inning with a recurrence of a flexor pronator strain in his left elbow.) But what if things remain the same?
"I know one thing this team has to do is be open for change, whatever it is, to get better," Byrd said. "I don't know what it is for guys. For me, the [PED] suspension put me in a position to go to Mexico, but I had to go down there and learn how to play the game again. You have to be dedicated and understand that sometimes there needs to be change in your game, in your lifestyle, wherever it is, to make you better as a player. I knew what I needed and I did it. And it actually worked. We're creatures of habit, 35 or 36 [years old)]. You've done stuff in this game that has made you successful. Not having that success, we have to change.
"Are you willing to do it? If it's a guy in the offseason trying to get back into the game, do you go just work out or do you go play the game? A lot of guys talk about it. But you actually have to do it."
Todd Zolecki is a reporter for MLB.com. This story was not subject to the approval of Major League Baseball or its clubs.