Amaro working the phones for trade possibilities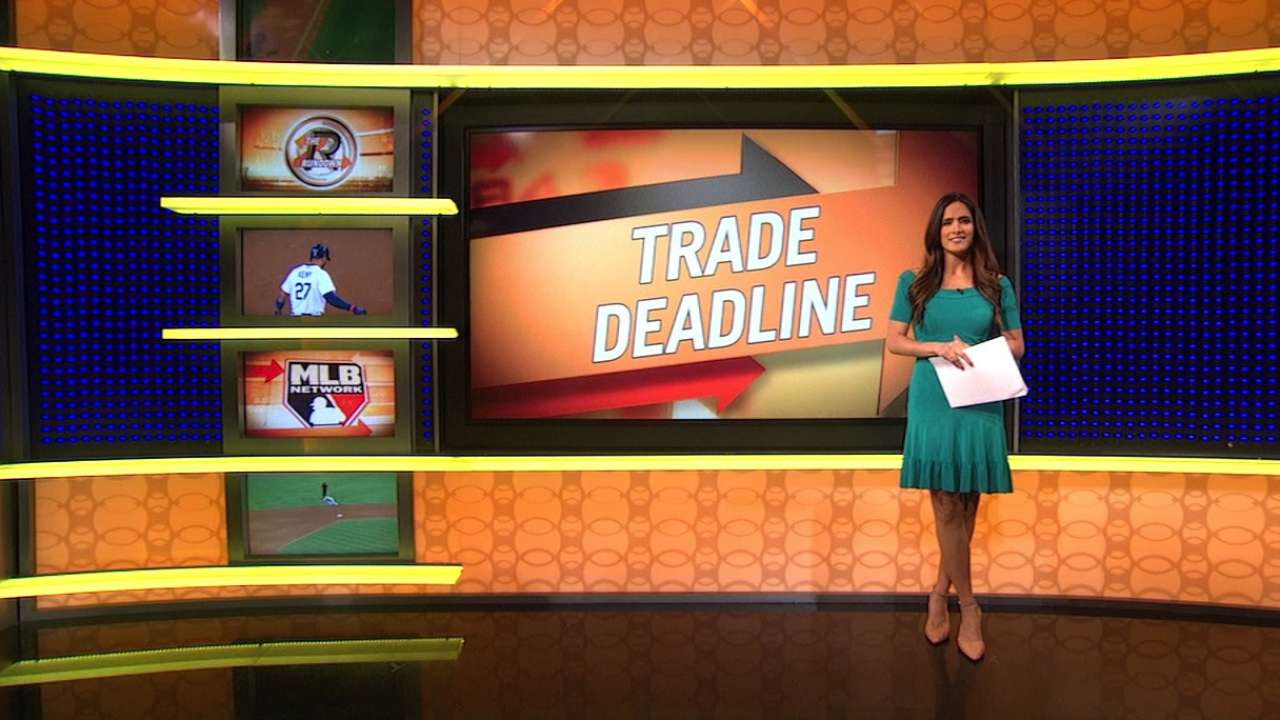 NEW YORK -- The Phillies' front office has been frustrated lately with its lack of success on the trade market, but it is still trying to complete at least one deal before Thursday's non-waiver Trade Deadline.
Phillies general manager Ruben Amaro Jr. traveled with the team to New York, where it opened a three-game series Monday night against the Mets at Citi Field. But Amaro was nowhere to be found before the game as he continues to call teams to find a trade partner for a group of players that includes right fielder Marlon Byrd and left-hander Antonio Bastardo.
"Am I expecting any [trades]?" Phillies manager Ryne Sandberg said. "I don't know one way or another. Just from what I hear, if there is [a trade], it'll be very late in the process."
Byrd and Bastardo remain the most likely Phillies to be moved, which is nothing new. Byrd was hitting .266 with 20 home runs and 60 RBIs entering Monday. His 20 homers are tied for eighth among right-handed hitters in baseball, which makes him valuable. Byrd can block trades to four teams, including the Mariners and Royals. He makes $8 million next season and he has an $8 million club option for 2016 that automatically vests with 600 plate appearances in '15 or 1,100 plate appearances in 2014-15, including 550 plate appearances in '15, which is a sticking point to some teams.
Left-hander Cole Hamels remains available, but the asking price remains extraordinarily high. This also is nothing new. The Phillies want to keep Hamels because he is the rare Phils player signed to a mega contract still in his prime, but they will consider trading him if they are absolutely blown away by an offer.
Cliff Lee and Jonathan Papelbon are unlikely to be moved by Thursday, but they could be traded in August if they clear waivers. Lee is owed at least $37.5 million following this season, while Papelbon is owed at least $13 million. A.J. Burnett remains a possibility, but he seems to be a second choice for teams still hoping for a pitcher like David Price, Jon Lester or Hamels. Burnett's player option could be worth more than $10 million next season. The money owed to Lee, Papelbon and Burnett has made trading them difficult.
Todd Zolecki is a reporter for MLB.com. Joey Nowak is a reporter for MLB.com. Follow him on Twitter at @joeynowak. This story was not subject to the approval of Major League Baseball or its clubs.