Rollins triggers $11 million vesting option for '15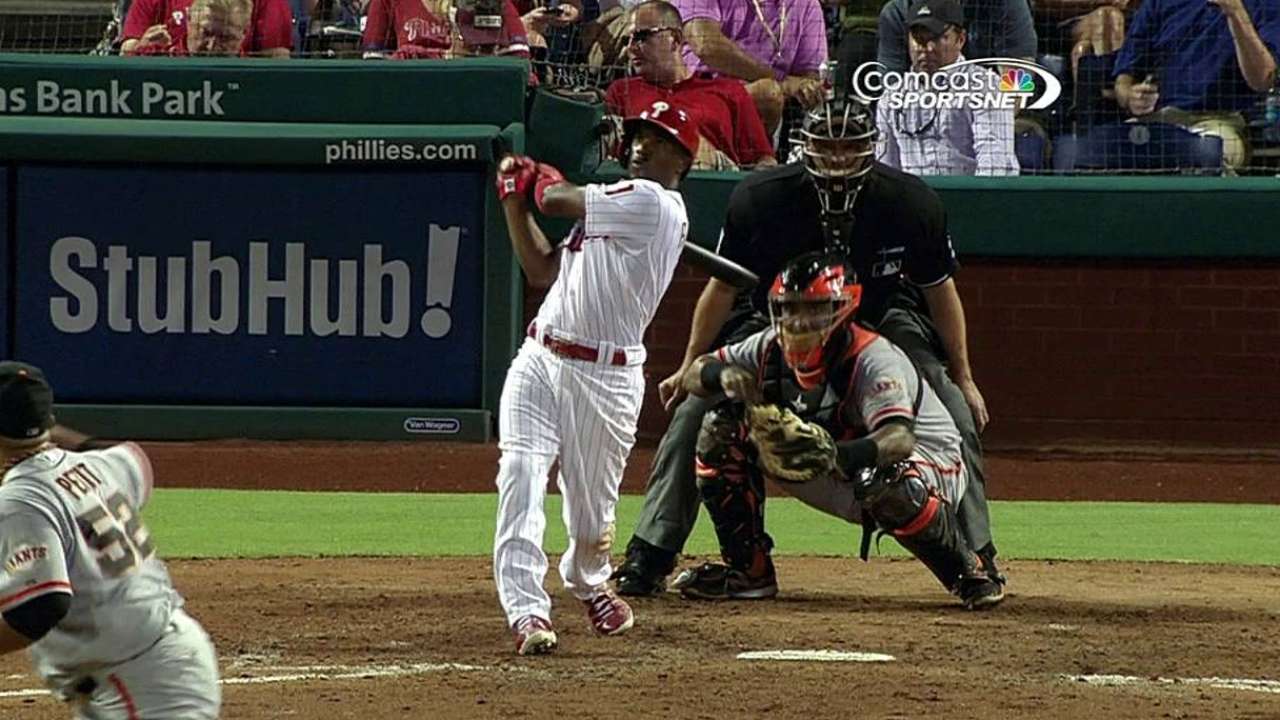 PHILADELPHIA -- Jimmy Rollins said he had not paid much attention to the $11 million countdown, but then again, he's a baseball player who already has made more than $80 million in his career.
Rollins also had friendly reminders along the way.
"Today is the big day," a longtime friend texted Rollins on Friday.
Rollins essentially had next season's $11 million club option automatically vest following his second plate appearance in the opener vs. the D-backs at Citizens Bank Park. Rollins needed 1,100 plate appearances in 2013-14 or 600 plate appearances this season for the option to vest. He hit the 1,100-mark with 666 plate appearances last season and 434 this season.
"It's just like the hits record," Rollins said. "If you're out there, it's just going to happen. When? Who knows? But it's going to happen. It's nothing I was focused on."
Of course, Rollins must finish the season healthy. If he finishes the season on the disabled list and a mutually agreed upon doctor says he will not be ready by Opening Day 2015, the option does not vest. But in that case, Rollins still could pick up a $5 million player option or the Phillies could pick up an $8 million club option.
But assuming Rollins remains healthy, the option turns his contract from a three-year, $33 million deal into a four-year, $44 million deal. Rollins always considered the contract a four-year deal from the beginning. He had 625 or more plate appearances in 12 of the previous 13 seasons, so hitting the 1,100 mark was not a problem.
"I've been here so long," Rollins said about the team's mindset in the plate appearances clause. "Just go out there, be healthy and play. If you play, we know you're going to be able to help us win. We'll make it attainable. We won't make your stretch yourself out and do things to put your career in jeopardy. Just be healthy."
Todd Zolecki is a reporter for MLB.com. This story was not subject to the approval of Major League Baseball or its clubs.