Papelbon content to remain in Phillies' bullpen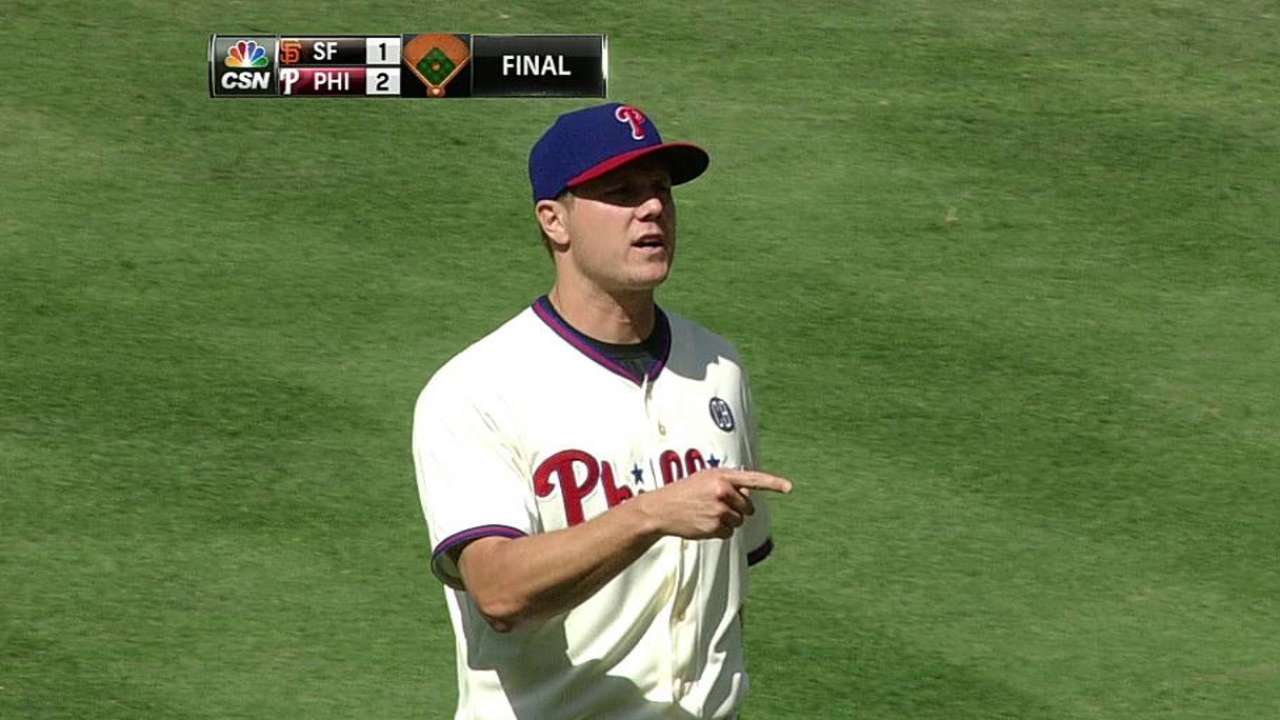 PHILADELPHIA -- Jonathan Papelbon would like to be traded to a contender before the July 31 non-waiver Trade Deadline, but the veteran closer said on Thursday that he likes the makeup of the Phillies' bullpen and wouldn't be disappointed if he's still with the club in August.
"I really, really like our situation down there in the bullpen," Papelbon said after pitching a third straight day and earning the save in a 2-1 win over the Giants. "I really truly do. I like being a part of it. Just the circumstances are we're not in a playoff situation or a winning situation right now and, of course, if I had the opportunity to go to a playoff contending team that's all fine and dandy. But at the end of the day, if nothing happens, nothing happens. I don't have any control over that."
Papelbon is 2-2 with 24 saves and a 1.91 ERA in 42 appearances this season. Contenders always look to add relievers at the non-waiver Trade Deadline, but some potential landing spots for Papelbon have closed recently with the Angels acquiring Huston Street from the Padres and the Tigers getting Joakim Soria from the Rangers.
With a week to go before the Trade Deadline, Papelbon could still be dealt. But if he were in a Phillies uniform next month, Papelbon would seem to be fine with that. He called the Phils' bullpen a "fun atmosphere" and said he enjoys the young group of relievers around him and bullpen coach Rod Nichols.
"We've got a good thing going down there and if I was to leave, I would be lying to say I wouldn't miss that," Papelbon said.
Papelbon was booed when he took the mound on Thursday afternoon at Citizens Bank Park. His recent comments on the Trade Deadline are well known by Phillies fans. But Papelbon is happy to play the role of villain if he sticks around in Philadelphia.
"No, I enjoy it," Papelbon said when asked if the boos bother him. "I just think that it's fun. It just brings a little bit of energy and life to the park, and gives me a little bit of something to look forward to do every day ... You've got to be able to take it if you want to dish it out, right? I think that goes both ways for me. It's kind of like a big brother little brother relationship, I would say."
And which brother is Papelbon?
"Big brother."
Todd Zolecki is a reporter for MLB.com. Austin Laymance is a reporter for MLB.com. Follow him on Twitter at @jalaymance. This story was not subject to the approval of Major League Baseball or its clubs.