Ryno mulling platoon at first with Howard, Ruf
Phillies manager says he will consider matchups, lineup options moving forward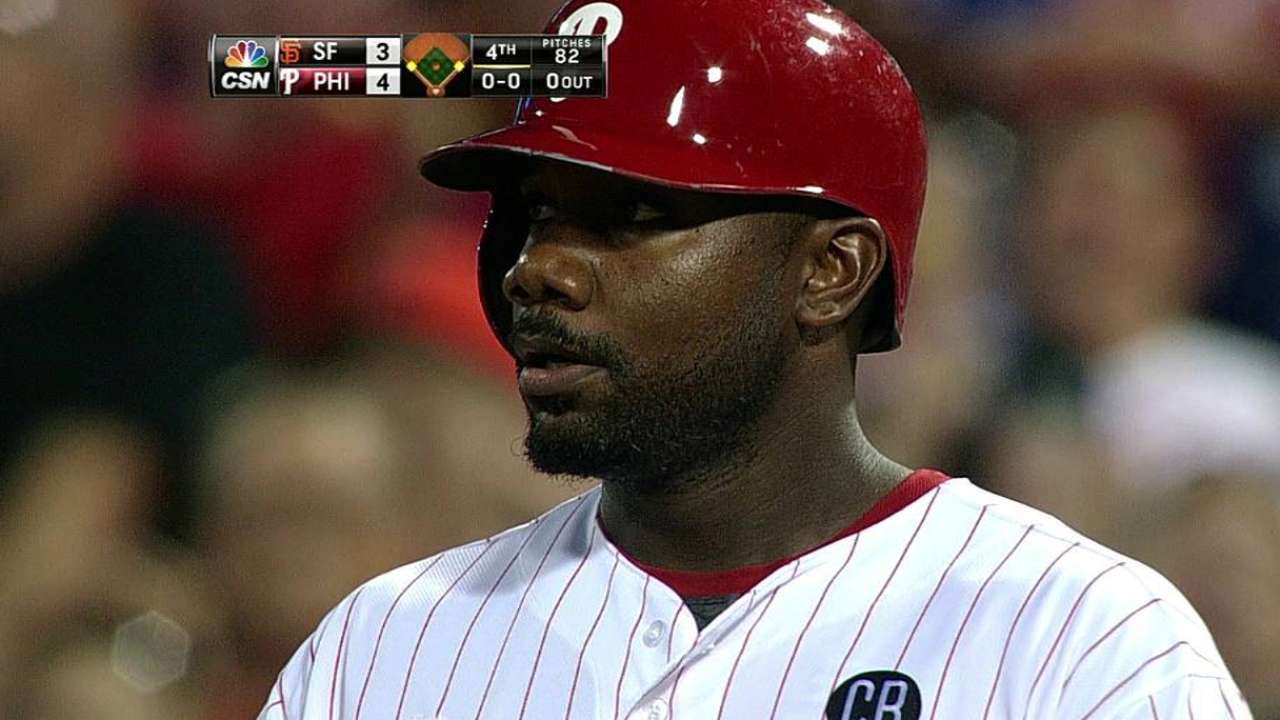 PHILADELPHIA -- Ryan Howard is the highest-paid position player in baseball this year, but Phillies manager Ryne Sandberg said on Wednesday that Howard's salary will have little impact on future lineup cards.
Sandberg drove home that point soundly on Thursday, as he benched Howard in favor of Darin Ruf for a second consecutive game, but this time against Giants right-hander Tim Hudson. That is noteworthy because Howard has faced Hudson more than any other pitcher in his career, hitting .328 (22-for-67) with seven home runs, 17 RBIs and a 1.112 OPS against him.
"The way I see things," Sandberg said before their 2-1 victory over the Giants, "I basically wanted to give Ruf two days in a row, just to get his feet wet, see him against a right-handed pitcher, then go from there. But in all likelihood, at least after today, it will be a scenario of ... I'd be considering a platoon system at first base."
The p-word has been uttered: platoon.
Sandberg and Howard held a closed-door meeting in the manager's office for at least 10-15 minutes about three hours before the game. Howard was unavailable to comment afterward. He made a beeline to the back of the Phillies' clubhouse upon leaving Sandberg's office. He returned to his locker to grab his cell phone before going outside to make a call. The clubhouse closed almost immediately after he returned.
Howard had no interest in commenting about his situation after the game.
"Talk to him," he said after the game, referring to Sandberg. "Bye. Talk to the manager."
Asked if Howard was receptive to his talk, Sandberg said, "He wants to play and he wants to be in the lineup, and that's totally understandable. So as we go forward and there are some options on some days, then I'll look at those options."
It does not take a genius to see the 2006 National League Most Valuable Player is not happy.
If Sandberg follows through and platoons Howard and Ruf it would make Howard, who signed a $125 million contract in April 2010, a part-time player with $60 million owed to him after this season. What that means for Howard's future remains to be seen. Sources said the Phillies have kicked around multiple scenarios regarding Howard's future, including the possibility of releasing him in the offseason.
It would seem to be an awkward situation for Ruf, who is trying to prove himself as a regular big league player. But Ruf said he will not let the spotlight bother him as he is asked to take an iconic player's place in the lineup.
"Ryan is a great player," Ruf said. "He's going to be counted on to help this team win in the last two months, hopefully. If we can share a role in making that happen, or he becomes the player that he once was and that we know he can be, and if it's my opportunity, I'll just look forward to proving I can be that guy, too."
Phillies general manager Ruben Amaro Jr. was unavailable to comment on Howard's situation and future with the organization.
"Ryan wants to be in there," Sandberg said. "I totally expect that, so we'll go forward and make up lineups."
Todd Zolecki is a reporter for MLB.com. Austin Laymance is a reporter for MLB.com. Follow him on Twitter at @jalaymance. This story was not subject to the approval of Major League Baseball or its clubs.