Brignac, Nieves return to Phillies from disabled list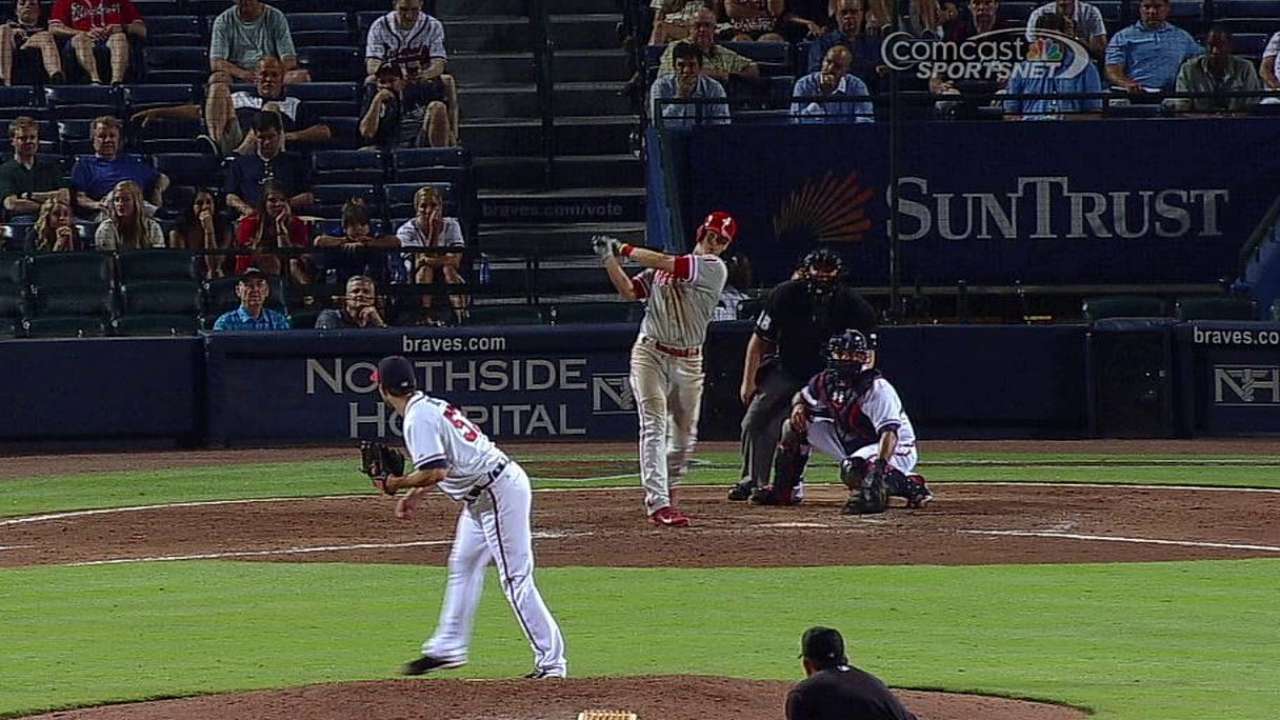 PHILADELPHIA -- Cliff Lee's return to the starting rotation after two months on the disabled list was Monday night's headline, but the Phillies got back some additional depth in the form of Reid Brignac (left ankle sprain) and Wil Nieves (right quad strain), who were reinstated from the DL before the series opener against the Giants.
In corresponding moves, catcher Koyie Hill was outrighted off the 40-man roster, outfielder Tony Gwynn Jr. was designated for assignment and infielder Cesar Hernandez was optioned to Triple-A Lehigh Valley.
Brignac, who has posted a .258 average with a homer and 10 RBIs in 66 at-bats this season, was putting good swings on the ball -- he went 7-for-21 (.333) in his last five games -- prior to sustaining the ankle injury and being placed on the shelf June 20.
"You know, it happens. There is nothing you can do about it," Brignac said about getting injured as he was heating up. "Thank God I had the great trainers I had to get me back as soon as I have. It's a little over four weeks, and with the type of injury I had, it definitely could have taken longer. So I am very fortunate to be back in the time that I am back. I am just ready to get back out there and pick up where I left off."
Brignac didn't have a problem picking up where he left off during his three-game rehab assignment for Class A Advanced Clearwater, where he went 4-for-8.
Meanwhile, with Carlos Ruiz still at least a few days away from a return to the lineup, Nieves' return is all the more impactful. The Philadelphia catcher said it took him a little longer to come back from the right quad strain than he expected, but he doesn't feel any pain now.
"That's what I wanted, to make sure that when I came back, there wasn't even tightness," Nieves said. "I wanted to be back and to be able to play and maybe to play every day. They asked me before how I felt and I was always honest because I want to help the team. And if I was unable to score from second or whatever, I was going to hurt the team. But it took me a little longer because I want to contribute with the team. And now I am ready and I can do it. I can play every day if they need me to and play hard."
The roster shift allows Hernandez a chance to see regular at-bats and stay fresh in the field at Lehigh Valley.
"He just needs to go and play and get at-bats," Phillies manager Ryne Sandberg said. "Freshen up a little bit at second base. Get some more reps there where he's very good but also get a little bit of time at short and third. Continue with that. On the defensive side of things, get some innings and reps on that side of the diamond. On the offensive side of things, leads and jumps at first base with his potential basestealing. And also, just with his at-bats, he swings a good bat and he's on the fastball. He's a very good fastball hitter. Just battling with two strikes, battling the breaking pitches will go a long way in helping his at-bats."
As for Gwynn, Sandberg called the decision "tough" considering what the outfielder brings to the clubhouse.
"Very professional guy. Terrific teammate," Sandberg said. "We'll see what he decides but we've given him the option to remain with the organization."
Erik Bacharach is an associate reporter for MLB.com. Joey Nowak is a reporter for MLB.com. Follow him on Twitter at @joeynowak. This story was not subject to the approval of Major League Baseball or its clubs.