Strong-armed Rupp impresses at big league level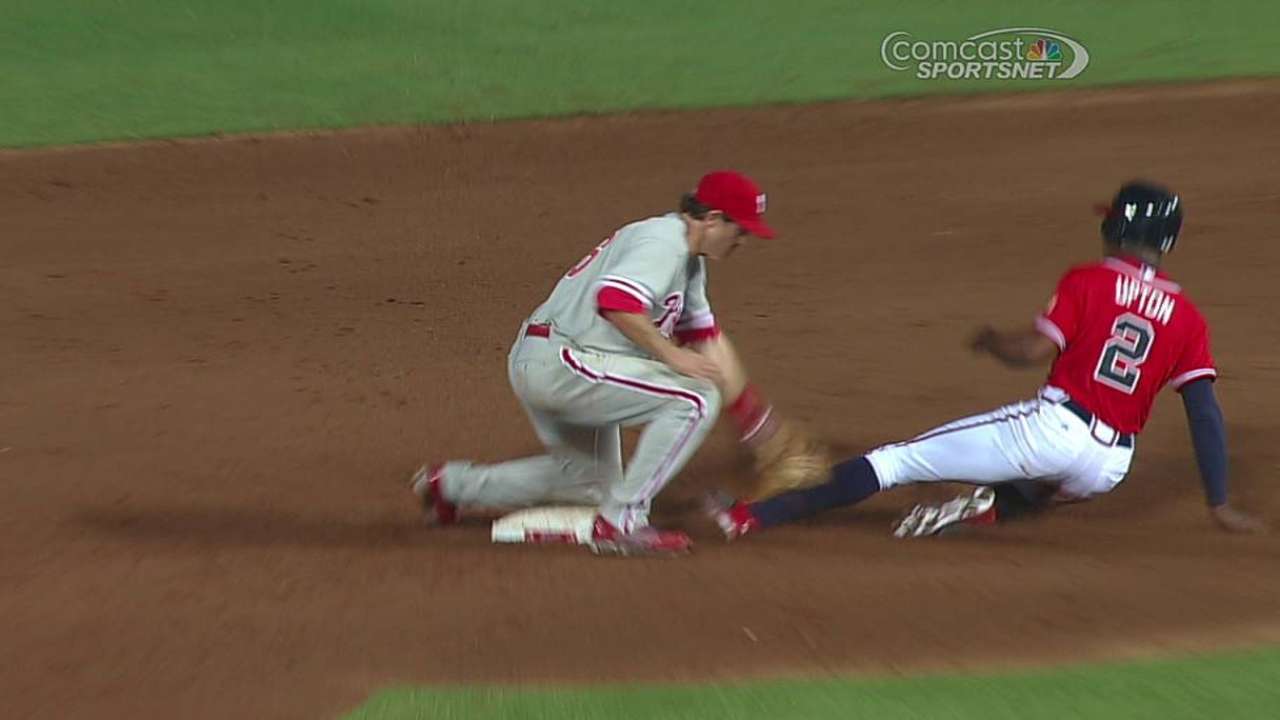 ATLANTA -- Phillies starter Cole Hamels may have been giddy throwing his new two-seam fastball Saturday night, but the other nights of the week, he's having fun watching the development of young catcher Cameron Rupp.
"He's getting a really good idea of how to call a ballgame with our strengths," said Hamels. "It's been fun to see, because he's always had a great arm. With what he's able to do and what he's able to bring, hopefully he's going to turn out to be a really good Major League catcher."
Rupp, the Phillies' third-round pick in 2010, caught in four games last September and was recalled from Lehigh Valley on June 19, when backup catcher Wil Nieves went on the disabled list with a right quad injury. He'd become the starter when Carlos Ruiz went on the DL on the June 24 with a concussion. Rupp has caught 15 games for Phillies, getting the day off Sunday afternoon.
Since a 3-for-26 start at the plate over his first eight games, Rupp has turned it around, batting .273 (6-for-22) with a pair of doubles and four RBIs and recording a hit in five of his last seven games prior to Sunday.
But Rupp's defense has never wavered. Known for his great arm, he's cut down 41.7 percent of attempted basestealers (5-of-12), including Braves stolen base leader B.J. Upton in the eighth inning Saturday night with the Phillies protecting a 2-1 lead.
"He's got a rocket of an arm," said manager Ryne Sandberg. "He's really showing that. A good release, good tag by [second baseman] Chase [Utley]. It was a big play."
It's all part of Rupp getting more comfortable at the Major League level.
"I feel like the game's slowing down for him and he's feeling a lot more comfortable out there," said veteran catcher and mentor Koyie Hill, who caught the series finale against the Braves. "Mechanically and technically, he's pretty sound. He throws well, he blocks well. He receives the ball well.
"Now it's just learning the tendencies of his pitching staff and learning the league, and that just comes from experience. Cameron's very absorbent as a student, and he does a good job of picking things up and utilizing things during the game."
Rupp is starting to get on the same wavelength with the veteran rotation that includes Hamels, A.J. Burnett and, come Monday, Cliff Lee.
"They know what they want to do," Rupp said. "My thought process is a suggestion of what I think is the right thing. They're going to disagree. It happens with everybody. So that's just kind of part of it."
When in sync, it's pretty cool.
"That's a great feeling," Rupp said. "When you have that going with guys, it's like sitting in a rocking chair back there. They're putting the ball where they want it and getting outs, getting early outs, not throwing too many pitches. It makes for a fun night."
With Ruiz and Nieves both nearing returns and Sandberg not a fan of keeping three catchers, Rupp's future in Philly is uncertain, but for now, he's happy living in the present.
"I just come to the ballpark ready to go every day and whatever happens, happens," Rupp said. "But it's been a great opportunity for me to be up here and get to experience a big league clubhouse. It's been exciting."
Jon Cooper is a contributor to MLB.com. This story was not subject to the approval of Major League Baseball or its clubs.