Lee ready to return for home series on Monday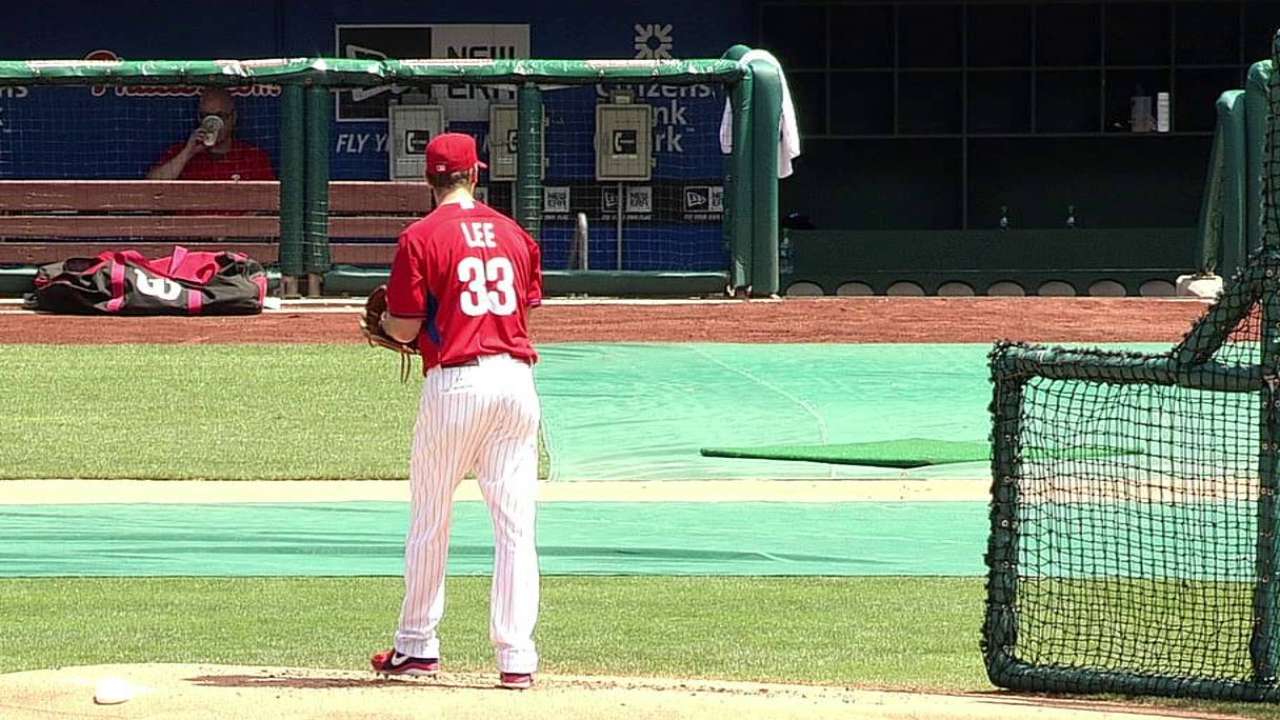 ATLANTA -- What is the definition of a quality start? That depends on who you ask.
For Cliff Lee, it's a start wearing a Phillies uniform. That means Monday night, when the Phils host the Giants at Citizens Bank Park in their first post-All-Star break series at home.
"I feel as good as I've felt the whole time. I made three rehab starts and am going to pitch Monday," said Lee -- who last took the mound for the Phillies on May 18 -- from the clubhouse prior to Friday night's game with the Braves at Turner Field. "I'm just ready to try to help the team win. That's what I want to do."
Lee would have liked to have done so on Saturday, on his regular five days' rest, against the Braves, but the team chose to push him back two days.
"Just to keep everybody on seven days' rest," said manager Ryne Sandberg. "So he'll get an extra two like everybody else. Otherwise, it would have pushed [Cole] Hamels back to nine. So it keeps everybody somewhat on pace."
One benefit of his pushed-back start is that he is 5-0 with a 0.88 ERA in six career starts vs. the Giants.
Of course, Lee is hoping to continue that trend, while ignoring his final rehab start, in which he allowed eight runs on eight hits over 4 1/3 innings. That is now something about which he can sit back and laugh.
"Everything happened," Lee said, breaking into a smile. "It was a weird game. There's no rhyme or reason for anything. They swung the bat and hit a lot of balls. I felt fine. I feel good. I'm ready to go."
Lee pitched to a 5.06 ERA in three rehab starts, going 10 2/3 innings, allowing 13 hits and a homer with eight strikeouts and two walks.
"The results aren't as important," Lee said. "It's more of, 'Get your reps in and get your pitch count up to get back to this team, where it really matters.'
"I know all the guys on the team there are wanting me to do well, because they want to win, and they should. I want to have results and get my work in at the same time. But obviously it's more about getting back to the big leagues and helping the team win here."
How long Lee lasts will depend on how strong he is.
"We'll have to watch him," said Sandberg. "See how his stamina holds up, see how his innings are. That's been a part of his rehab, is his holding his stamina throughout his whole outing."
Lee was 4-4 with a 3.18 ERA in 10 starts, but he'd been pitching despite having a flexor pronator strain. He said he's not worried about a repeat stress injury.
"That's just the nature of the business," Lee said. "I mean, any time you've had an injury and you go back to doing what you did that probably created the injury, there's the potential that that can happen. That's just the way it is."
Lee's name has also been involved in trade rumors.
"Right now I'm a Phillie, and I want to try to help this team win," Lee said. "I'm eager just to get back on the mound and try to help the team win. I've been out for two months now. I'm just ready to do my job."
Jon Cooper is a contributor for MLB.com. This story was not subject to the approval of Major League Baseball or its clubs.