Sandberg confident in Howard for second half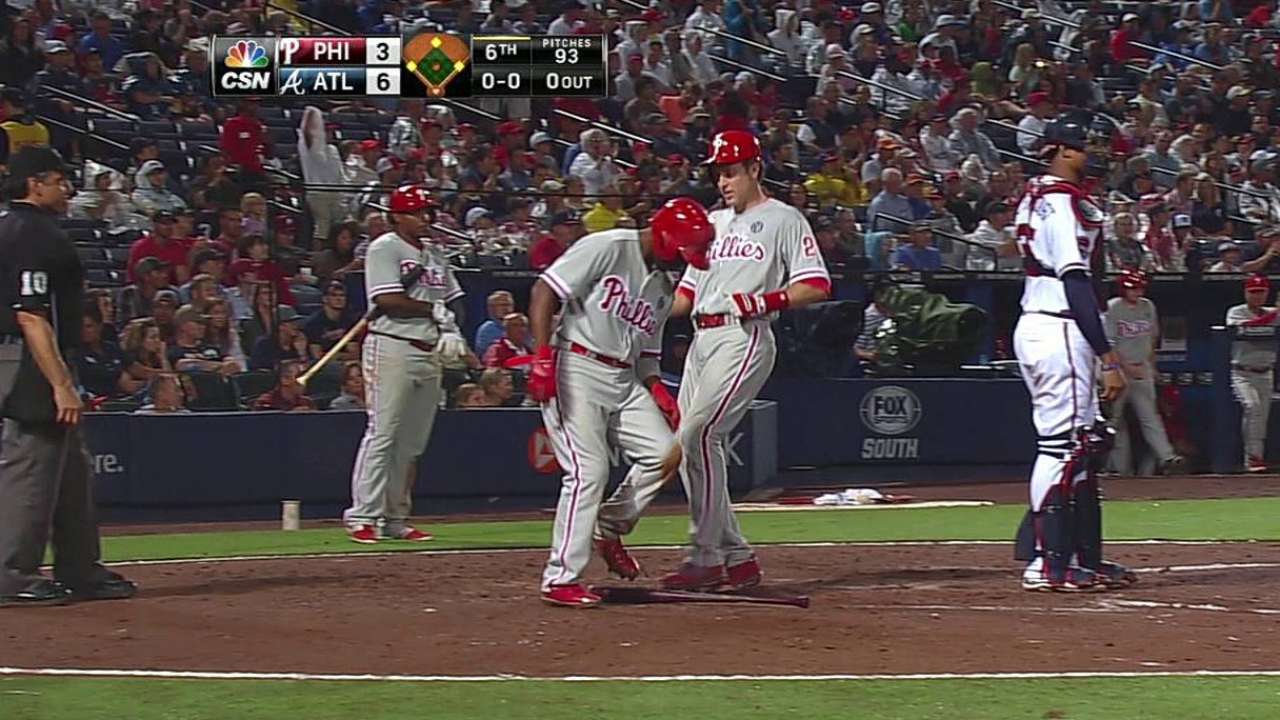 ATLANTA -- If the Phillies are going to make any kind of noise in the second half, they're going to need some big pop out of first baseman Ryan Howard.
Manager Ryne Sandberg believes that Howard will stand tall, and that starts with the way he stands at home plate.
"Just find a comfort zone for him standing at home plate that allows him to square the ball up, and [stick] with that," said Sandberg. "Hopefully that will bring quality at-bats and consistent contact. He's had spurts of it, but [he needs to] have it more often [and] feel comfortable at home plate and be that threat that he can be, just more consistently."
Howard, who entered the series with Atlanta batting .220 and mired in a 1-for-13 slump, showed signs of life Friday night. It began with a couple of hard-hit foul balls, then a well-hit flyout in the fourth. He then muscled a bloop single into short left-center to drive in two runs, which is the kind of hit that can jump-start a hot stretch. With two outs in the ninth and Atlanta closer Craig Kimbrel on the mound, Howard laced a ball to right that was snagged on a diving stab by Braves' right fielder Jason Heyward.
Sandberg is encouraged by what he saw and what he believes he'll be seeing more of going forward.
"He hit a couple of balls hard. It looks like he's making progress," Sandberg said prior to Saturday night's game. "[The single] was just the law of averages, getting jammed and driving in two runs when he hits two other balls hard with nothing to show for it."
Sandberg is confident Howard will keep working until he does come around.
"He thinks about it, he works at it," Sandberg said. "Maybe sometimes he thinks too much about it instead of just making it simple, standing up there and getting in a stance and just seeing the ball and squaring it up. So to simplify it … would go a long way, and he's trying to do that, keep it simple. Finding something that's comfortable to him, that's what he continues to search for."
Jon Cooper is a contributor to MLB.com. This story was not subject to the approval of Major League Baseball or its clubs.