Called up by Phils, Sizemore seeks fresh start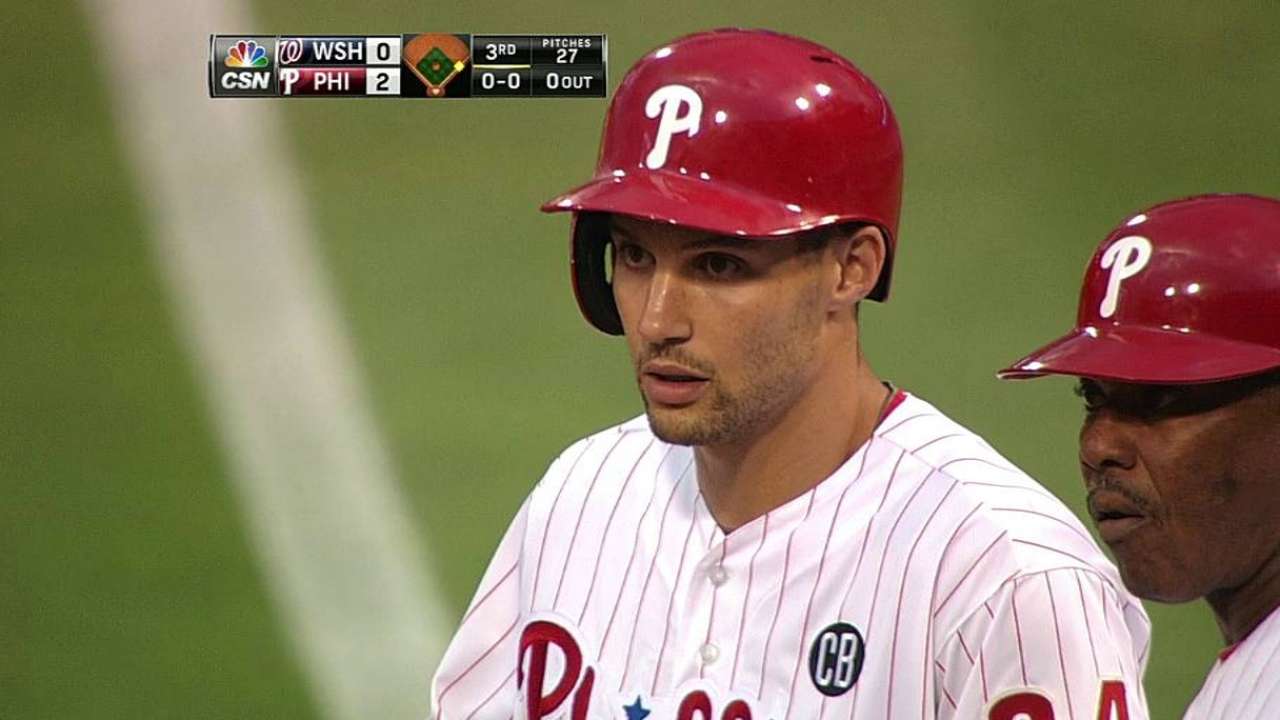 PHILADELPHIA -- Considering all that he has endured, Grady Sizemore might be the oldest 31-year-old in baseball. But on Friday night, Sizemore was given his first chance to show the Phillies that he was still capable of contributing at the Major League level.
The Phillies selected the contract of Sizemore, who played in 11 games for Triple-A Lehigh Valley, on Thursday evening and promptly thrust him into center field and the leadoff spot in the lineup on Friday against the Nationals. He singled in his second at-bat against Jordan Zimmermann, leading off the third inning, and scored on a home run by Jimmy Rollins.
"I definitely feel a little bit older than 31," Sizemore said before the game. "But I think it's just a matter of being gone for so long and trying to get back into shape. I think I'll get there. I just don't know how long it will take."
Sizemore had been one of the better outfielders in baseball with the Indians from 2004-09 before seven surgeries for a variety of injuries limited him to 104 games 2010-11 and kept him out of baseball for two years after that.
"When you are not playing and you are going through multiple surgeries, it is all a low point," he said. "It seemed like there was no light at the end of the tunnel for a long time. So it's just one of those things where you just focus on the positive and try to get healthy and get back on the field."
Sizemore actually appeared as if he had turned things around after hitting .343 with two homers and four RBIS through his first 10 games with the Red Sox this year. But from there his production took a nosedive. Over his next 10 games, Boston's Opening Day center fielder went a paltry 3-for-37 and saw his average sink to .208.
Sizemore finished his stint with the Red Sox with 10 doubles, two triples, two homers, 15 RBIs and a .216 average in 52 games before he was released last month.
"I just didn't play well," he said. "Just inconsistent. I think it is one of those things. If you are gone for a long time, you are going to have ups and downs."
But Sizemore rebounded nicely with Lehigh Valley, hitting .283 with one double, one home run, two RBIs and a .723 OPS in 51 plate appearances over 11 games with the IronPigs.
"It's been awhile since I'd been down in that environment," Sizemore said. "But it was good, just getting the chance to play every day and just kind of getting the legs back underneath me and just kind of see pitching and get reps in the outfield on a consistent basis."
"He was swinging a good bat, he was using the whole field, a line-drive stroke," Phillies manager Ryne Sandberg said. "Good hit and run guy, he bunts, plays all three outfield positions. So he brings some options for a lineup, brings options for the outfield."
More options can only be a good thing for a Phillies outfield that continues to struggle to generate offense. Entering Friday, its .564 OPS in left field was the worst in the Majors, and its .647 OPS in center field was 23rd.
Sandberg said he would take it day by day with Sizemore.
"Haven't seen him, so I want to see him out there in center field and then take it from there," Sandberg said. "Take it a game at a time. See how things line up [on Saturday] facing a different pitcher and seeing how things look [on Friday]."
Erik Bacharach is an associate reporter for MLB.com. This story was not subject to the approval of Major League Baseball or its clubs.