Phils get Papelbon's preference to play for winner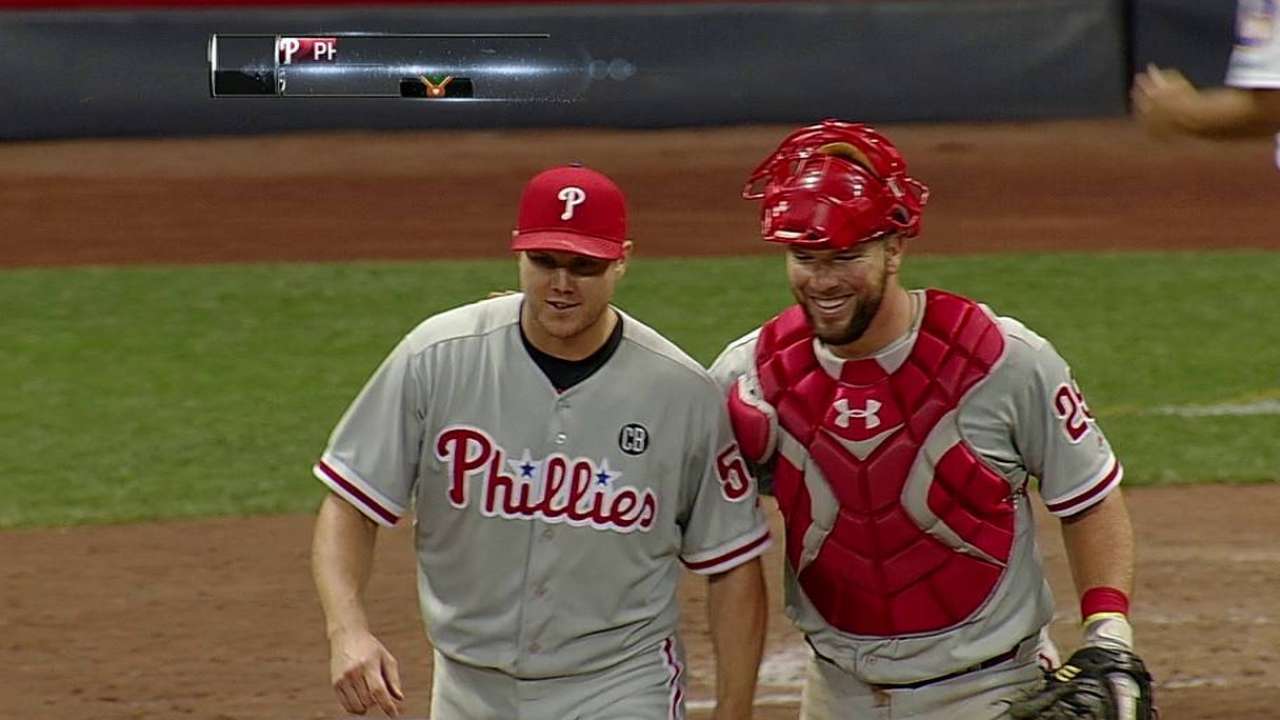 MILWAUKEE -- Jonathan Papelbon seemed baffled Wednesday when reporters asked if he hopes to join a contending team before the July 31 non-waiver Trade Deadline.
"Some guys want to stay on a losing team?" Papelbon said. "That's mind-boggling to me."
Chase Utley and Jimmy Rollins are two longtime Phillies who have said in recent weeks they have no desire to leave Philadelphia. Both have 10-and-5 rights, so they can reject any trade at any time. Utley said nothing Thursday morning at Miller Park when asked about Papelbon's comments and if anything has changed for him. He shooed away the question with his hands.
Rollins said little more than that.
"Not until I say so," Rollins said, asked if anything has changed for him. "You don't have to investigate."
Phillies general manager Ruben Amaro Jr. said he had no problems with Papelbon's candid comments.
"Every single player on this team should want to play for a winning team," Amaro said. "Simple as that. ... Don't misconstrue his words. He never said he's unhappy here. He never said anything like that. He never expressed to me that he's been unhappy. Why wouldn't players want to play on a contending team? It's really rather simple."
Cole Hamels walked past Amaro in the visitors' dugout at that moment.
"He wants to play on a winning team," Amaro said about Hamels. "Why wouldn't he?"
Amaro said Papelbon has not requested a trade. He would not say if there is much interest in his closer, although Amaro said, "I'm getting calls on people all the time."
But Papelbon was 10th among 149 qualified relief pitchers in baseball with a 1.24 ERA entering Thursday. His 0.85 WHIP was 15th out of 203. He was 22 of 24 in save opportunities.
Papelbon could help a contending team in need of bullpen help.
"It's not a problem," Amaro said. "I don't view it as a problem. I've never viewed him as a problem."
Asked about Papelbon's bewilderment that anybody would want to stay on a losing team, Rollins said, "Pap is entitled to say whatever he wants to say. And he will. As all of us will. Those who have enough courage to."
But there have to be many more people in the Phillies' clubhouse that feel that way. They just don't want to say it publicly.
"I can't necessarily agree with that," Rollins said.
Amaro said the Phillies are open-minded about a lot of things as the Trade Deadline approaches. It could mean eating some of Papelbon's contract. He is owed about $19.5 million through next season, plus a potential $13 million more in 2016 if an option automatically vests based on games finished.
"Something is probably going to happen," Rollins said. "No one knows who, what or when obviously. Something is likely going to happen."
But Rollins figures to be with the Phillies on August 1.
"Probably," Rollins said.
Todd Zolecki is a reporter for MLB.com. This story was not subject to the approval of Major League Baseball or its clubs.