Giles, Diekman give Phillies late-game bullpen depth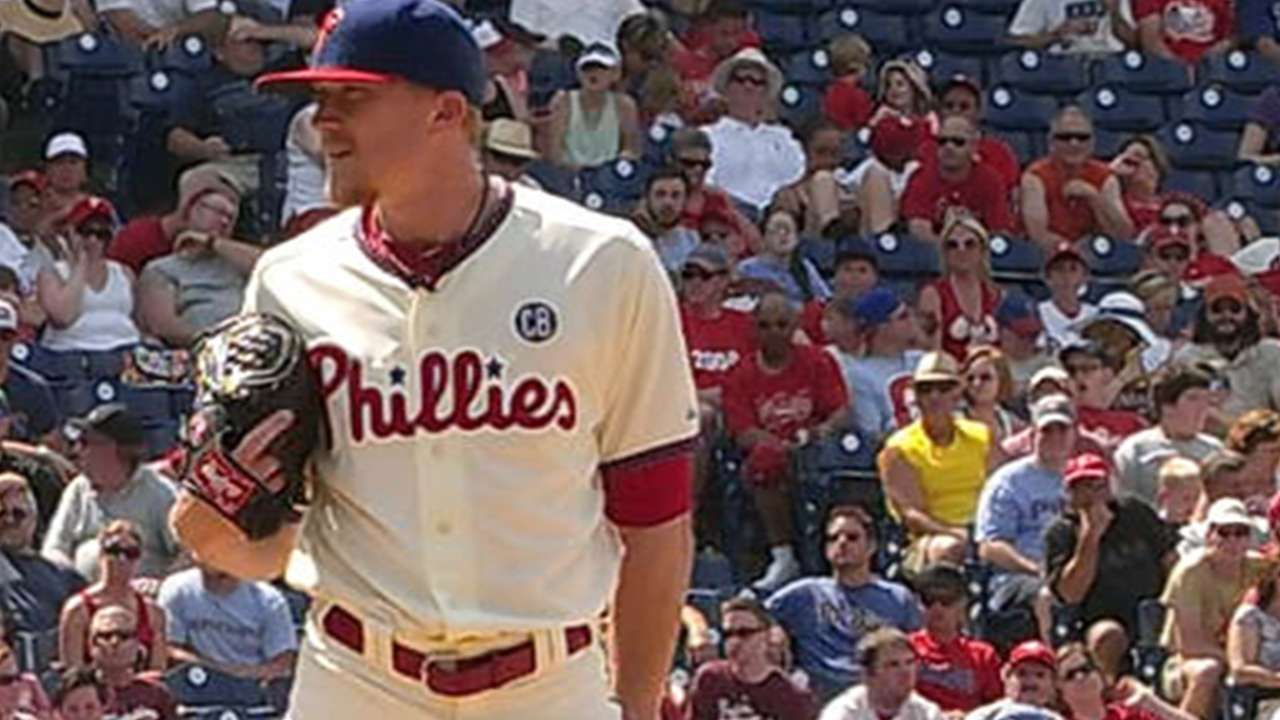 MILWAUKEE -- The Phillies have 23 days to make a move or two (or more) before the July 31 non-waiver Trade Deadline, and Phillies closer Jonathan Papelbon is somebody they will try to trade if they can.
They tried to trade him last July and last offseason, but were unsuccessful.
Papelbon is 2-1 with a 1.31 ERA and 20 saves in 35 appearances this season, but he will make $13 million next year. He also has a chance to make $13 million more in 2016 with an option that automatically vests with 55 games finished in 2015 or 100 games finished in 2014-15. The money and option could be stumbling blocks for teams interested in a veteran closer.
If the Phillies can move him before the deadline, they will need somebody to pitch the ninth inning. Two likely candidates are right-hander Ken Giles and left-hander Jake Diekman. Phillies manager Ryne Sandberg said Tuesday at Miller Park that if Papelbon were unavailable to close for any reason -- needing to rest after pitching multiple days in a row, for example -- they would be candidates.
Looking into the future, which could come as early as this month, Sandberg said he would consider experimenting with more than one pitcher in the ninth, but "I don't know how long that would last. In the long haul it's good to have one guy."
Giles and Diekman both hit 98-99 mph regularly on the radar gun, which makes them attractive in the ninth because of their strikeout potential. Giles has a 0.77 ERA in 11 appearances this season. He has allowed four hits, one run, three walks and has struck out 17 in 11 2/3 innings. Diekman has a 4.39 ERA in 41 appearances. He has allowed 37 hits, 20 earned runs, 18 walks and has struck out 55 in 41 innings.
Diekman, however, has allowed a .809 OPS against right-handed hitters compared to a .459 OPS against left-handers. Giles has allowed a .345 OPS against right-handers in a smaller sample size, compared to a .487 OPS against lefties.
"Just commanding his slider," Sandberg said, when asked about ways Diekman can improve against right-handers. "Having a good quality slider all the time. It seems to be a little bit inconsistent with location and it's effect at home plate with right-handed hitters. And after seeing that fastball, because that [slider] is slower and coming into them, if it's not a hard biter in the right location it can be hit."
Todd Zolecki is a reporter for MLB.com. This story was not subject to the approval of Major League Baseball or its clubs.