Amaro says changes are coming to struggling offense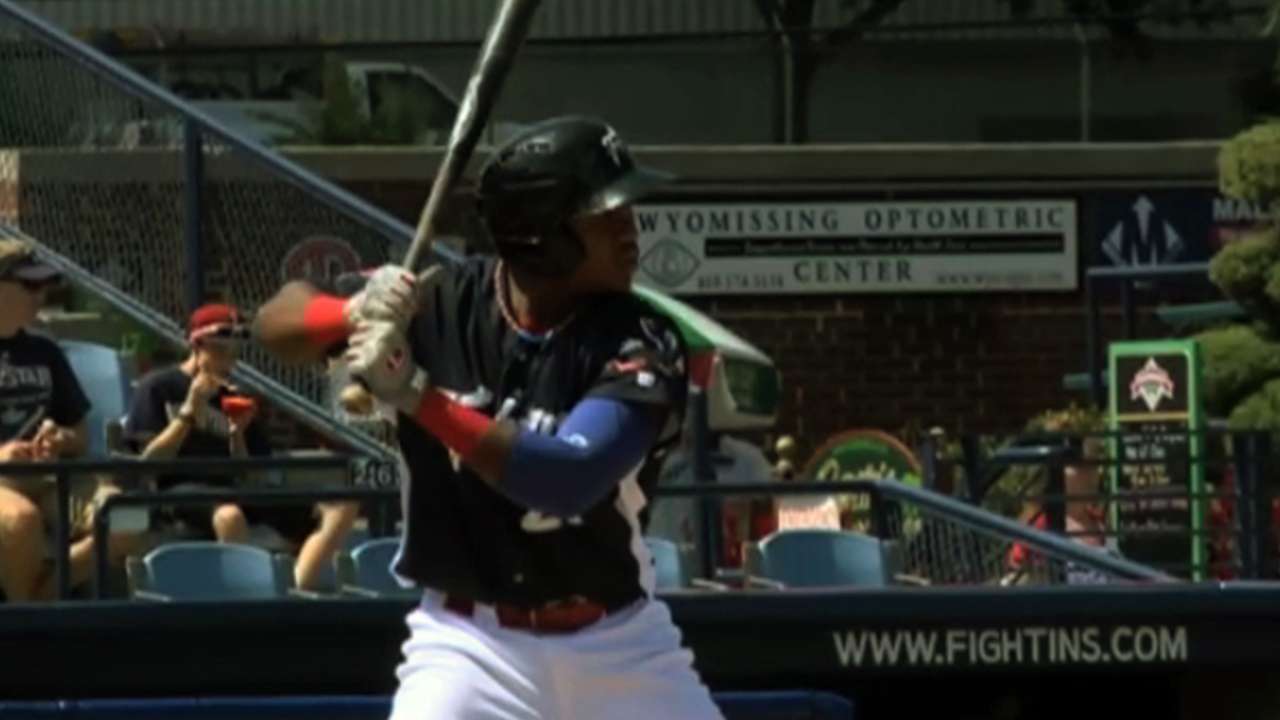 MILWAUKEE -- Ruben Amaro Jr. said Monday that changes are coming for the Phillies' offense.
It could come in the form of trades before the July 31 non-waiver Trade Deadline, injured players finally getting healthy or Minor Leaguers finally getting a shot.
"It's disappointing, particularly the offense," Amaro said about the Phillies' performance. "What more can you say other than we're not swinging the bats very well? I didn't anticipate our guys being this poor. Because they are. They are this poor. We think that they're better. But they haven't shown it. So at some point we're going to have to make some changes. Some guys, once they are ready to play, may be factors for us."
The Phillies hit just .206 and averaged just 2.56 runs a game over their recent 3-13 slide. They hit .148 with runners in scoring position in that stretch. For the season, the Phillies are 26th in baseball in runs per game (3.75) and 29th in OPS (.661), despite having a franchise-record $180 million payroll and nearly every high-paid hitter healthy.
Possible changes include Triple-A outfielders Darin Ruf and Grady Sizemore and infielders Maikel Franco and Freddy Galvis.
"Whoever else in the organization may be factors for us," Amaro said. "We have to get them healthy and see if it behooves us to make any of those changes."
Ruf is recovering from a knee and wrist injury, Sizemore can opt out of his contract over the All-Star break if he is not in the Phillies' plans, Galvis is recovering from a broken collarbone and Franco is trying to get on track after struggling most of the season.
Franco, who was the organization's top hitting prospect entering the season, is hitting .342 (13-for-38) with two doubles, one triple, one home run and eight RBIs in the past nine games.
"He's swinging the bat well," Amaro said. "Hey, listen, I'm looking for people who can swing the bat. Because we're not doing it here. If he gets to the point where he starts swinging the bat consistently, he's a guy who could be in play too."
But Franco plays third base and Phillies third baseman Cody Asche warrants a longer look. Could both be on the field at the same time?
"Yeah, because he could play first base, too," Amaro said about Franco.
Phillies first baseman Ryan Howard is hitting .230 with 14 home runs, 51 RBIs and a .701 OPS entering Monday, which ranks 114th out of 165 qualifying hitters in baseball.
Amaro said there is still interest in his players, despite their poor play recently. He also said the front office has been active in pursuing improvements.
"Whether we'll actually get it done or if there is something that can improve us, it depends on how our club is being evaluated," Amaro said. "If we're going to make changes, we make changes to get better. Everything we think about is thinking about how we can improve our club. Will we be better? That's what you have to analyze."
Todd Zolecki is a reporter for MLB.com. This story was not subject to the approval of Major League Baseball or its clubs.