McCarthy basks in afterglow of 'The Catch'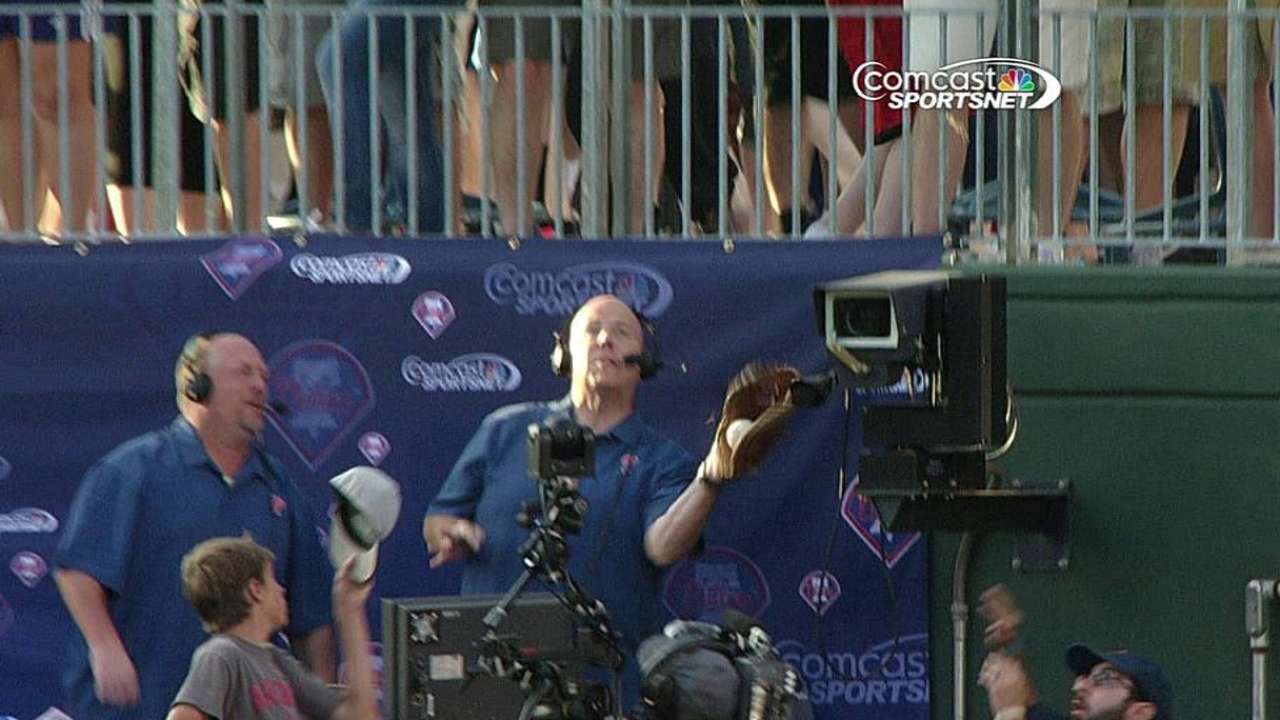 PHILADELPHIA -- Just in case somebody decided to hit a baseball to one of the deepest parts of Citizens Bank Park on Friday, Tom McCarthy had his Wilson A2800 first baseman's mitt on the table in front of him.
McCarthy and fellow Phillies broadcasters Matt Stairs and Jamie Moyer broadcast the game from center field, in the last row of seats, just to the left of the 409-foot sign. Balls rarely travel that far. But when they do, they are crushed.
Just three batters into the game, during the atypical broadcast from outside the press box, Braves first baseman Freddie Freeman ripped a first-pitch cutter from Kyle Kendrick directly toward McCarthy, Moyer and Stairs.
McCarthy had a few things running through his mind as the ball sailed toward him: Call the action, get the glove onto his left hand and catch the ball.
He made a one-handed catch.
"The fact that it actually came into our neighborhood is just the most remarkable thing in the world," McCarthy said before Saturday's doubleheader against the Braves. "You could see when it left the bat that it was heading out to [our] area, but we didn't think it was going to go into the area. That was the part that was remarkable. But my goal was to call the play more than anything else."
McCarthy's call: "That one is smoked. Deep to center field, out toward our vantage point ..."
Stairs blurted: "Tom! Get it, Tom!"
McCarthy caught the ball and the broadcasters reacted as anybody would if they were broadcasting a rare game from center field and just three batters into the game one of them caught a ball. They raised their arms and yelled.
"It was funny," McCarthy said of his partners' reactions.
"I heard the reaction and I noticed both of them physically react, too -- and everybody around us. We had camera operators there. We had our stage manager there. The fact that our camera operators were able to follow it the way they did was pretty funny."
Moyer then urged McCarthy to throw the ball back onto the field. McCarthy was reluctant.
"I didn't want to, because I think it's silly to do it. But I was pressured," McCarthy said. "If the elder statesman wants you to do it, you've got to do it."
McCarthy's catch was replayed repeatedly on local and national sports highlight shows. His parents called him on Saturday morning to tell him they saw it on Good Morning America. McCarthy said he received a remarkable amount of text messages -- including ones from Shane Victorino, Keith Hernandez and Mike Schmidt.
Schmidt broadcasts Sunday home games with McCarthy.
"Schmidt said we'll break down the way I did it, the fact I didn't use two hands, the fact I didn't look the ball into the glove, that kind of thing," McCarthy said.
McCarthy's broadcasting colleagues, including radio broadcasters Larry Andersen and Scott Franzke, have been giving McCarthy a good-natured hard time about the catch. Andersen said it wasn't a clean catch because it came close to the heel of the glove.
"It was a little higher than the heel, but there's not much of a pocket left," McCarthy said. "It's so old. It's 31 years old. I bought it when I was in the eighth grade. I made the money myself to buy it for $105. It is my favorite glove of all time. I've had it forever. I've re-strung it myself. I've done everything [to it]. ... I wouldn't have caught it if I didn't have my glove. I would've broken my hand."
Instead, McCarthy had one of the coolest moments of the season -- considering the rarity of the broadcast in center field, the ball reaching them just three batters into the game and the almost nonchalant one-handed catch.
Todd Zolecki is a reporter for MLB.com. He writes a blog, called The Zo Zone. Austin Laymance is a reporter for MLB.com. This story was not subject to the approval of Major League Baseball or its clubs.