Phillies try to bolster outfield with Sizemore
Philadelphia signs veteran to Minor League deal, starts him off at Triple-A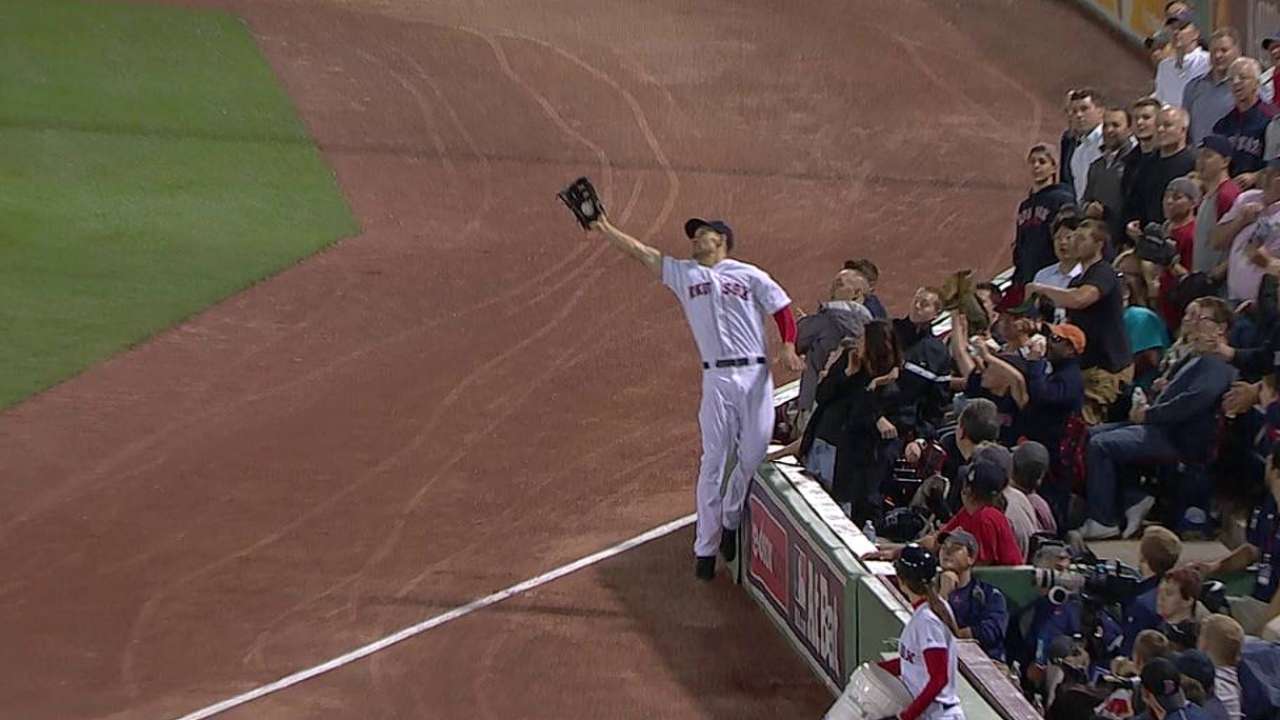 PHILADELPHIA -- The Phillies need some serious help in the outfield.
It is exactly why they signed Grady Sizemore to a Minor League contract on Tuesday after the Red Sox released him last Wednesday. Sizemore will report to Triple-A Lehigh Valley on Thursday. Phillies general manager Ruben Amaro Jr. confirmed that Sizemore has an out-clause in his contract. The Phils will have to bring Sizemore to the big leagues sometime in July or he can ask for his release.
"Well, I'd like to have more production in the outfield," Amaro said. "It's pretty simple. If we think after watching him play in Lehigh Valley, if we think he's going to help us, then we'll bring him. Really, this is a no-risk, high-reward situation for us."
Sizemore hit just .215 with 10 doubles, two triples, two home runs, 15 RBIs and a .612 OPS in 52 games before the Red Sox released him. Sizemore had been one of the better outfielders in baseball with the Indians from 2004-09 before seven surgeries for a variety of injuries limited him to 104 games in 2010-11 and kept him out of baseball in 2012-13.
"More than anything else, when you take that much time off, it takes a long time -- much longer than people think -- to get your feet back on the ground," Amaro said. "I know Boston gave him an opportunity to play. He had some level of success and then he did struggle at times. We'll see what he has in the tank. We believe in the athlete. We'll see what he has left."
There is reason to roll the dice. Phillies left fielders entered Tuesday 30th in baseball with a .578 OPS, and the club's center fielders were 27th with a .612 OPS. Individually, Domonic Brown was 162nd out of 167 qualified players with a .596 OPS. Ben Revere was 157th with a .615 OPS.
Marlon Byrd's .778 OPS was 63rd. He was on pace for 25 home runs and 93 RBIs.
Amaro said he thinks Sizemore can still play center field, although he will get a look at every outfield spot.
The Phillies expressed interest in Sizemore in the offseason, but did not want to offer him a big league contract.
"We were interested," Amaro said. "It didn't work out. But we'll get an opportunity to see how he's progressed. We'll see what happens. There's a chance we could get him back here in July at some point."
Todd Zolecki is a reporter for MLB.com. This story was not subject to the approval of Major League Baseball or its clubs.