Amaro exploring Trade Deadline options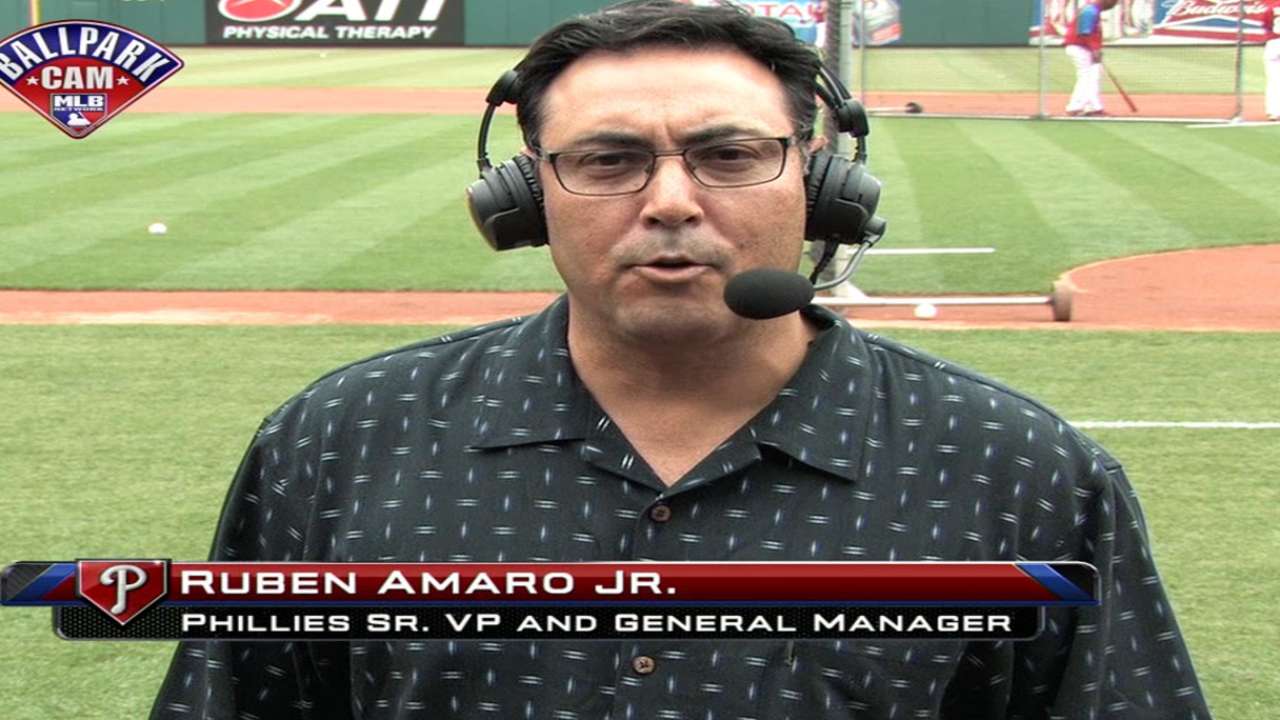 PHILADELPHIA -- There are a little less than seven weeks before the July 31 Trade Deadline, and certainly plenty can change in that time.
But in the absence of a remarkable turnaround, the Phillies could be headed toward a fire sale. They entered Friday's series opener against the Cubs at Citizens Bank Park with a 28-36 record, despite this week's three-game sweep of the Padres.
Phillies general manager Ruben Amaro Jr. discussed that possibility and more Friday afternoon. Although he remains hopeful of a turnaround and said no decisions have been made, the Phillies already have scouts scattered across the country, assessing talent in other organizations at the Major and Minor League levels.
If they sell, they need to get quality in return. That has not been the case in recent trades.
"We think about it every day," Amaro said of the upcoming Deadline. "We assess it every day, and we're preparing for how to do those things. It's not like we're not preparing. If we have to go backwards to go forward, then we're prepared to do that, too."
But is he the guy for the job? Amaro said he is getting asked "pretty much every day" about his job status.
"I don't have any issues with my own job status," he said. "I believe in what we do and I believe in what I do, and that's not my decision."
Is he confident he can rebuild the Phillies if they decide to go in that direction?
"Absolutely," he said.
There has been speculation that some of the players' sizeable contracts could inhibit the organization's ability to acquire talent in return. Cole Hamels is owed $96 million following this season. He precedes Ryan Howard ($60 million after this season), Cliff Lee ($37.5 million), Carlos Ruiz ($17.5 million), Jonathan Papelbon ($13 million, plus vesting option), Chase Utley ($12 million, plus vesting options), Jimmy Rollins ($11 million vesting option), Marlon Byrd ($8 million, plus vesting option) and A.J. Burnett ($7.5 million player option). Some of those players have partial or full no-trade clauses, too.
Amaro said contracts would not inhibit their ability to trade players.
"We have taken money back on deals before and will do it again if we have to," he said.
Lee has been on the disabled list since May 19 with a strained left elbow. He threw again Friday, and Amaro thinks the left-hander will rejoin the rotation before the Trade Deadline, which would give teams time to see if he is worth acquiring or not. Setup man Mike Adams is on the DL with inflammation in his right rotator cuff. He received a cortisone injection Friday. He will begin a throwing program in 10 days.
"I think we can get him back up by the early part of July, if he goes in the right direction," Amaro said.
But are there any untouchables? Utley and Rollins would seem to be two candidates. They are iconic Phillies, the best players at their respective positions in Phillies history.
"I can't say there are any untouchables," Amaro said. "Some guys are less touchable than others, so to speak."
Amaro said recently that he has no intention of trading Rollins or Utley, and as far as he knows, they have no intention of waiving their 10-and-5 rights to go anywhere. Utley told CSNPhilly.com recently he had not thought about the possibility. Rollins certainly will be asked about it once he breaks Mike Schmidt's franchise hits record; he's two hits away entering Friday's action. Rollins said last summer he would not accept a trade because he wanted to break the record.
"It's hard to speculate because they are 10-and-5 guys," Amaro said. "So, if someone comes and says, 'We would like to have Jimmy Rollins or Chase Utley or whatever player out there,' I have to do my job and listen, explore. But the reality of it is it could all be a waste of time, because they might not want to go anywhere, and at that time, we might not want them to go anywhere, either. A lot of it depends on what we want to do, but most of it depends on what they want to do."
Todd Zolecki is a reporter for MLB.com. This story was not subject to the approval of Major League Baseball or its clubs.