Giles gives up homer, strikes out one in debut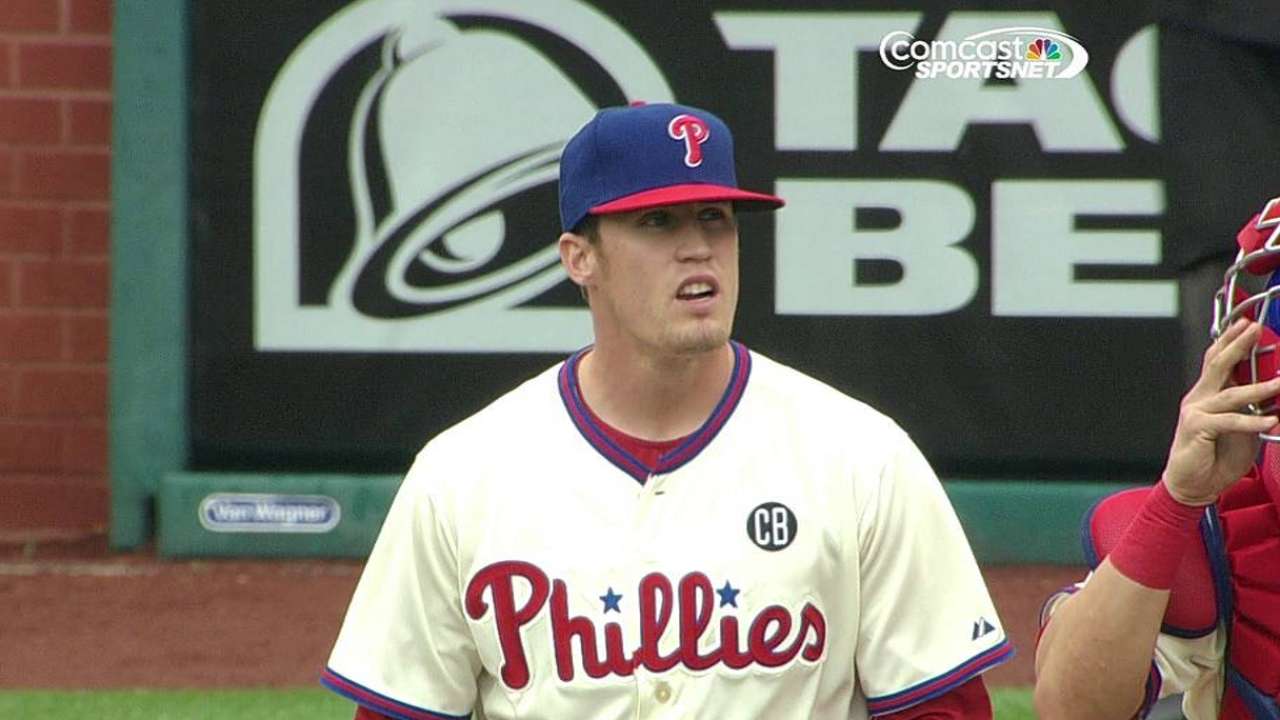 PHILADELPHIA -- Ken Giles left the Phillies bullpen, headed down a few steps and walked through the bullpen door before he jogged onto the field for his big league debut with two outs in the top of the ninth inning Thursday at Citizens Bank Park.
One problem:
"I thought I was going to fall down," he said following a 7-3 victory over the Padres. "My legs were a little Jell-o-y. I thought I was going to fall down. But once I got to the dirt I was like 'Oh my God, this it. My dreams are finally coming true.' Now I've got my greatest goal accomplished. … It was breathtaking."
Fans have been waiting for Giles since April, when he started to light up the scoreboard in Double-A Reading with 100-mph fastballs. He dominated Double-A hitters and pitched with some success in Triple-A.
He didn't disappoint as his first-pitch fastball to Yasmani Grandal flashed 100 mph on the scoreboard, although Pitch f/x data had it at 99.1 mph. His next three pitches were balls and Grandal lofted a 3-1 fastball into the flower boxes in left field for a solo home run.
"That's a great way to welcome me to the big leagues," Giles said. "I didn't think it was going to go out. It looked like a routine fly ball to the warning track to me. Once I saw it, Dom [Domonic Brown] was under it, I just stood behind the mound like I would for an out. Next thing I knew, there was stumbling in the bushes. I was like all right, oh well, on to the next one."
Giles struck out Alexi Amarista swinging on a 2-2 slider to end the game.
One home run, one strikeout.
Giles hopes he is on his way.
"It was fun, it was great," he said. "Now I've showed them what I can do, what I throw, so now it's just, I got the first one out of the way, now it's down to business, time to pitch."
The scoreboard flashed 100 mph twice with fans cheering each time it hit. Giles heard each one.
"How could you not?" he said. "I just go out there and pitch. Whatever it says, it says. I'm not going to try to force it. It's all natural, you've seen it, everybody's seen it today. No reason to pump 102 or 103. … Everybody's different on their debut and, unlucky for me I got a home run on mine, but, that's a great memory, just thinking first at-bat, gave up a home run. Next guy, struck out. It's just a good story to tell."
Todd Zolecki is a reporter for MLB.com. This story was not subject to the approval of Major League Baseball or its clubs.