Martin throws himself into the bullpen mix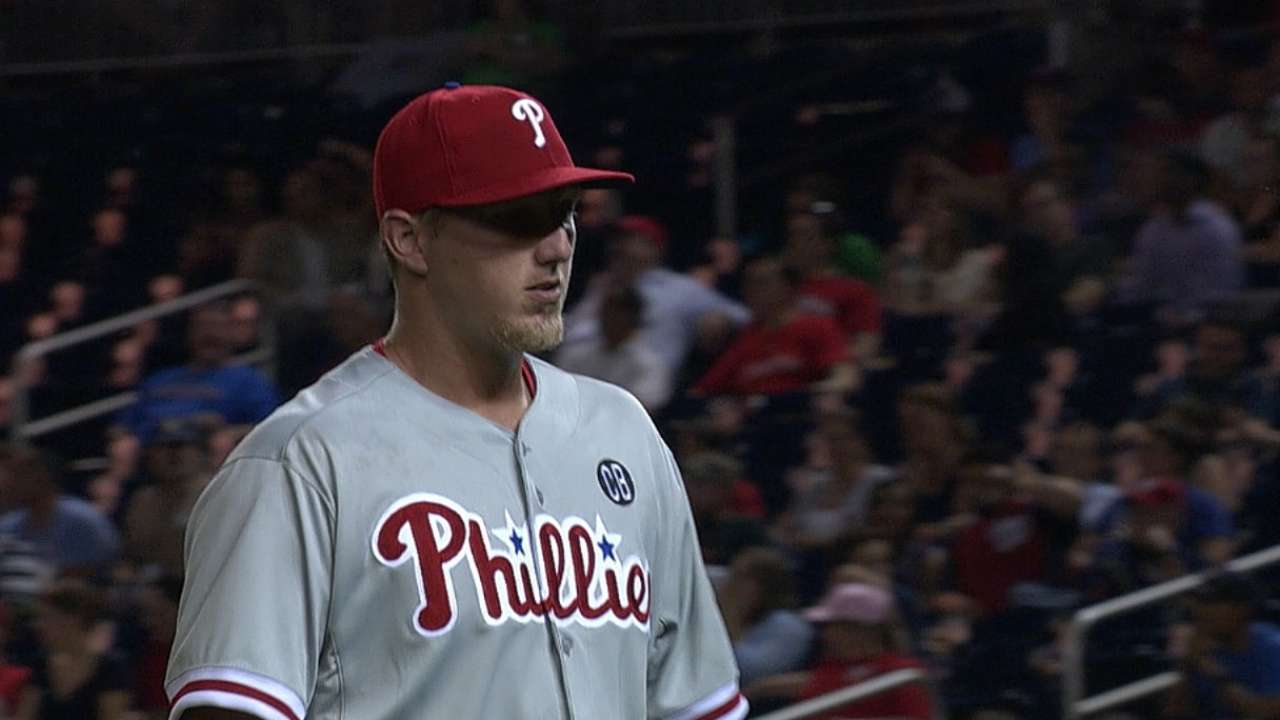 WASHINGTON -- The Phillies are desperate for a right-handed relief pitcher other than Jonathan Papelbon and Mike Adams to step up.
Maybe Ethan Martin can be the guy.
The Phillies have had right-handers Jeff Manship, Justin De Fratus, B.J. Rosenberg, Luis Garcia, Shawn Camp, Brad Lincoln and Phillippe Aumont pitch at various points this season. Only De Fratus remains from that group after being recalled May 25. The others have been optioned, released or injured. Martin, who started the season on the DL with inflammation in his right shoulder, rejoined the Phillies on Tuesday and pitched two scoreless innings in his 2014 debut.
"I'm glad to get back out there and I'm glad to be back up here," Martin said before Wednesday's game against the Nationals at Nationals Park.
Martin's velocity isn't where it was last year when he pitched out of the bullpen, but he believes it will return in time. He averaged 92.7 mph Tuesday, according to FanGraphs. He averaged 94.8 mph in seven relief appearances last season.
"It's been coming back," Martin said. "I would say it's gotten better every outing I've had. I don't think I've gone backwards. It's just slow. It's one thing they said, 'It's going to take a little bit of time to build it up.'"
Martin said his shoulder feels fine. In fact, he said he never felt pain at any point, even when he first noticed a steep drop in his velocity during Spring Training.
That is good news. The Phillies could use some consistency in their bullpen.
"Yeah, he can be looked at here to see how he does," Phillies manager Ryne Sandberg said. "Right now, he can be a candidate. There is an opportunity for him to show what he can do."
Todd Zolecki is a reporter for MLB.com. This story was not subject to the approval of Major League Baseball or its clubs.