Oswalt throws out first pitch at Citizens Bank Park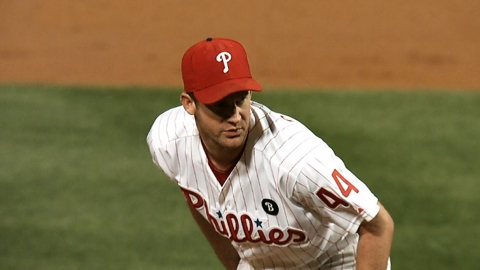 PHILADELPHIA -- Roy Oswalt returned to Citizens Bank Park to sign autographs and throw out the first pitch before Saturday's Phillies-Mets game.
"It's a blast. Getting to come back and just watch the game instead of trying to win a game. It's pretty nice," Oswalt said. "I got to play in four different organizations. And [the Phillies are] one of the classiest organizations I've played for. Just great front office people, great people all around. Got a winning atmosphere when you walk in the clubhouse. And I just had a great two years here."
In 13 Major League seasons, Oswalt accrued a 163-102 record with a 3.36 ERA and 1,852 strikeouts. Between 2010 and 2011, Oswalt went 16-11 for Philadelphia and helped lead the 2010 squad to the NLCS.
"It was fun, the whole experience," Oswalt said." Got to go to the playoffs twice, we missed the World Series by one game one year. And just had a great team. You got out there and win 100 and something games a year, you know you're having a good time."
Erik Bacharach is an associate reporter for MLB.com. Paul Hagen is a reporter for MLB.com. This story was not subject to the approval of Major League Baseball or its clubs.