Brignac called up by Phils to replace Galvis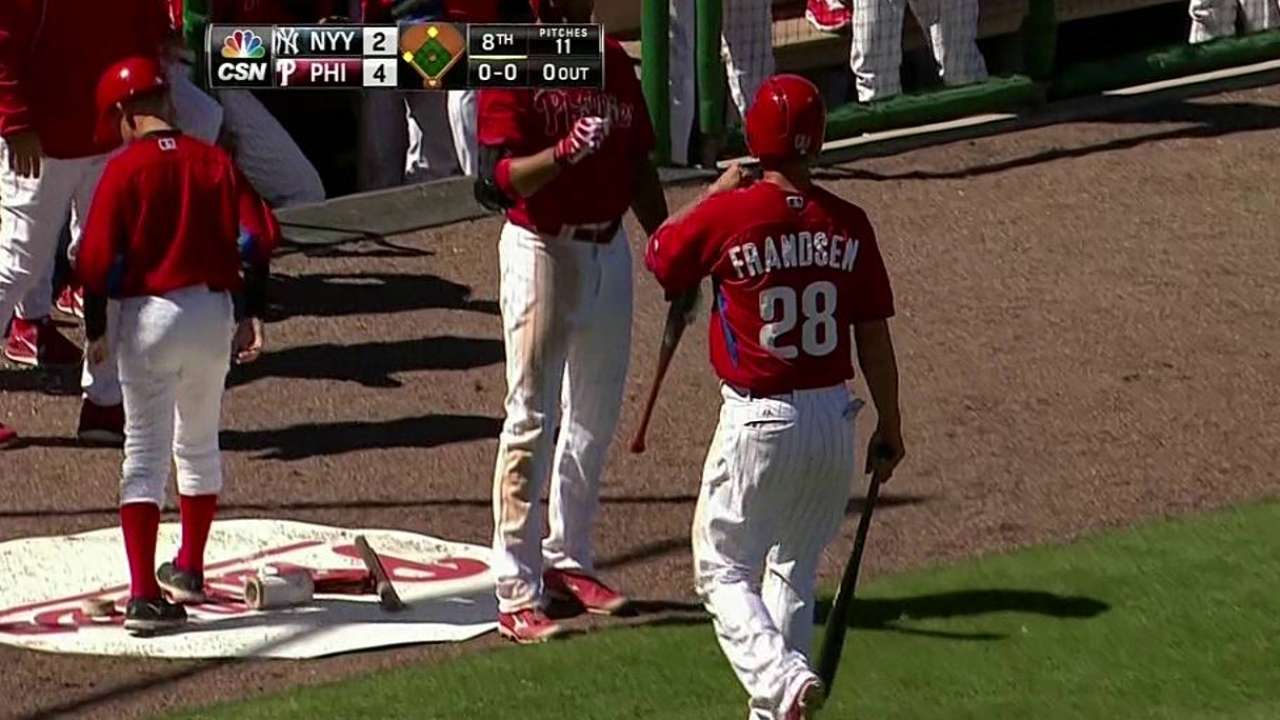 NEW YORK -- Reid Brignac said he was not expecting to be with the Phillies this weekend as they began a three-game series against the Mets on Friday night. The Phillies selected Brignac, a veteran infielder from Triple-A Lehigh Valley, to replace infielder Freddy Galvis on the roster.

Brignac was not in Friday's lineup, but manager Ryne Sandberg said he expects to play Brignac at third base the majority of the time. The Phillies also are hoping Brignac can provide offense to a team that has struggled.

With Lehigh Valley, Brignac was hitting .284 with five home runs and 21 RBIs in 30 games. He hit two homers in Thursday's game.

"It's been nice getting back on the ball and getting hits and finding some holes and just swinging the bat well again," Brignac said before Friday's game. "I had a good start and I'm trying to stay as consistent as possible with my approach. So far it's been great."

Throughout his six years in the Major Leagues, Brignac has altered his swing a few times to become a more balanced hitter. But this season, he said he has tried to be more aggressive. He also said he was a little surprised when he did not make the Phillies' roster after a successful Spring Training.

"I felt I did enough to make the team with my opportunities when I got them, but that's the business side of the game," he said.

Yet Brignac realized his time with Lehigh Valley helped prepare him to be ready to contribute to the Phillies.

"It was nice to get back, and being in the lineup every day was definitely a benefit for me," he said.

Before the season began, Sandberg noticed how well Brignac was performing at the plate in Spring Training.

"He's had some power the last week that's been impressive," Sandberg said. "That's the reason that he's here now. He's been pretty consistent, but he's been a hot bat lately from the left side and he's also a veteran infielder."

Galvis was demoted after he went 0-for-3 with one walk and one strikeout in Thursday's loss to the Blue Jays. In 16 games, Galvis struck out 12 times and hit .048 (2-for-42) with one RBI and three walks.

Sandberg said Galvis missing a portion of Spring Training with a MRSA infection in his left knee contributed to his poor play.

"We can say that he was rushed in some regards for the need of his defense," Sandberg said. "He was hitting the ball well, but that doesn't always translate at this level. At that time, there was a need to have him here on the defensive side of things."
Nate Taylor is a contributor to MLB.com. This story was not subject to the approval of Major League Baseball or its clubs.