Ruiz's versatility gives Ryno lineup options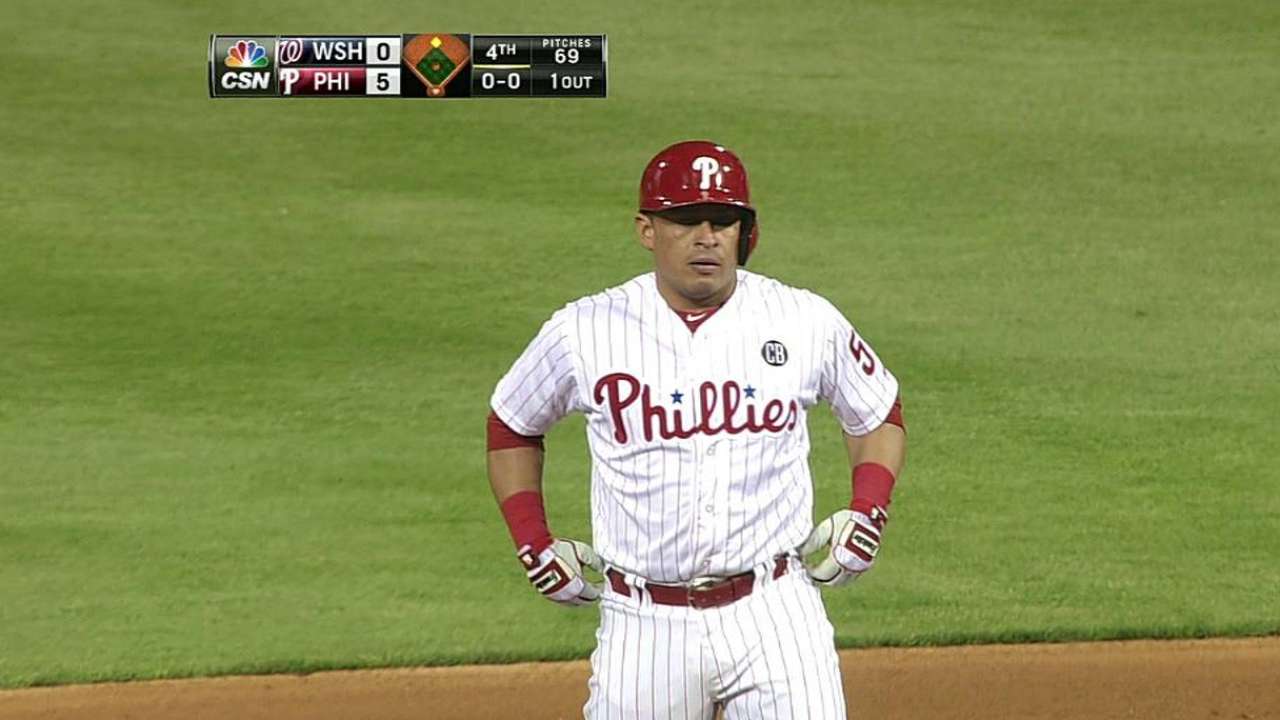 PHILADELPHIA -- Carlos Ruiz has been one of the Phillies' most productive hitters this season, allowing manager Ryne Sandberg to slot the catcher virtually anywhere in the lineup.
Ruiz is second on the team to Chase Utley with a .286 batting average, .400 on-base percentage and .852 OPS through 24 games, entering Monday's action. The veteran has appeared everywhere in the lineup except leadoff, eighth and ninth.
"He's a guy that I can be flexible with in a lot of different ways," Sandberg said before Monday's game against the Blue Jays.
Ruiz batted sixth on Monday, providing protection behind Ryan Howard. With Jimmy Rollins out of the lineup, Sandberg decided to slot Freddy Galvis (.088 on-base percentage) in the No. 2 hole instead of Ruiz.
"[Ruiz is] also a good bat against a left-handed pitcher behind Howard, and that puts him in an RBI situation, so then his knack of getting on base is also hitting the ball," Sandberg said. "Preferably, if we can have some men on base, he's a good bat right there behind Howard in an RBI situation."
Galvis is in a 1-for-31 skid to start the season, entering Monday's game. But Sandberg said he put the infielder near the top of the lineup for some "situational hitting."
"Maybe move a runner, maybe lay down a bunt, hit and run," the manager said. "[Galvis is] also a base-runner. We've been good at having guys get on base at the top of the order. That's been a real good thing for us the last couple weeks, so we'll look to him to do the job in that spot."
Austin Laymance is a reporter for MLB.com. Follow him on Twitter at @jalaymance. This story was not subject to the approval of Major League Baseball or its clubs.