Pipeline Preview: Hanson, Judge highlight Minors slate
Pirates' No. 5 prospect, Yankees' No. 9 among streaking hitters to watch Thursday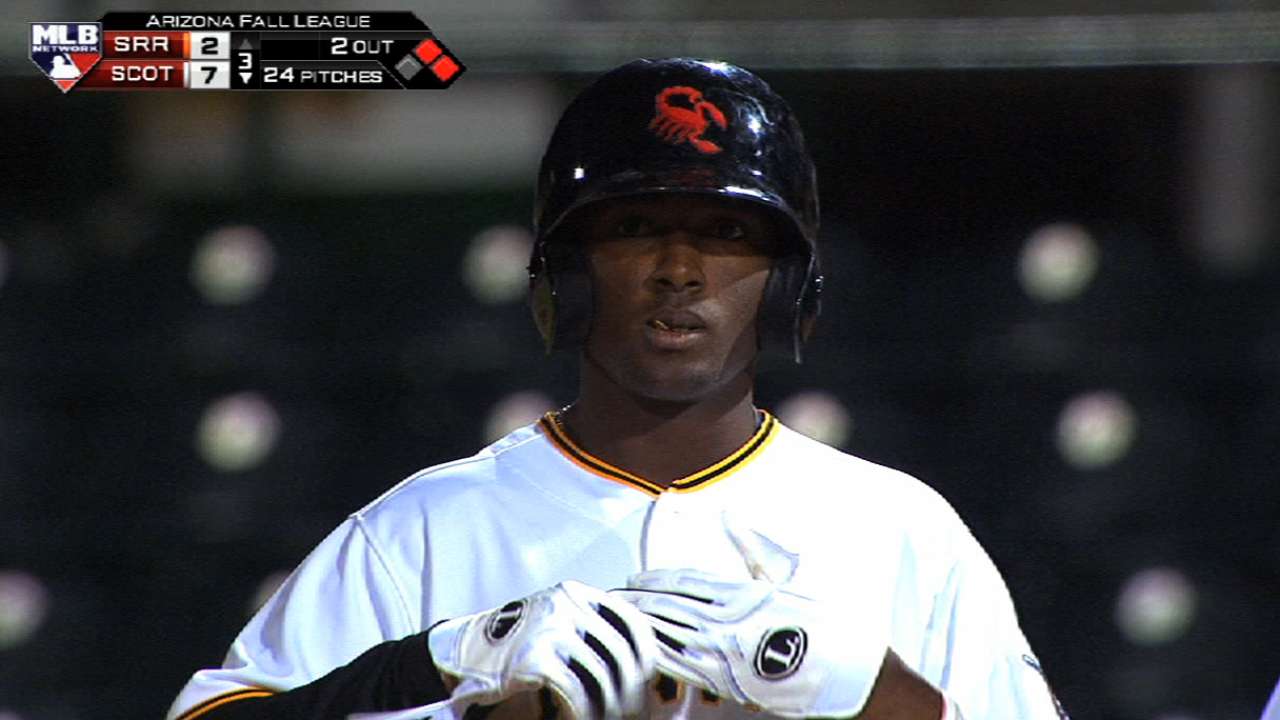 Altoona concludes its four-game series against Harrisburg on Thursday, and no one is likely to be sorrier to see the Senators leave town than shortstop Alen Hanson. The Pirates' No. 5 prospect started the season hitting .204 in 13 games but has found his groove against the Nationals' Double-A affiliate.
Hanson, No. 65 on MLB.com's Top 100 Prospects list has broken out against Harrisburg with three straight multi-hit games and seven runs.
In the series finale, which can be seen on MiLB.TV at 6:30 p.m. ET, Hanson will have to face left-hander Matt Purke, the Nationals' No. 6 prospect, who will be trying to bounce back from his own disappointing start. Purke will be trying to prevent Altoona from sweeping the four-game set.
While Hanson looks to stay hot in Altoona, Aaron Judge, the Yankees' No. 9 prospect, will be trying to extend his successful start to the season for Class A Charleston. Judge has four straight multi-hit games and will attempt to stretch that streak as Charleston opens a four-game series at Delmarva. Judge, who was picked 32nd overall in the 2013 First-Year Player Draft, is 9-for-14 with four walks and seven runs in his past four games.
Leading the slate of pitchers in Minor League action Thursday is right-hander Kohl Stewart, the Twins' No. 4 prospect and No. 38 overall. Other pitchers ranked on MLB.com's Top 100 prospects list scheduled to start Thursday are right-handers Mike Foltynewicz (No. 52), Braden Shipley (No. 75) and Rafael Montero (No. 83). Fans can see Foltynewicz and Montero on MiLB.TV at 8:05 p.m. and 10:05 p.m., respectively.
Top prospect probables
Martin Agosta (Giants No. 13), San Jose vs. Visalia
Chris Anderson (Dodgers No. 5), Rancho Cucamonga at High Desert
Tyler Anderson (Rockies No. 10), Tulsa at Arkansas
Jonathan Crawford (Tigers No. 5), West Michigan vs. Bowling Green
Anthony DeSclafani (Marlins No. 6), Jacksonville vs. Montgomery
Cody Dickson (Pirates No. 19), West Virginia vs. Hagerstown
Mike Foltynewicz (Astros No. 6), Oklahoma City vs. Nashville
Amir Garret (Reds No. 20), Dayton at South Bend
Mike Kickham (Giants No. 17), Fresno vs. Albuquerque
Branden Kline (Orioles No. 16), Frederick vs. Myrtle Beach
Steven Matz (Mets No. 11), St. Lucie at Palm Beach
Rafael Montero (Mets No. 2), Las Vegas vs. Tacoma
Daniel Norris (Blue Jays No. 4), Dunedin vs. Clearwater
Braulio Ortiz (White Sox No. 19), Winston-Salem at Potomac
Ariel Pena (Brewers No. 18), Nashville at Oklahoma City
Matt Purke (Nationals No. 6), Harrisburg at Altoona
Anthony Ranaudo (Red Sox No. 9), Pawtucket vs. Rochester
Joe Ross (Padres No. 9), Lake Elsinore at Stockton
Braden Shipley (D-backs No. 2), South Bend vs. Dayton
Teddy Stankiewicz (Red Sox No. 18), Greenville vs. Lexington
Kohl Stewart (Twins No. 4), Cedar Rapids at Peoria
Mike Wright (Orioles No. 7), Norfolk at Lehigh Valley
Teddy Cahill is a reporter for MLB.com. Follow him on Twitter at @tedcahill. This story was not subject to the approval of Major League Baseball or its clubs.