MLB.com Columnist
Jim Callis
Kivlehan, Heaney stand out among prospects
Pipeline picks Mariners first baseman/third baseman, Marlins southpaw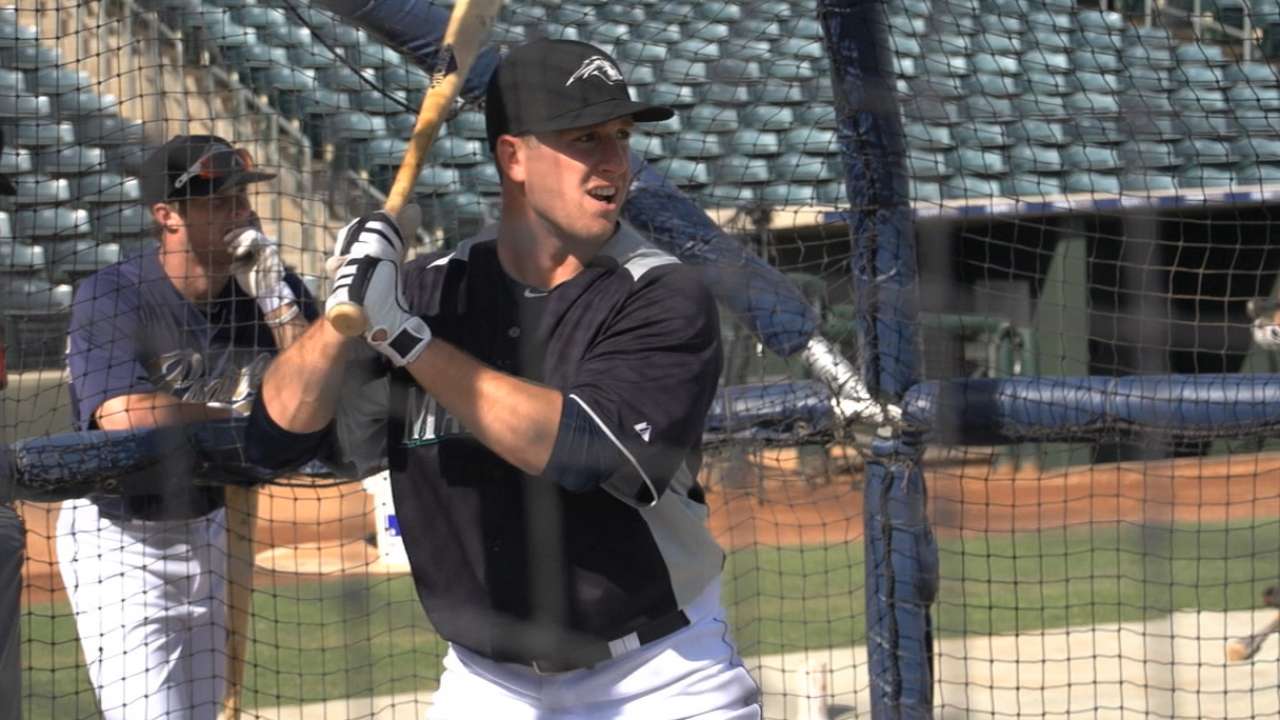 Throughout the season, the MLBPipeline.com staff will name Pipeline Prospects of the Week, one hitter and one pitcher who have excelled over the previous seven days. To qualify for selection, players must rank among their organization's Top 20 Prospects, as listed on our Prospect Watch.
Pipeline Hitting Prospect of the Week: Patrick Kivlehan, 1B/3B, High Desert Mavericks (Mariners' No. 18 prospect), 6 G, 10-for-26 (.385/.407/1.077), 1.484 OPS, 5 HR, 9 RBI
Kivlehan spent three full years away from baseball while he was playing defensive back for Rutgers, returning to the diamond as a senior with the Scarlet Knights in 2012. He won Big East Conference Player of the Year honors that spring, turned pro for $300,000 as a fourth-round pick and then won the short-season Northwest League MVP Award. Kivlehan hasn't stopped hitting since.
Though he finished 2013 by batting .320/.384/.530 in 68 games in Class A Advanced California League, the Mariners sent Kivlehan back there to begin this season. If he's frustrated, he's channeling it into using his best tool (his power) to punish the opposition. Kivlehan had back-to-back two-homer games on Thursday and Friday, and he went deep five times in six games last week.
Kivlehan, 24, leads the Cal League with seven homers and 48 total bases, and he is hitting .314/.377/.686 overall. He's shaky at third base and is seeing his first pro action at first base, but he may have enough bat for either spot.
Honorable mentions
Mikie Mahtook, OF, Durham Bulls (Rays' No. 15 prospect), 6 G, 12-for-24 (.500/.571/.750), 1.321 OPS, 4 R, 2 RBI
Ryan McMahon, 3B, Asheville Tourists (Rockies' No. 5 prospect), 5 G, 8-for-17 (.471/.526/1.059), 1.585 OPS, 3 HR, 4 RBI
Joc Pederson, OF, Albuquerque Isotopes (Dodgers' No. 2 prospect), 7 G, 14-for-29 (.483/.545/.828), 1.373 OPS, 2 HR, 5 RBI
J.T. Realmuto, C, Jacksonville Suns (Marlins' No. 9 prospect), 6 G, 12-for-24 (.500/.556/.625), 1.181 OPS, 7 RBI, 3 SB
Jon Singleton, 1B, Oklahoma City RedHawks (Astros' No. 4 prospect), 7 G, 11-for-30 (.367/.441/.800), 3 HR, 8 RBI
Pipeline Pitching Prospect of the Week: Andrew Heaney, LHP, Jacksonville Suns (Marlins' No. 1 prospect), 1-0, 0.69 ERA, 2 GS, 13 IP, 4 H, 1 R, 1 ER, 1 BB, 14 SO
Since the Marlins made Heaney the ninth overall pick in the 2012 First-Year Player Draft, the only thing that has slowed him down at all has been a strained lat muscle that cost him the first six weeks of last season. He otherwise has carved up Minor League hitters. And if Heaney keeps pitching like he has in Double-A so far this season, his first big league callup won't be too far away.
Last Tuesday against Charlotte, Heaney earned his second win of the year by throwing six scoreless innings of one-hit ball. He came back on Sunday with another sterling outing, striking out a season-high nine while allowing just three hits and one run in seven frames. Heaney has gone 2-0 with a 1.48 ERA in four 2014 starts, with a 25/3 K/BB ratio and a .202 opponent average in 24 1/3 innings.
The highest-ranked left-hander (No. 28 overall) on the MLBPipeline.com Top 100 Prospects list, Heaney combines stuff and pitchability. His slider is his best pitch, his fastball is also a plus offering and his changeup is a solid third option.
Honorable mentions
Jesse Biddle, LHP, Reading Fightin Phils (Phillies' No. 2 prospect), 1-0, 1.29 ERA, 1 GS, 7 IP, 2 H, 2 R, 1 ER, 1 BB, 11 SO
Zach Eflin, RHP, Lake Elsinore Storm (Padres' No. 11 prospect), 2-0, 0.77 ERA, 2 GS, 11 2/3 IP, 11 H, 1 R, 1 ER, 2 BB, 11 SO
Brian Flynn, LHP, New Orleans Zephyrs (Marlins' No. 7 prospect), 1-0, 0.00 ERA, 1 GS, 7 IP, 1 H, 0 R, 0 ER, 1 BB, 7 SO
Hunter Harvey, RHP, Delmarva Shorebirds (Orioles' No. 4 prospect), 0-0, 0.00 ERA, 1 GS, 6 IP, 1 H, 0 R, 0 ER, 1 BB, 7 SO
Brian Johnson, LHP, Salem Red Sox (Red Sox's No. 13 prospect), 1-0, 0.00, 1 GS, 6 IP, 0 H, 0 R, 0 ER, 0 BB, 5 SO
Ben Lively, RHP, Bakersfield Blaze (Reds' No. 13 prospect), 1-0, 0.00 ERA, 6 IP, 2 H, 0 R, 0 ER, 0 BB, 10 SO
Jim Callis is a reporter for MLB.com and writes a blog, Callis' Corner. Follow @jimcallisMLB on Twitter. This story was not subject to the approval of Major League Baseball or its clubs.