Hamels confident after first spring action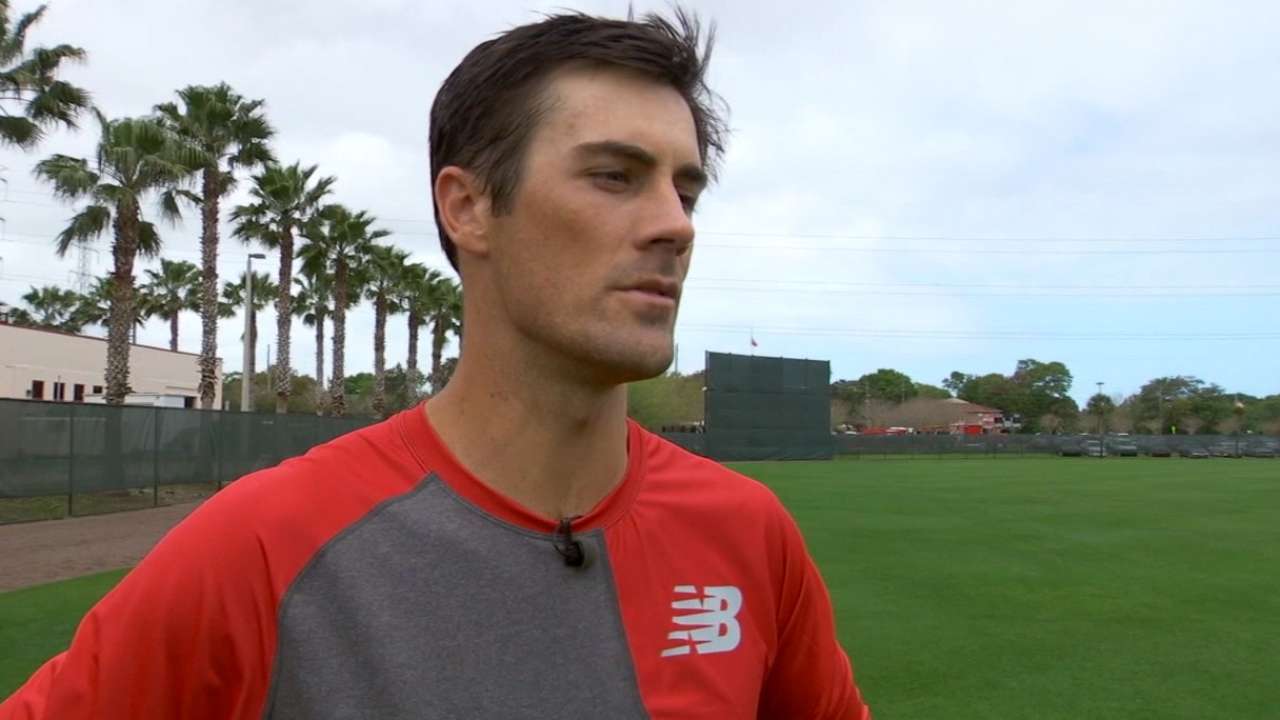 CLEARWATER, Fla. -- Phillies left-hander Cole Hamels took a major step forward Thursday, pitching two innings in his first game action of the spring.
Hamels, who suffered a setback on March 1 following his recovery from left shoulder inflammation, allowed two infield singles and recorded nine outs in a Minor League game against the Pirates' Class A Advanced affiliate at the Carpenter Complex. He threw 30 pitches, 20 of them for strikes, as he faced four batters in the first inning and five in the second.
Hamels said he felt "really great" in Thursday's outing and hopes it was the start of what should be a normal, albeit delayed, Spring Training going forward.
"From what happened March 1 to where I am now, I'm really pleased and really confident, and what I'm able to do now is to truly get Spring Training in," Hamels said. "Obviously it's a little late, but I feel healthy, and I think that's really the key. I have the strength now, and now it's just getting the repetition to feel confident to be able to do it up there in the big leagues."
Hamels will break camp with the Phillies and join the club in Texas on Monday for the season opener. After that, he said, he'll hop on a flight back to Clearwater to continue his rehab. General manager Ruben Amaro Jr. said Hamels' exact rehab schedule is still being finalized, but the lefty said he's fine working out of the Phillies' Spring Training complex.
"To be able to do the good routine, not have to worry about going on the road [with other Minor League affiliates] ... you don't want to mess with that," Hamels said. "Just get a good routine in here and have my mini-Spring Training down here."
That schedule would put Hamels in line for a late-April return date, and he believes the Phillies will be able to make up for his absence while he continues to build up strength.
"Those games count. They don't want to cost the team in trying to build me up or see how many I can possibly go. They want to know that I'm ready to go," Hamels said. "I really do feel like we have a firm chance of staying [on] pace or at least having an above .500 [record]. That's the goal. I know I'm confident in those guys doing so."
In addition to Hamels, pitchers Miguel Alfredo Gonzalez, Mike Adams and Ethan Martin will start the season on the disabled list. Gonzalez could be placed on the 60-day disabled list, Amaro said, which would open a spot on the 40-man roster. Adams is targeting an April 15 return and made his spring debut on Tuesday.
Jonathan Pettibone is also on the mend, recovering from inflammation in his right shoulder. He pitched two scoreless innings on Thursday in his spring debut and was optioned to Triple-A after the game.
Austin Laymance is a reporter for MLB.com. Follow him on Twitter at @jalaymance. Adam Berry is a reporter for MLB.com. Follow him on Twitter at @adamdberry. This story was not subject to the approval of Major League Baseball or its clubs.