Abreu will not make Phillies' Opening Day roster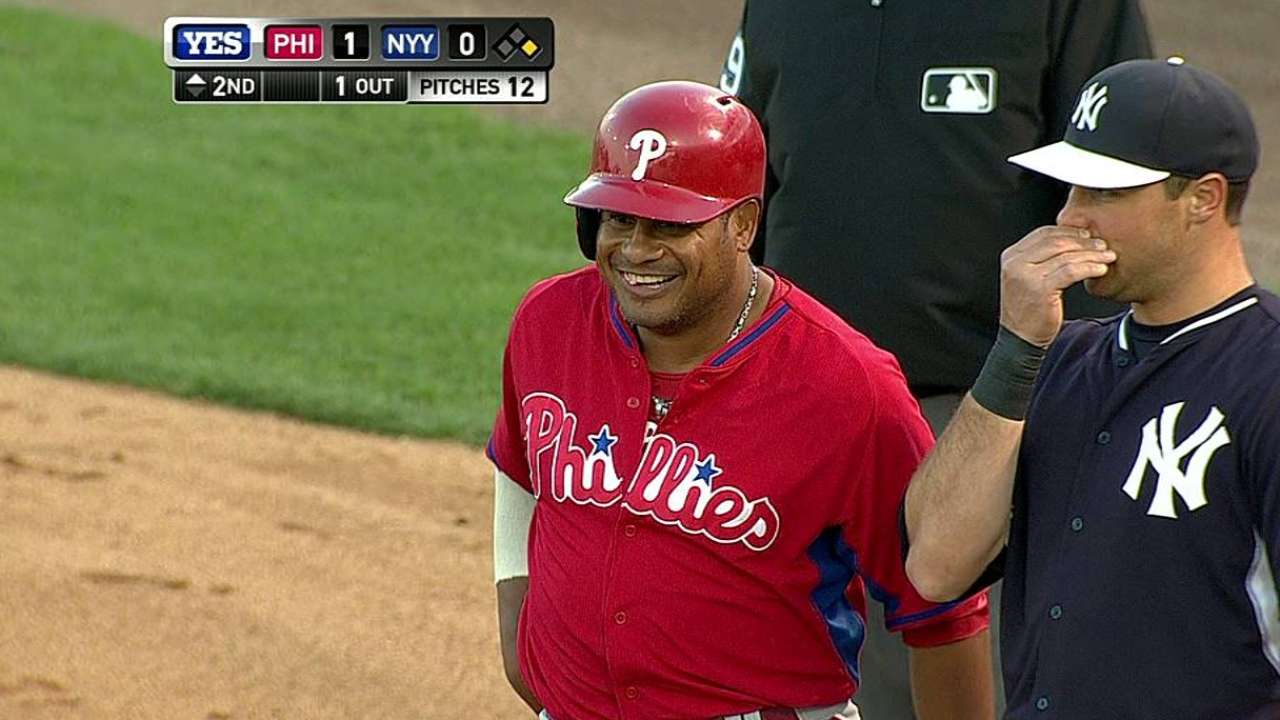 CLEARWATER, Fla. -- Bobby Abreu will not be on the Phillies Opening Day roster, the club announced on Wednesday.
Abreu showed value as a hitter, but his ability to play right field was a question mark throughout Spring Training. The veteran struggled in the field during Wednesday's Grapefruit League loss to the Tigers, misplaying two balls hit in his direction.
Phillies manager Ryne Sandberg did not seem thrilled with Abreu's defense.
"I wanted to see Bobby in right field today," Sandberg said. "I got a chance to see him."
The Phillies say they are still deciding between carrying eight relievers or six bench players on the Opening Day roster. The club does not need a fifth starter until April 13.
Backup catcher Wil Nieves is a lock to make the team, while outfielders Tony Gwynn Jr. and John Mayberry Jr. are good bets. Utility player Cesar Hernandez appears to have a good chance as well. Reid Brignac is another candidate.
"We have to determine what kind of bench we want and how we want to utilize the bench," Sandberg said. "A lot of times if you have a guy that can play some defense and get four at-bats to stay sharp and also give a day off, sometimes that's a necessity."
The Phillies lost four potential bench players in the last week. Darin Ruf is out 4-6 weeks with a strained oblique, Freddy Galvis is recovering from MRSA, Kevin Frandsen is now with the Nationals and Ronny Cedeno was released.
Abreu has not been released, though. He was in camp as a non-roster player on a Minor League deal. Phillies general manager Ruben Amaro Jr. said Tuesday that they had mutually agreed to extend Abreu's opt-out date to Sunday, when Opening Day rosters are due. The Phillies originally had until Wednesday to make a decision on Abreu. They either had to place him on the 25-man roster or grant him his release, if requested.
"Bobby Abreu is still with the Phillies organization and he is currently weighing his options," Amaro said.
Austin Laymance is a reporter for MLB.com. Follow him on Twitter at @jalaymance. This story was not subject to the approval of Major League Baseball or its clubs.