Lee optimistic about Phillies' chances this season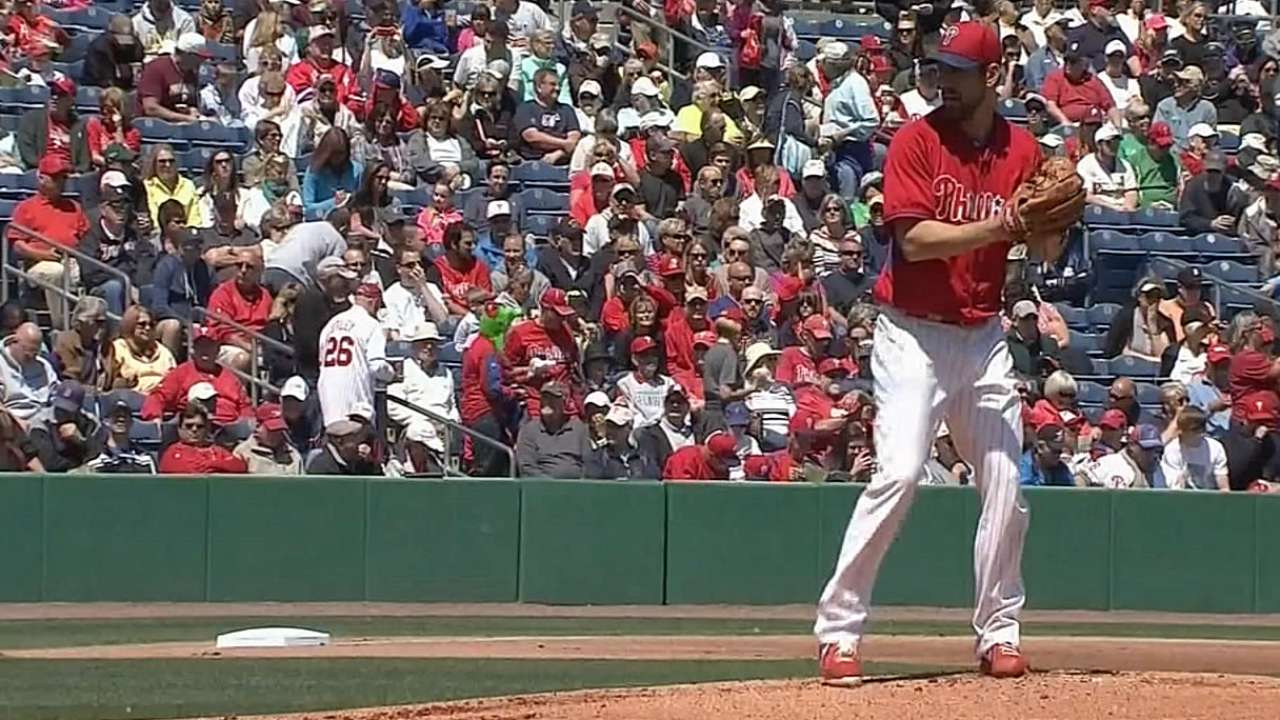 CLEARWATER, Fla. -- Cliff Lee has high expectations for the Phillies this season, even if that sentiment is not shared across baseball.
The Phillies are not favored to win the National League East, and few are predicting this club will be playing in October. But Lee, who will start Opening Day against the Rangers, understands expectations don't decide wins and losses.
"I don't care what people are expecting, I know what we expect and that's what matters," Lee said Wednesday after pitching five innings of one-run ball against the Tigers in his final Grapefruit League start. "Experts or whoever predict who's going to win what, they're never dead on. There's a reason why we play the games. At this point, we're all even. It's a matter of just taking care of one at a time.
"For us, we've got all the confidence in the world and expect to win and expect to win the division and get to the World Series and win that ultimately. That's what we're expecting to do. What people think and what people expect, they might be right, they might be wrong. Nobody really knows yet. We'll go play the games and see where it leads us."
The Phillies are coming off a disappointing 2013 season and have been crippled by injuries in recent years. Cole Hamels will start the season on the disabled list, but the rest of the club's key pieces are relatively healthy with Opening Day less than a week away. That gives Lee confidence.
"Our everyday guys are healthy," Lee said. "It's nice having [Ryan] Howard and Chase [Utley] and Jimmy [Rollins] and Ben [Revere]. All the guys over the past couple years that have been banged up a little bit. It's nice to have all of them healthy and going to start. Obviously, Cole being hurt is not good. But for the most part, we're healthy. That's been a big reason why we've had some failures in the last couple years.
"For them to be healthy is good. We've got a lot of guys that have done some special things and them being on the field gives them the best chance to do that. So I'm excited about that and I think if we just do what [manager Ryne Sandberg] and the coaching staff have been preaching to us all spring, just do the little things right and make sure we work hard and don't leave anything to chance, pound the strike zone and basic execution, we'll turn out pretty good."
Austin Laymance is a reporter for MLB.com. Follow him on Twitter at @jalaymance. This story was not subject to the approval of Major League Baseball or its clubs.