Kendrick sharp in penultimate spring start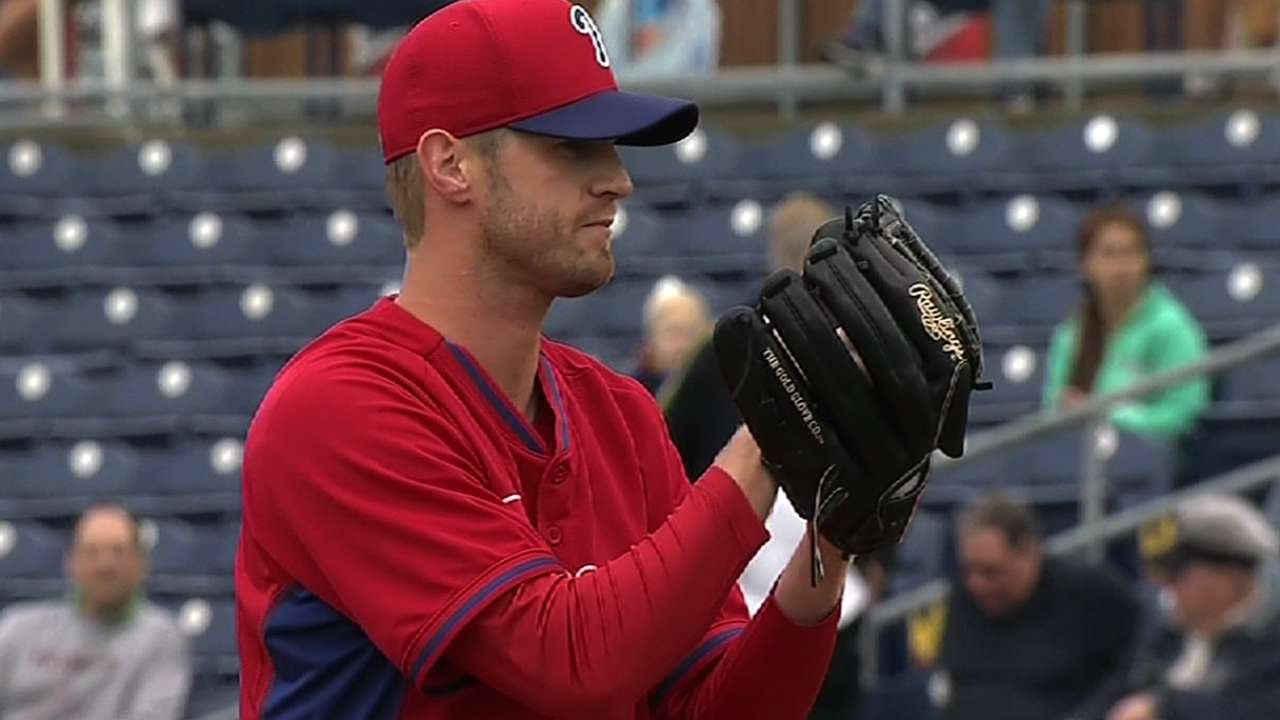 CLEARWATER, Fla. -- Kyle Kendrick looked crisp on Sunday afternoon in his first Grapefruit League action in over two weeks, and he said he's feeling strong as he prepares for his first regular-season start against the Rangers on April 2.
Kendrick held the Twins to one run over six efficient innings, scattering five hits and striking out six to earn the win. The right-hander flashed a solid curveball and showed good control, issuing just one walk. He has one more Spring Training start planned for Friday against the Pirates at Citizens Bank Park.
"I knew today was going to be my last outing before we get up north, so just wanted to work on everything, be aggressive, kind of throw everything," Kendrick said. "Worked on my curveball and felt pretty good ... . I threw it for strikes a lot. Pleased with that. I think that's going to be good for me this year."
In addition to his curveball, Kendrick said he's encouraged by his health, which was an issue for him in 2013. He battled shoulder inflammation towards the end of the season and was shut down for the final two and a half weeks.
The Phillies need Kendrick to stay healthy, in part because the club has a number of pitchers behind schedule as they recover from arm and shoulder issues, including Cole Hamels, Jonathan Pettibone, Miguel Alfredo Gonzalez, Ethan Martin and Mike Adams.
"That's the main thing is your health," Kendrick said. "I thought about it over my career, but after last year and having that, how much health really means to you ... you don't really take it for granted once you have something.
"I think after last year, this winter I didn't want that to happen again. Really been working on that. I do it all offseason, too. Got to do your stretching, all your arm stuff. Just take care of yourself."
Austin Laymance is a reporter for MLB.com. Follow him on Twitter at @jalaymance. This story was not subject to the approval of Major League Baseball or its clubs.