Phillies' battery cuts down on stolen bases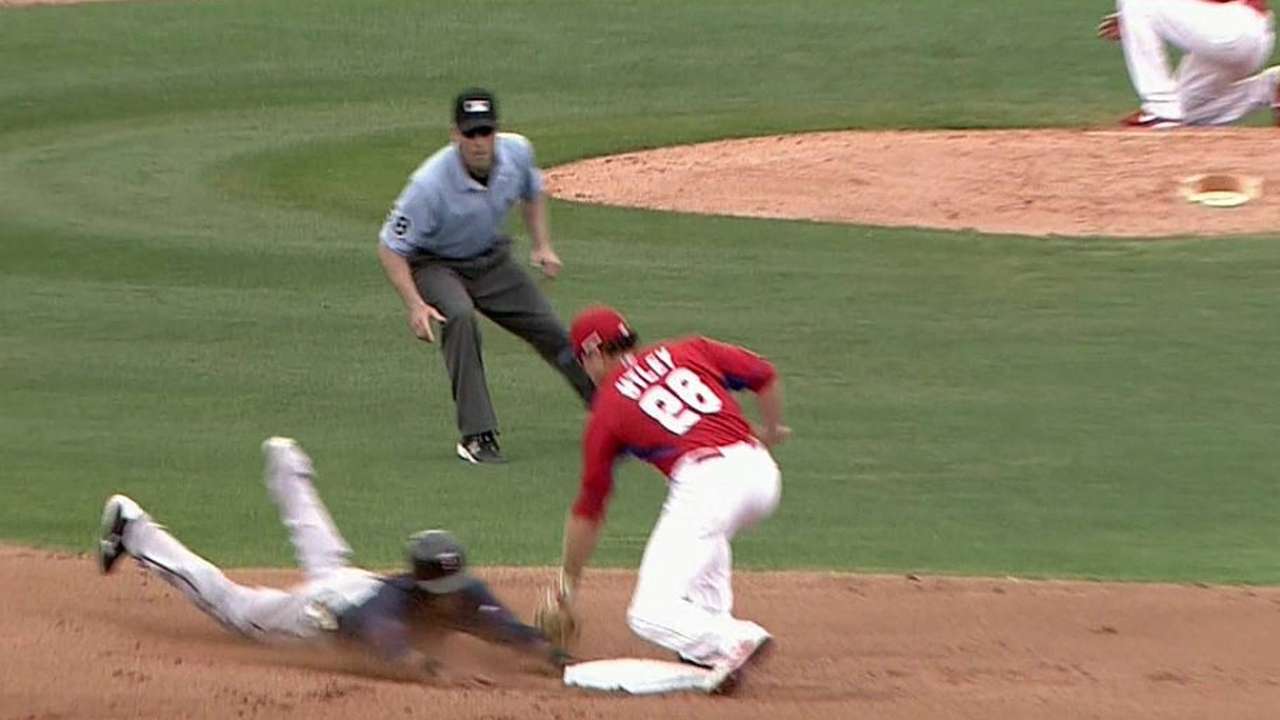 CLEARWATER, Fla. -- The Phillies wanted their pitchers and catchers to do a better job of controlling the running game this year, so they made it a point of emphasis in Spring Training and have been pleased with the results.
The Phillies lead the Major Leagues with a .417 stolen-base against percentage this spring, a vast improvement from their .765 mark last season, which was the sixth highest in baseball.
"The pitchers are doing a good job with the varied things we're doing that's allowing the catchers to throw the guys out with some not-so-good jumps with the baserunners," said Phillies manager Ryne Sandberg. "Not only that, I think there are some baserunners that have wanted to steal that haven't attempted."
It's been a group effort. Pitchers have been faster to the plate, catchers have been accurate with their throws and infielders have been in the right position. That much was on display on Sunday afternoon in a Grapefruit League win over the Twins, when catcher Carlos Ruiz threw out a runner at third and caught another trying to steal second.
Ruiz has caught eight of 11 runners attempting to steal this spring.
"Chooch is throwing the ball well," said Sandberg, who does his part to control the running game by sending signals to the catcher, who relays the information to the pitcher. "All the catchers are throwing the ball well, so a credit to them too. I think that's all working as a package."
While controlling the running game is often overlooked by the casual observer, the Phillies believe it will be an important part to their success in 2014.
"I think that's big, and I think that's going to help us win games," Ruiz said. "It's big when the pitcher gives you the chance to throw somebody out at second. That can change the inning and change the game also. That's big."
Austin Laymance is a reporter for MLB.com. Follow him on Twitter at @jalaymance. This story was not subject to the approval of Major League Baseball or its clubs.