Ruf strains oblique, to be re-evaluated Friday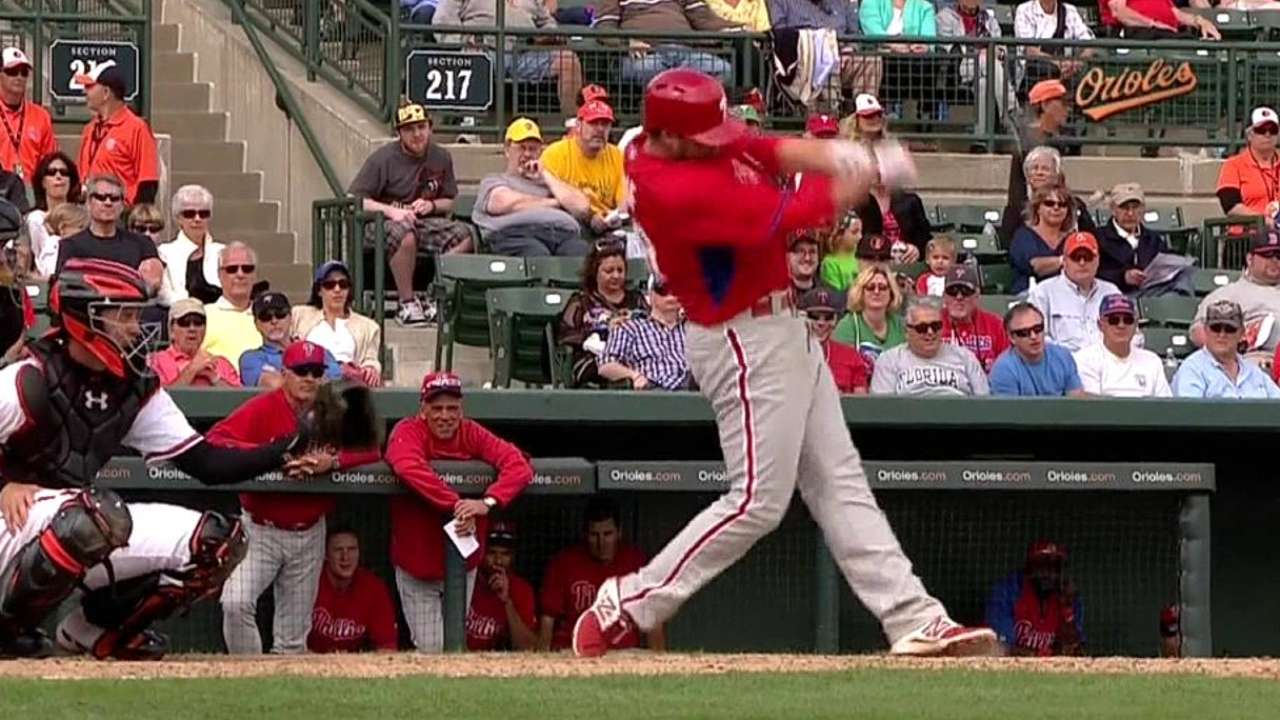 CLEARWATER, Fla. -- The Phillies had a split quad Thursday with half the team traveling to Kissimmee to play the Astros.
The afternoon ended prematurely in Kissimmee for Phillies outfielder Darin Ruf.
He suffered a strained left oblique, which if serious jeopardizes his chances to make the Opening Day roster. Chase Utley spent nearly a month on the disabled list last season with a strained oblique, and Carlos Ruiz spent three weeks on the DL in 2009 with the same injury.
Ruf will be evaluated again Friday.
"We'll have to see what that means," Phillies manager Ryne Sandberg said. "He's a guy competing with what he's doing and his abilities as a right-handed bat."
Ruf had been competing for a bench job alongside outfielders John Mayberry Jr., Bobby Abreu and Tony Gwynn Jr. Catcher Wil Nieves and infielder Freddy Galvis are locks to make the bench.
Abreu had a big game Thursday in Kissimmee, going 3-for-4 with a double. He also threw out a runner at the plate. He is hitting .281 (9-for-32) with three doubles, one triple, nine walks and a .452 on-base percentage. Gwynn went 2-for-3 with a double in Clearwater and is hitting .346 (9-for-26) with three doubles, one RBI, six walks, two stolen bases and a .500 on-base percentage.
Both Abreu and Gwynn hit left-handed.
Asked if the Phillies could carry two left-handed hitting outfielders, Sandberg said, "It's possible, as long as we have a right-handed bat on the bench."
It might not be an issue the first couple weeks of the season. The Phillies could carry an extra bench player with no need for a fifth starter until April 14. Mayberry, who hits right-handed, is hitting .265 (9-for-34) with three doubles, two home runs and five RBIs. He signed a guaranteed one-year, $1.59 million deal before the season, so that could come into play. But the Phillies have been trying to trade him for months, without success.
Frandsen, who also hits right-handed, is hitting .182 (6-for-33) with two RBIs. He has a guaranteed one-year, $900,000 contract, but he holds value as a utility infielder and pinch-hitter. He led the big leagues with 14 pinch-hits last season.
Todd Zolecki is a reporter for MLB.com. This story was not subject to the approval of Major League Baseball or its clubs.