Offense still a work in progress for Phillies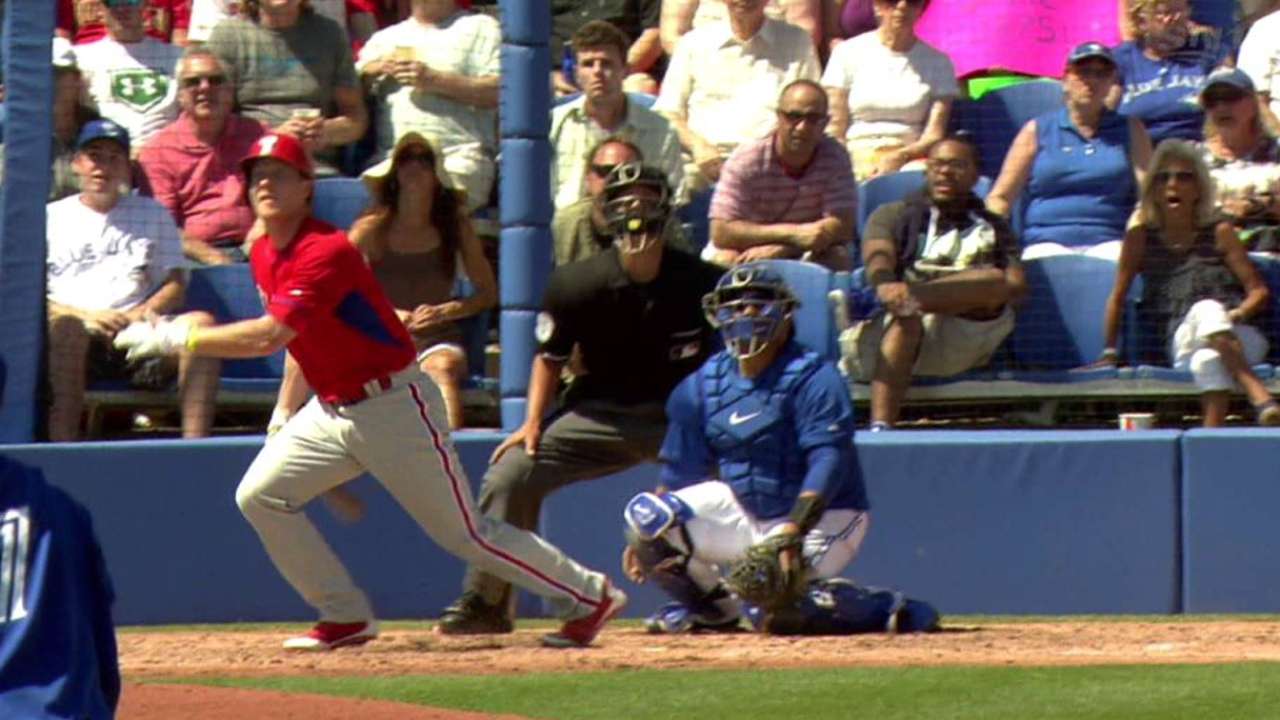 DUNEDIN, Fla. -- If Phillies fans have looked for reassurance this spring from Phillies hitters, they have not found it.
Jimmy Rollins finished Wednesday's 11-6 loss to the Blue Jays at Florida Auto Exchange Stadium hitting .115 (3-for-26) with one home run. Some of his teammates expected to be in the Opening Day lineup have not fared much better: Chase Utley (.167, no extra-base hits), Domonic Brown (.171, one extra-base hit) and Cody Asche (.161, two doubles, two home runs).
As a team, the Phillies entered Wednesday hitting .211, which was the lowest mark in baseball. Their .614 OPS also ranked last.
These numbers will be long forgotten in a month, but coming off a season in which the Phillies scored the fourth-fewest runs in baseball, a few more positive signs would be welcome.
"Jimmy is fine," general manager Ruben Amaro Jr. said. "We've got to get Jimmy going offensively, like we do with the rest of the guys. He's not in a rhythm. Chase isn't in a rhythm. We fully expect him to be there. We've got time to get some reps here and to get their mechanics together and get going. Clearly, we have not played well offensively. That's something that's important to us. We've got to be better there. But I expect these guys to get their reps here at the very end. I'm more concerned about how we're playing leading up to March 31 than what happened early in the spring."
Is he anxious to see it?
"I'm always anxious," Amaro said. "Why would I not be anxious? … [But] is anybody panicking about the fact David Ortiz is hitting .090? Seriously, he's one of the best hitters in the game."
But Ortiz is coming off a fantastic season, and a series of successful seasons. Rollins, Howard and others are not.
"Really what matters is, not necessarily how they're producing in Spring Training, but whether they are ready, physically, to produce," Amaro said. "That's what I'm most concerned about. And of course, I'm concerned about it. This is important to us. It's important for us to play well when the bell rings."
Marlon Byrd is hitting .343 with three doubles, one home run and seven RBIs. Ben Revere is hitting .342. Carlos Ruiz has been hitting the ball hard recently. He ripped a double to center field in the sixth inning to raise his average to .286. Ryan Howard used two singles to raise his average to .275, although he has struck out 15 times in 40 at-bats.
"Howie is coming along," manager Ryne Sandberg said about Howard. "Asche hit a [home run] today. He's had better at-bats. I see some guys coming around, and that's what we're going to need in these last [Spring Training] games. We haven't clicked together as a group, but I still look at the potential that's there. I lean on that and I feel good about that."
Todd Zolecki is a reporter for MLB.com. This story was not subject to the approval of Major League Baseball or its clubs.