Lee aces another test in bid for Opening Day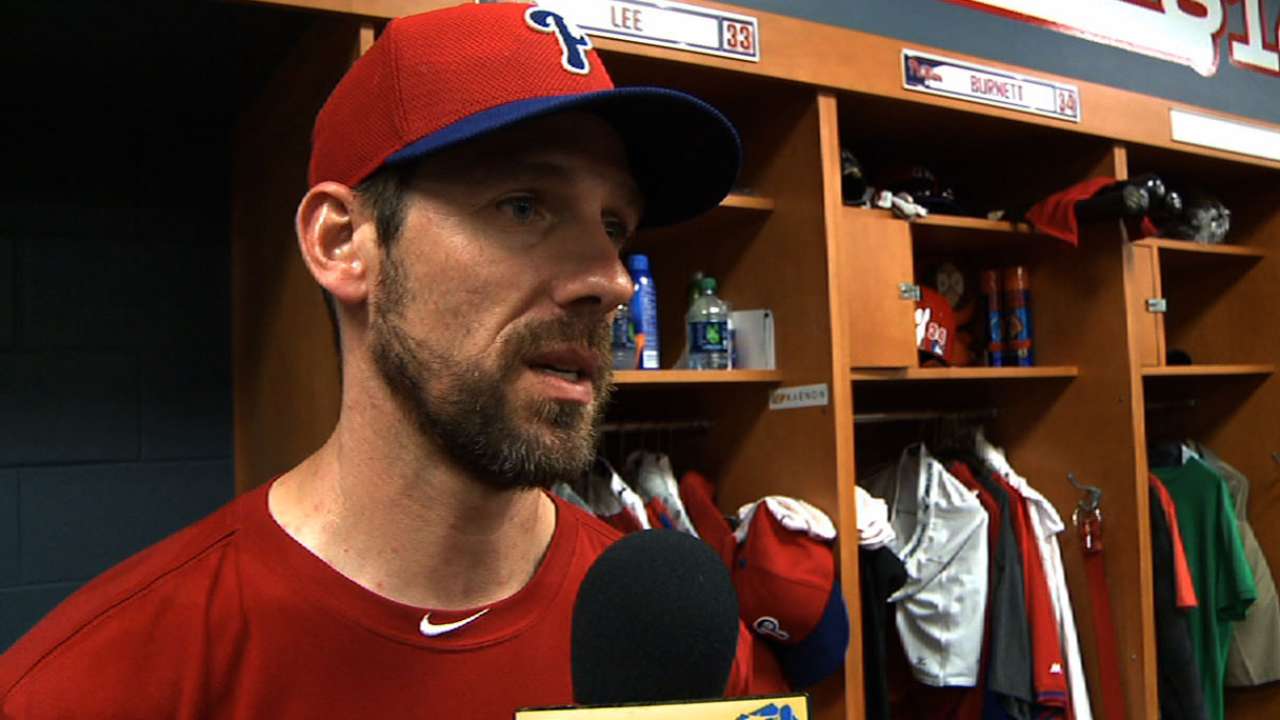 FORT MYERS, Fla. -- Though manager Ryne Sandberg hasn't gone as far as to officially declare Cliff Lee the Phillies' Opening Day starter, the veteran left-hander solidified his already strong case to receive that nod on Saturday night against the Red Sox, when he turned in his best outing of the spring against the defending champions.
Lee, making his fourth Grapefruit League start, tossed five shutout innings in a 4-1 victory over the Red Sox at JetBlue Park, easily surpassing his previous long this spring of 3 2/3 innings. He limited Boston to just three hits in the process, while striking out three and walking one.
"I felt good. I felt like I could keep going, too," Lee said. "At this point in spring, to throw all my pitches for strikes and feel strong at the end like I could keep going, is definitely a good thing. It makes me feel good about where I'm at and moving forward."
With Cole Hamels unavailable to start the season, Lee seems to be the obvious choice to get the call for Philadelphia's March 31 opener in Arlington against the Rangers. Sandberg said prior to Saturday's game that he's still "a couple days" away from making that decision, but at the same time praised Lee for his ability to set the tone for the rest of the staff.
"When Cliff's on the mound and pitching that day, it raises everyone's expectations to win that baseball game," Sandberg said. "It can have a ripple effect. I think, just like hitting, pitching can be contagious. Wins create momentum and then it's about the other guys going out there and giving us a quality start."
As for Lee, an Opening Day start this season would be just the second of his career. The other came in 2009 with the Indians, also in Arlington.
"I can't really comment on that until he makes that announcement, but yeah [if it happens] that means they feel like you're giving them a good chance to win," Lee said. "If I happen to be the guy, I'd be honored to take the ball on the first day and go out there and try to give us a chance to win."
Lee certainly stated his case for the assignment under the lights on Saturday night, retiring eight straight batters at one point, while mixing in all of his pitches throughout the night.
"Really, everything was working good," Lee said. "I was throwing curveballs for strikes early in the count, had a good changeup, throwing cutters for strikes, locating fastballs. So really everything was right where I wanted it to be."
Lee ran into some trouble in the fourth, when he allowed a leadoff double to Red Sox second baseman Dustin Pedroia and later issued a rare, two-out walk to Daniel Nava to extend the frame. Yet one batter later, with runners on the corners and two outs, Lee escaped the jam by forcing Xander Bogaerts into an inning-ending groundout.
Though Lee had thrown 65 pitches at that point -- Sandberg said prior to the game that he wanted to see Lee throw 70-75 -- the southpaw returned for one more inning. Lee needed just nine more pitches to retire the Red Sox in order, capping off his best Grapefruit League outing this year.
Paul Casella is a reporter for MLB.com. Follow him on Twitter @paul_casella.Tracy Ringolsby is a columnist for MLB.com. This story was not subject to the approval of Major League Baseball or its clubs.