Adams close to return after second 'pen session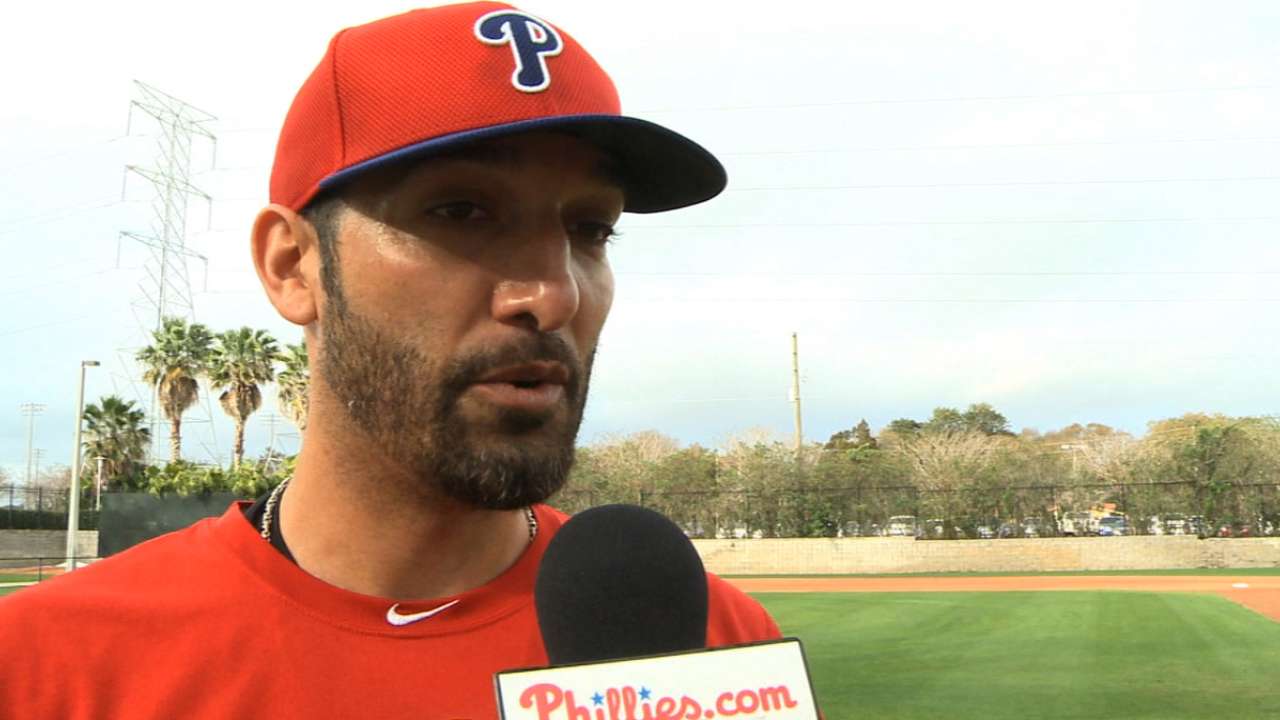 FORT MYERS, Fla. -- Reliever Mike Adams moved another step closer to game action on Saturday, successfully completing his second live bullpen session.
Adams, who is continuing to recover from shoulder surgery last July 31, pitched against Minor Leaguers Jim Murphy and Brock Stassi at Bright House Field. An upbeat Adams reported no setbacks and said this is the best he's felt throughout the lengthy rehab process.
"It felt great. That went great. That was probably the best I've thrown to this day," Adams said. "Now I just have to keep building from that. I think I figured out a couple things mechanically, and that made a huge difference in how I felt and how the ball was coming out."
Phillies manager Ryne Sandberg was on hand to watch Adams' session and he seemed just as encouraged as Adams about the right-hander's performance.
"I liked his velocity, I liked his stuff," Sandberg said. "His location and command was very, very good."
It wasn't all positive for Sandberg, though.
"I was too close to the net and a foul ball came back and caught me above the eye," said Sandberg, as he lowered his sunglasses to reveal a swollen cut above his right eye. "That was the one thing I didn't like, but he looked real good."
For Adams, it was another milestone on his long road back after being limited to just 28 games -- and missing the final 92 -- in his debut season with the Phillies last year.
He posted ERAs of 1.76 and 1.47 in 2010 and '11, respectively, before posting a 3.27 mark in his first full season with the Rangers in '12. Adams then went 1-4 with a 3.96 ERA in his injury-shortened campaign last season, but is confident he's on the verge of regaining his top-end form.
"It's just a good feeling right now," Adams said. "Today was a huge confidence-booster. Not only for how I felt, but for the way everything was coming out and the way I was locating. My next one can't come fast enough."
As for when that next one will come, Adams is hoping to pitch in an actual game on Wednesday. Sandberg agreed that Adams is close to seeing game action, but added that he still needs to talk to pitching coach Bob McClure about setting an exact date.
Adams is expected to open the season on the disabled list, but the righty is hoping to return to the Phillies' bullpen in the season's opening month.
"He'd be a big piece late in the game, obviously," Sandberg said. "He's an eighth-inning type of pitcher and, what I saw today, he showed that stuff. So he'd give us a big lift for sure."
Paul Casella is a reporter for MLB.com. Follow him on Twitter @paul_casella.Tracy Ringolsby is a columnist for MLB.com. This story was not subject to the approval of Major League Baseball or its clubs.