Manship attempts to solidify roster spot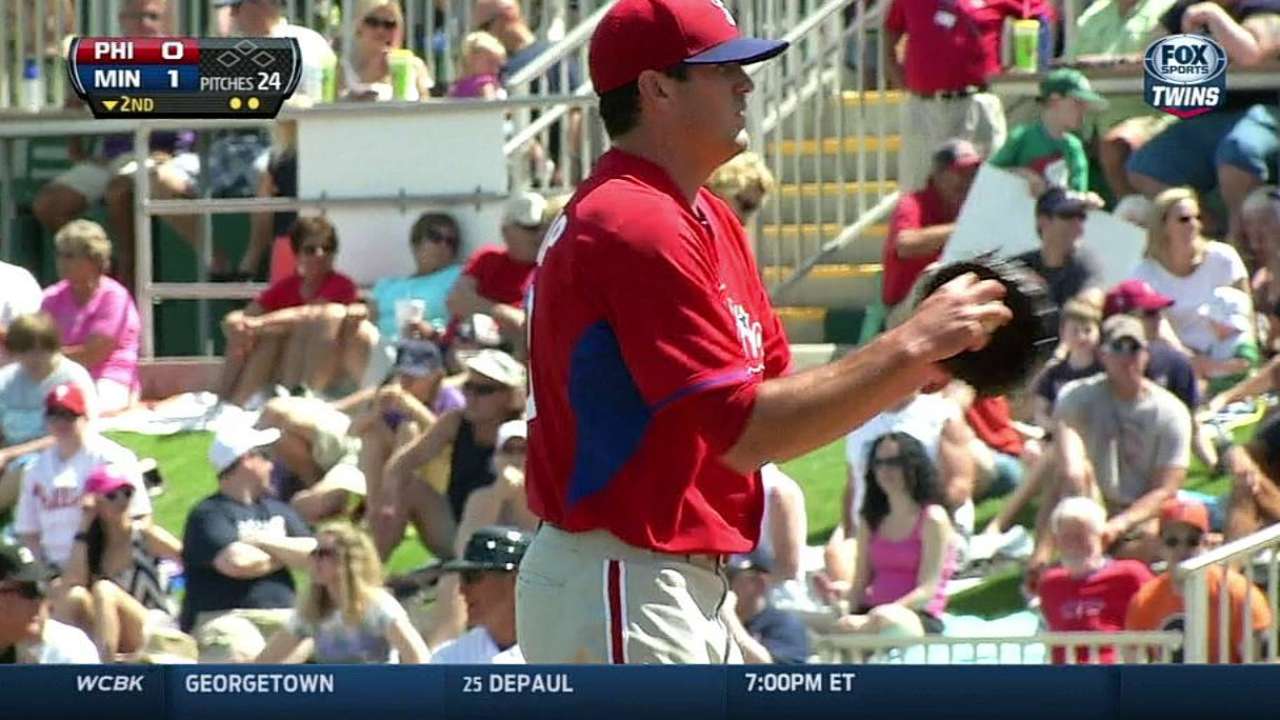 BRADENTON, Fla. -- When Spring Training opened, right-hander and non-roster invitee Jeff Manship appeared to be ticketed for Triple-A Lehigh Valley. It still may end up that way, but injuries have created openings and Manship has taken advantage of that.
Manship started and gave up two runs on six hits in four innings of the Phillies' 6-5 Grapefruit League loss to the Pirates at McKechnie Field on Friday, keeping his hopes very much alive in the process.
"Good," said pitching coach Bob McClure, when asked about his impressions of the 29-year-old. "This time out wasn't as easy for him. His control wasn't as good as it's been. And he showed me he can still pitch without having his best control. Those are the things you like to see, because you don't always go out there with your best command, your best stuff. And when you can still pitch like that and change speeds, that shows me a lot."
With Cole Hamels sidelined by shoulder tendinitis and Miguel Alfredo Gonzalez also a health concern, there appears to be one opening in the rotation after Cliff Lee, A.J. Burnett, Kyle Kendrick and Roberto Hernandez. Manship, who was signed as a Minor League free agent after pitching in the Rockies system last year, appears to be competing with Sean O'Sullivan, David Buchanan and Mario Hollands, all non-roster invitees as well.
"I still need to handle my business out there and throw well," said Manship, who has a 2.45 ERA after four spring outings, two of them starts. "But yeah, more opportunities are out there now, which inspires me to work even harder to get one of those spots, because I know what's at stake.
"I try not to think too much about it. I could do really well the rest of spring and still get sent down. I don't know what's going to happen. I just have to go out day-to-day and work hard and basically just compete. Try to earn a spot and hopefully they'll give me that spot."
Paul Hagen is a reporter for MLB.com. This story was not subject to the approval of Major League Baseball or its clubs.