Gonzalez bemoans results, but feels good after debut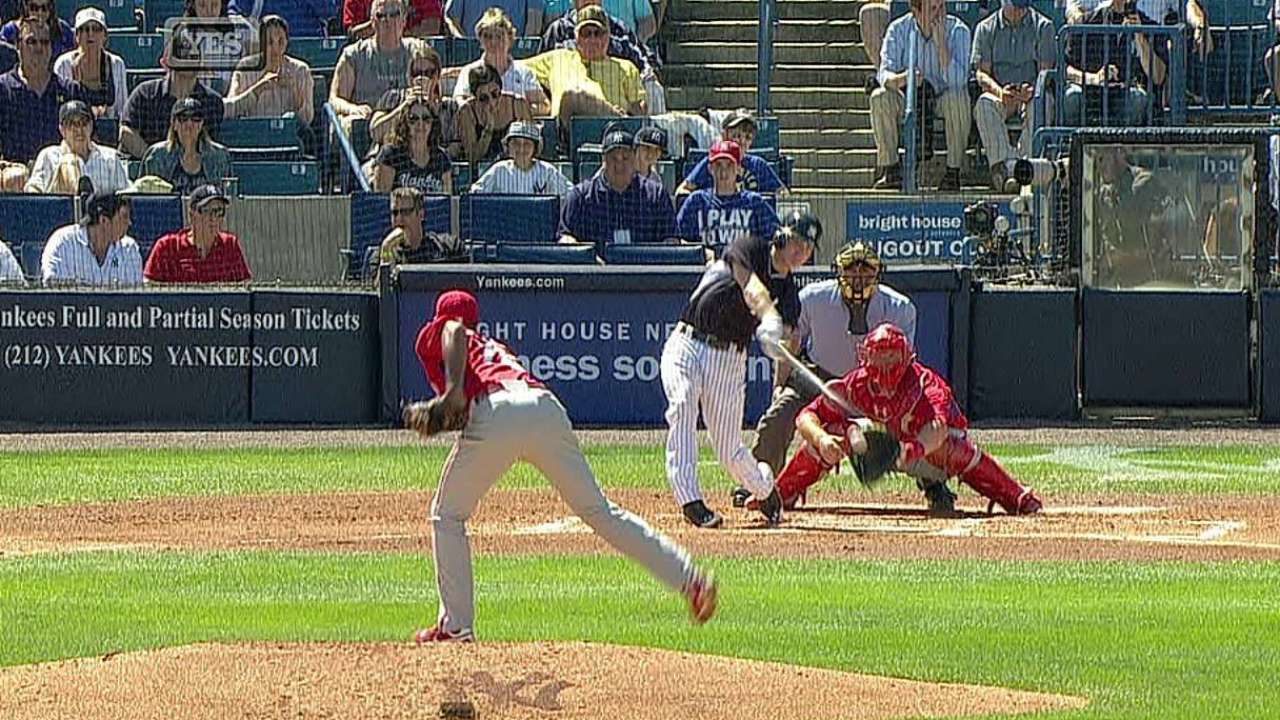 TAMPA, Fla. -- The Man of Mystery finally took the mound Saturday afternoon at George M. Steinbrenner Field.
Ever since the Phillies and Miguel Alfredo Gonzalez originally agreed to a $48 million contract in July, there has been plenty of interest in the Cuban right-handed pitcher. Scouting reports said his fastball sat in the mid-90s. They said he was a solid, middle-of-the-rotation starter. Even after Gonzalez ultimately signed a $12 million deal in August following concerns with his physical, Phillies general manager Ruben Amaro Jr. said Gonzalez had "great stuff," and, "we think he can be pretty special."
Since then, the Phillies have made an effort to temper expectations.
There is much more to learn about Gonzalez following his Phillies and Grapefruit League debuts in a 4-0 loss to the Yankees. He allowed two hits, one run, walked four and struck out two in 1 2/3 innings. His fastball hit 93 mph once, but otherwise sat in the 89-91 mph range. He showed some quality offspeed pitches, particularly his breaking ball, but couldn't command his fastball.
But Gonzalez had not pitched in a live game in nearly two years, so nerves, rust and fatigue could have been a factor.
"It's been a while," he said through a translator.
"When his fastball was down, it looked like it was a quality pitch," Phillies manager Ryne Sandberg said. "He threw some good changeups in fastball counts, and he threw some good breaking pitches. Whether he got a little tired or started to labor a little bit, he was up with the fastball, resulting in some walks. The pitches he did throw for strikes showed some quality to them."
Minor League players Corban Joseph and Mason Williams went 0-for-4 against Gonzalez. Big leaguers Brett Gardner, Derek Jeter, Brian McCann, Brian Roberts, Francisco Cervelli, Kelly Johnson and Ichiro Suzuki went 2-for-3 with four walks.
"I'm not happy at all," Gonzalez said about his velocity. "I'm not satisfied at all. I believe I have some more in the tank. It should be coming around."
"I thought that first inning that was some of the best pop that we've seen from the fastball this spring, especially ones down," Sandberg said. "I'm just seeing the progress. I didn't know what to expect. I thought today it was coming out in the first inning. That was more velocity than I've seen on sides."
Gonzalez had bone spurs removed from his right elbow in January 2012. He also has had some tightness in his arm this spring. But the Phillies and Gonzalez have said throughout the spring he is healthy and there are no issues.
"I have been working a lot this week, and my arm feels fine," Gonzalez said. "So it's fine. ... It's a great first time. I felt good. I felt strong. For the first time, I wasn't as sharp as I wanted to be. There were a couple of pitches I left up. Pretty much, for the first time, I felt good.
"What I need to do is just get my timing back and keep on pitching. It will come along. The more I pitch, the better I will feel."
Late last season, the Phillies expected Gonzalez to immediately join the rotation, but he might not be ready. And with Cole Hamels, Jonathan Pettibone and Ethan Martin injured or behind schedule because of shoulder issues, there is an opportunity for him.
Todd Zolecki is a reporter for MLB.com. This story was not subject to the approval of Major League Baseball or its clubs.