Lee starts spring slate with positive outlook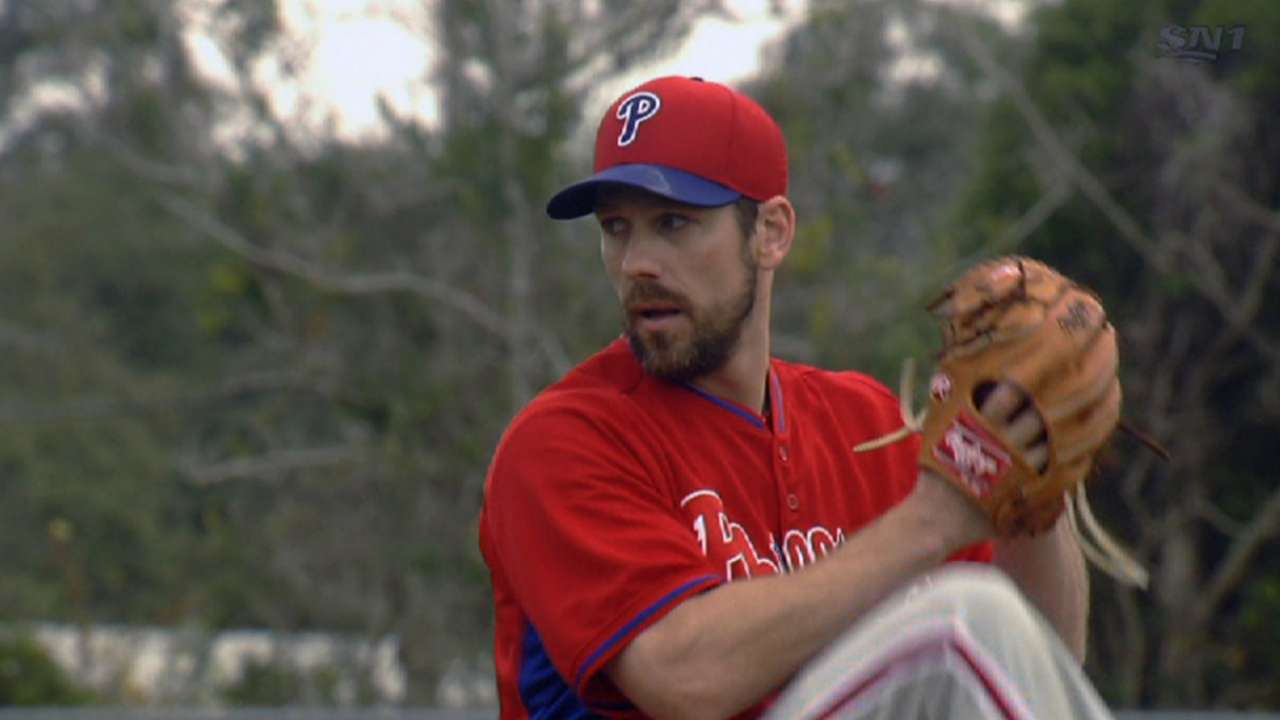 DUNEDIN, Fla. -- Cliff Lee survived another offseason of trade rumors, which followed yet another July of trade rumors.
Trade speculation has become a biannual tradition for Lee.
Despite his name popping up every few months he still finds himself in a Phillies uniform, still hoping the team can make the postseason and win a World Series. He took his first step toward that goal Thursday afternoon at Florida Auto Exchange Stadium, where he made his Grapefruit League debut in a 7-5 loss to the Blue Jays.
"I signed back with the Phillies because I wanted to come here and win, and that's what I intend on doing," said Lee, who allowed two hits, one run and struck out three in two innings. "I don't have a full no-trade clause, so there's nothing I can do about it. I don't have control over it, so there's no sense worrying about it."
The Phillies lost 89 games last season, but have been preaching for months that if they are healthy they will win.
"There's no other way to look at it than, yes," Lee said, asked if the team can win. "You've got to be confident and expect to win. I feel like as a group we're thinking that way. There's no other option. So that's how we've got to see it."
But is the team actually good enough?
"Absolutely," he said. "It has to be. Because that's what we're dealing with."
Lee went 14-8 with a 2.87 ERA in 31 starts last season. He led baseball with a 6.94 strikeout-to-walk ratio, and led baseball averaging just 1.3 walks per nine innings. He might have earned the honor regardless, but with Cole Hamels expected to open the season on the disabled list, Lee assumes he will be the Opening Day starter, although Phillies manager Ryne Sandberg said it's too early to announce anything.
"Oh, he's a great candidate for it," Sandberg said.
Lee said after his final start last season that he is running out of time to win a World Series. He is 35, and his arm has only so many pitches left in it. So he hopes the team gets off to a hot start and becomes buyers at the Trade Deadline, not sellers.
He said he isn't concerned a slow start could have him dealt by July 31.
"I think that's looking at it in a negative way," he said. "I think we're positive. We're expecting to win and plan on doing everything we can to ensure that, so that's how I'm looking at it. What happens in the next couple of months, we'll just have to wait and see. As of now I'm expecting to prepare for a full season, go into Texas and win the first game, then win the next one."
Lee makes $25 million each of the next two seasons. The Phillies have a $27.5 million club option for 2016, which automatically vests if he throws at least 400 innings the next two seasons or 200 innings in 2015. If the option does not vest, the Phillies can buy out the deal for $12.5 million.
Lee has been traded so many times -- Expos to Indians in July 2002, Indians to Phillies in July 2009, Phillies to Mariners in Dec. 2010 and Mariners to Rangers in July 2010 -- it is almost hard to believe he will finish the contract in Philadelphia. But that is his hope.
"There's no sense really thinking about it," Lee said. "Honestly, it usually means a good thing. It means you've had success and other teams really want you. So that's a positive."
Todd Zolecki is a reporter for MLB.com. This story was not subject to the approval of Major League Baseball or its clubs.