Asche odds-on favorite to win job next year
Asche odds-on favorite to win job next year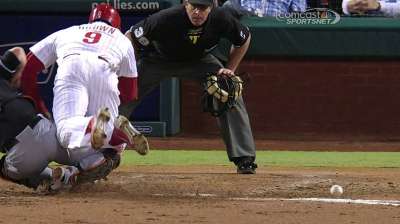 MIAMI -- Everybody knew for weeks Ryne Sandberg eventually would be named Phillies manager.
Cody Asche is a similar favorite to be the team's Opening Day third baseman in 2014.
"The leader, for me," Sandberg said. "He's the leading candidate right now. He's proven he can play third base, if in fact that's the spot that's there. He's proven defensively he can play third base. And I think his bat has played. He's shown a good steady bat. I think down the stretch it's turned into a little bit of a long season for him possibly. I understand that. But the work ethic and the quality swing for a young guy like that is pretty good."
Asche is hitting .247 with eight doubles, one triple, five home runs, 22 RBIs and a .731 OPS in 167 plate appearances after striking out as a pinch-hitter in Wednesday's 3-2 loss at Marlins Park, where Freddy Galvis got the start at third. Asche started his career 1-for-17 and is currently in a 2-for-21 slump, which Sandberg attributes to a long season for Asche, who has played 150 games between the Minors and the big leagues after not playing more than 130 in a year in his first two professional seasons.
But in between skids, Asche has turned heads in the front office, coaching staff and teammates.
"I've been impressed," Sandberg said. "I think he's really settled into the Major League atmosphere and this level. I think he's over that part of it. He doesn't seem to be in any awe of the Major League atmosphere. And that's another thing that's good about this time he's spent here. And really with a lot of the guys, that's a big thing, getting a taste of this."
So will Sandberg tell Asche he is the favorite for the job when they have their exit interview?
"I'd say come in and be ready to win a job," Sandberg said. "You've shown you can play here. You've shown you can play at this level. Come in and be ready to take the job. I might say that to 25 or 35 guys in the locker room. They might all get the same message. He'll be one of the guys to hear that."
Todd Zolecki is a reporter for MLB.com. This story was not subject to the approval of Major League Baseball or its clubs.