Amaro hopes to have Halladay back healthy in 2014
Amaro hopes to have Halladay back healthy in 2014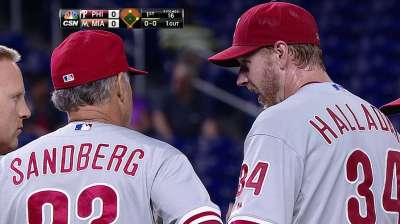 MIAMI -- Ruben Amaro Jr. said pretty clearly Monday afternoon he would like to have Roy Halladay back in 2014.
Then Halladay threw just 16 pitches in the shortest start of his career, never breaking 83 mph with his fastball. Halladay said afterward he is suffering from "arm fatigue," a result of pushing too hard and pitching only three months removed from right shoulder surgery.
Halladay will not pitch again this season. The Phillies have not announced who will pitch in his place Saturday against the Braves at Turner Field.
Asked Tuesday afternoon at Marlins Park if Halladay's final start gave him pause, Amaro said, "He's been basically rehabbing for two years. For him to have come back and pitch, to try to compete -- that's big. Was it the right thing to do? I don't know that. But when a guy like Doc wants to come back and pitch, there's nothing medically that didn't jive … whether or not he was going to be effective, obviously he wasn't nearly as effective as he wanted to be or we wanted him to be. But he wanted to come back and pitch, and we gave him the baseball."
The Phillies have used the term "shared risk" when they talk about certain contracts. Chase Utley's two-year, $27-million extension is one example of that. If Utley stays healthy, he could make $75 million over five years. If not, the Phillies can move on after two seasons.
If the Phillies bring back Halladay a "shared risk" deal would be a requisite.
"I would think so," Amaro said. "You guys are a little ahead of me."
Halladay went 15-13 with a 5.15 ERA in 38 starts the past two seasons. He went 2-1 with a 4.55 ERA in six starts since his return from surgery, although he walked 19 and hit six in 27 2/3 innings. Everybody in the organization, including Halladay, said an offseason of rest and normal preparation for Spring Training will do wonders.
But how can the Phillies truly evaluate Halladay and know what to expect in the future?
"Hard to do," Amaro said. "Hard to do. We'll talk to our doctors and see where we go."
Todd Zolecki is a reporter for MLB.com. This story was not subject to the approval of Major League Baseball or its clubs.