Rollins believes in Phillies' young players
Rollins believes in Phillies' young players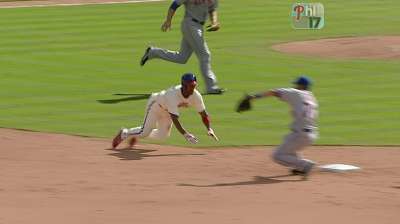 PHILADELPHIA -- On the final day of the 2012 season, shortstop Jimmy Rollins said if the Phillies had been healthy, they would have been the best team in the National League East
It was a bold statement, considering they finished 81-81, 17 games behind the first-place Nationals and 14 games behind the second-place Braves.
Asked Sunday at Citizens Bank Park if he still considered the Phillies the team to beat in the division, Rollins said, "There's a lot of talented teams in the division. The team that we had in the past definitely was. The team going forward, we'll figure that out.
"There are a bunch of new pieces. We haven't had that around here for a long time. I'm excited about them. They're good, young players -- big eyed. A lot of hopes and wishes, it's our part to make sure they come true. It's fun seeing the energy and excitement every single day. The world is still theirs and it's at hand. They can change it. I was that guy. Now it's up to me, Chase [Utley] and Ryan [Howard] to make sure they do change it."
Todd Zolecki is a reporter for MLB.com. This story was not subject to the approval of Major League Baseball or its clubs.