Phils top 3 million fans for seventh straight year
Phils top 3 million fans for seventh straight year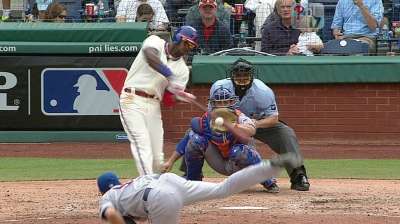 PHILADELPHIA -- The Phillies lost their 84th game of the season Sunday, their most since they lost 97 in 2000.
But they also had their sixth sellout to push their attendance to 3,012,043. The Phillies have had more than 3 million fans come through the turnstiles for seven consecutive years.
The Phillies averaged 37,190 fans this season, which ranked fourth in the National League and eighth in baseball.
"Good crowd," manager Ryne Sandberg said. "They stayed to the end and pushed the attendance over the 3 million mark. Really says a lot about the fans and the fan base. That's very much appreciated."
Todd Zolecki is a reporter for MLB.com. This story was not subject to the approval of Major League Baseball or its clubs.