Utley honored for community service
Utley honored for community service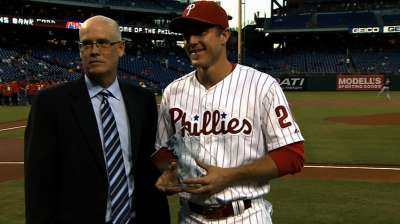 PHILADELPHIA -- Before Wednesday's game against the Marlins, the Phillies honored Chase Utley, who received the Phillies' Community Outreach Award and is the team's nominee for the Roberto Clemente Award in recognition of his charitable and community service work.
Since 2008, Utley and his wife Jen have held their annual Utley All-Star Animals Night to raise funds for Pennsylvania SPCA. They have raised nearly $2 million since, including $400,000 at this year's event.
They also founded The Utley Foundation to bring awareness to the increasing epidemic of animal cruelty and to educate the public, and in particular children, about the proper treatment of animals.
Utley has also spent $20,000 each year to purchase season tickets that he donates to the children and families at St. Christopher's Hospital for Children and the Children's Hospital of Philadelphia.
"I am honored to be the 2013 Phillies' Roberto Clemente Award nominee," Utley said before hitting a two-run single in Wednesday's 4-3 loss to the Marlins in 10 innings to give him 14 RBIs in his last seven games. "When I think about the man named for this award and all he stood for, I am humbled to even be considered. I hope that the work done through The Utley Foundation can continue the tradition of ballplayers giving back to the community for many years to come."
The Phillies also honored their Minor League Step-Up Community Service Award winners, given to players who have shown leadership in community service. The winners included: Triple-A Lehigh Valley right-hander David Buchanan, Double-A right-hander Tyler Knigge, Class A Clearwater outfielder Cameron Perkins, Class A Lakewood infielder Arthur Charles, Class A Williamsport infielder Andrew Pullin and Gulf Coast League Phillies outfielder Johnathan Knight.
Todd Zolecki is a reporter for MLB.com. This story was not subject to the approval of Major League Baseball or its clubs.