Halladay appears more trimmed down
Halladay appears more trimmed down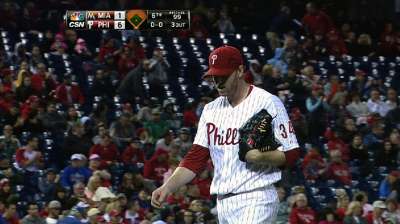 PHILADELPHIA -- Roy Halladay looks noticeably lighter than he has been in the past.
He said he lost eight to 10 pounds recently because of an illness, but also has dropped weight because of the conditioning program he began almost immediately following right shoulder surgery in May.
"I had a time where I wasn't pitching and my only job was to work out," he said. "I think that has a lot to do with it. When I was down in Florida and rehabbing, all we did was run and lift."
Halladay, who is listed at 225 pounds, said he would like to be five to six pounds heavier entering Spring Training.
"But as far as conditioning level, I've never felt better," he said. "I want to be able to maintain that feeling. But I do feel like a couple extra pounds would definitely help on the durability end."
Todd Zolecki is a reporter for MLB.com. This story was not subject to the approval of Major League Baseball or its clubs.