Prospect Franco heads into offseason with big dreams
Prospect Franco heads into offseason with big dreams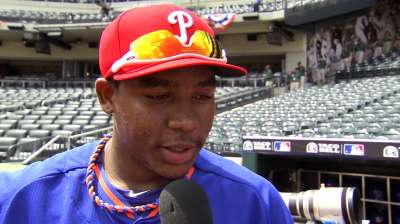 PHILADELPHIA -- One of the most intriguing names for the Phillies this season has played only 69 games above Class A.
But infielder Maikel Franco figures to be a huge topic of conversation beginning in February in Spring Training in Clearwater, Fla. Franco, who won the organization's Paul Owens Award for Player of the Year, hit a combined .320 with 36 doubles, three triples, 31 home runs, 103 RBIs and a .926 OPS with Class A Clearwater and Double-A Reading.
He is the organization's No. 2 prospect, and he will enter camp with his sights on a big league job.
"Definitely expect that," he said Tuesday afternoon at Citizens Bank Park. "I'm going to come in working hard and gain a spot, for sure."
But the biggest question in the organization regarding Franco isn't if he has the talent to play in the big leagues, it is where he will play. Franco is a third baseman, but Cody Asche seems to be sewing up that job with a strong performance since his call up July 30. The Phillies had Franco play eight games at first base with Reading at the end of the season to give them another option, but Ryan Howard is expected to be the Opening Day first baseman.
"Whatever position he want me to play, I'll play," Franco said. "Everybody wants to play in the big leagues. That's my point. I want to play in the big leagues. I don't care what position I play. I want to play in the big leagues."
These things have a way of working out. Howard was once blocked at first base by Jim Thome, so much so that Howard's former agent actually formally requested a trade. (Former general manager Ed Wade politely declined the request.) But the Phillies ultimately traded Thome to the White Sox to make Howard the everyday first baseman following his 2005 season, when he won the National League Rookie of the Year.
It won't be as easy to trade Howard. He has three years and $85 million remaining on his contract.
But for now, Franco is headed to the Dominican Republic to play winter ball. After that, who knows?
"I feel like I'm close, yeah," Franco said of his arrival in the big leagues. "I want to be ready. I want that to be my mentality. I want to get stronger and be ready for everything next year."
Todd Zolecki is a reporter for MLB.com. This story was not subject to the approval of Major League Baseball or its clubs.